There is only ONE MIND - which is for the sake of convenience and understanding divided, according to its functions, into three function of the one mind: conscious, subconscious and superconscious. The term Superconscious Mind stands for this One Mind - for universal consciousness, for totality of all knowledge, information and power - called by various names Universal Mind, The Infinite Mind, The Universal Consciousness, The Source, Divine Mind, Light, God Mind, or simply God. Superconscious mind is omnipresent, ONE MIND expressing through all, and each human mind is only an individualized center of consciousness of this ONE MIND. The term Subconscious Mind stands for your individual accumulation of knowledge through personal experience. If you are conscious aware of your left toe, you can say that it is in your conscious mind. Ericksonian hypnotists and psychologists may use the term Unconscious Mind, to refer both to Subconscious and Superconscious Mind - in other words, for everything that is happening out of your conscious awareness. Hypnotists who are teaching hypnosis according to NGH curriculum, use the term Unconscious Mind to refer to functions of the body they belive are out of your range of control.
Even though you are free to access the INFINITE knowledge, resources and power from your Superconscious Mind, many hypnotists and people using self-hypnosis tend to focus only on programming subconscous mind with ideas that originate from the limited information obtained through past experiences.
Whatever limitations you are experiencing are strictly due to the limiting beliefs you hold in your subconscious mind.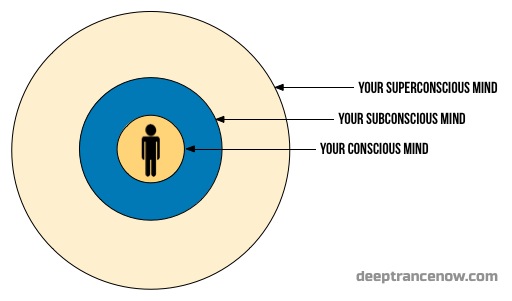 The way to overcome them is by aligning your conscious and subconscious minds with the superconscious mind. When you begin to identify yourself not with your body, but with the ALL, more and more of the attributes of your Superconscious Self begin to express through you - power, wisdom, love. The process of engaging the superconscious mind is often referred to as de-hypnosis - the goal is to de-hypnotize yourself from the limiting beliefs you accepted about yourself and your relationship to the world around you.
Just like in an ordinary hypnosis session, your mind is one-pointedly focused on your outcome, except that what you are focusing upon is not any particular manifestation or solving of a problem, but the experience of your Infinite Superconscious Self. You access the superconscious mind through your subconscious, so the process of accessing it is the same as accessing the subconscious through hypnosis. What you'll discover the more you align your conscious and subconscious mind with your superconscious is that whatever you may want will spontaneously and effortlessly appear in your life, often instantaneously after the thought occurred to you. The image on the left shows that the front part of the brain, which is usually involved in focusing attention and concentration, is more active during meditation. Your subconscious mind contains all of your past programming, your samskaras (mental and emotional imprints from the past), your beliefs about yourself and the world around you. When you are mentally preoccupied with other things, and the intelligence of your body is taking care of your toe, you can say that your left toe is in your subconscious mind.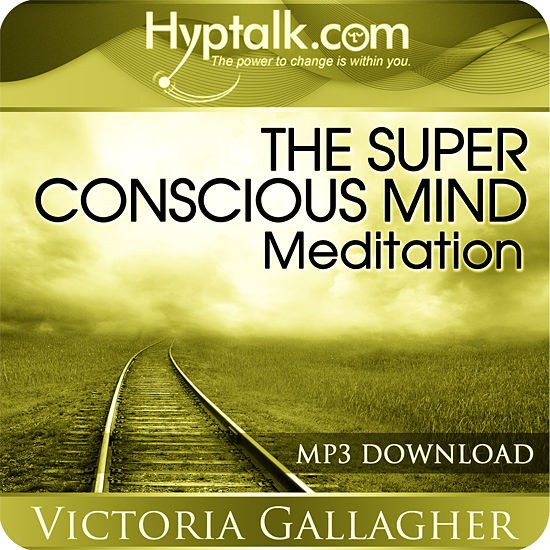 However, if you are faced with a challenge that seems to be greater than anything you know based on your past experiences, or you simply desire to keep unfolding your limitless potential, to do that, you'd have to access your superconscious mind.
Then you discover that the only thing that you were surrendering is yuor limited individual self to our All-Encompassing Infinite Superconscious Self, and as you did all kinds of limitations were spontaneously erased from your mind and your life, and miracles and wonders followed you wherever you went.
The process generally consists of changing the beliefs you hold in your subconscious mind regarding the specific issue. After giving them time to sink into a deep meditative trance, he injected them with a radioactive dye.
Drs d'Aquilli and Newberg hypothesized that blocking all sensory and cognitive input into this area during meditation results in the sense of no space and no time which is so often described in meditation.