Most people tend to acknowledge the first few bites, just to ensure they're eating what they think they're supposed to be, and then slip into a semi-conscious state of eating. Before jumping up to get on with the next thing you have planned, try staying seated for a moment or two. Sign up for the free Take10 program to get the basics just right with guided audio programs and support to get your Headspace, anytime, anywhere on the Headspace app. As it's not particularly complicated to move a fork back and forwards from a plate, or a sandwich from hand to mouth, we've developed an ability to carry out the task without even thinking about it, in much the same way we have with walking. We're so familiar with this situation that we forget that for many people in the world, this just isn't the case.
If you're eating from a plate with a knife and fork, notice instead the texture and temperature of the cutlery as you move it toward the food, but still take the time to notice the colors on the plate.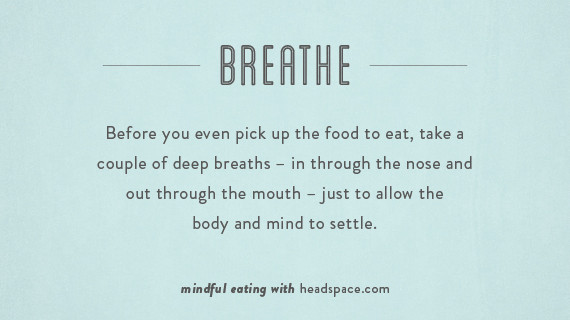 This is an opportunity for you to take that sense of being present to the next part of your day. A deep sense of appreciation and gratitude is at the heart of any stable mindfulness practice. You might find it more effective to hold your fork or spoon in your non-dominant hand: This will prevent you from going too quickly. So, in just the same way as before, as soon as you realize it's wandered off, gently bring your attention back to the process of eating, and the different tastes, smells, textures, sights and sounds. It's an opportunity to realize that the thoughts, feelings and physical sensations that were present before eating have now moved on. Below is a practical exercise from the mindfulness experts at Headspace to introduce you to the multi-faceted benefits of mindful eating.
The breath may give you some indication of how comfortable or uncomfortable the process of eating is for you. Not only is this a healthier way of eating, but it will allow you the time to taste and appreciate all the different flavors.