If you're used to meditating in a studio with others, or doing guided meditation, you might feel some anxiety about meditating alone at home. Hint: If you listen to meditation music, consider using headphones for a more intimate experience (especially if you don't live alone, using headphones will help mask external noise and keep others from sharing in your private experience). Home meditation is nice because you can make your practice yours alone – listening to whatever you want, focusing on whatever you want, meditating whenever and for however long you want. You don't need to create a dedicated meditation room – your personal meditation sanctuary can be its own space, or it can be a repurposed corner of a busy room (even the kitchen). Of course if you live alone, it's easier to find peace and quiet anywhere in your home, but if you schedule your meditation carefully you can do it even in the busiest of households.
Setting up your space can be as simple as clearing clutter off a sofa… laying down a meditation cushion and putting on some meditation music. Set a minimum amount of time for your daily practice – as little as 10 or 15 minutes will give you the benefits of meditation – and if you can or want to meditate longer, great! Prepare yourself by dressing in comfortable non-restrictive clothing and take care of your physical needs before meditating – including making sure your stomach is neither too full nor too empty.
The key to successfully meditating at home meditation is setting your scene and setting your intention. You can do walking meditation in a garden, standing meditation, yoga or other moving meditation.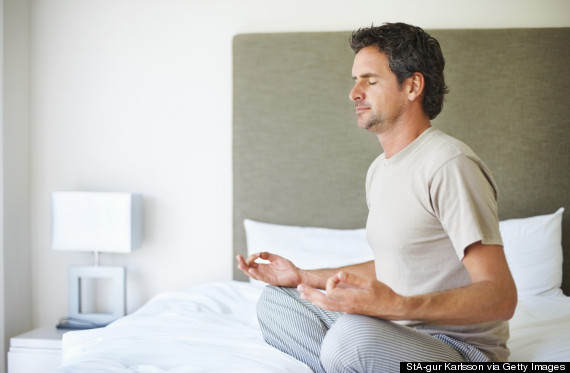 But if you prefer to meditate seated, the most important rule is to be sure you're comfortable. It is the transition between night and day, and there's really no better way to start the day on a positive note than through meditation. Whatever time you choose, make it consistent so that it's easier to establish the habit of daily meditation.