500 Thai Buddhist monks came from around the world for the opening of the Thai Buddhist Temple in Raynham.
RAYNHAM (CBS) – The people behind a new, majestic building hope it will bring people together. A multi-day celebration began Thursday as about 500 Thai Buddhist monks from around the world converged on the gold topped temple in Raynham, the culmination of nearly 10 years of work.
Well, they wanted to build the temple in Massachusetts in honor of Thailand's King who was born at Mt.
The newly completed $60 million, 110,000sf temple is now the largest Thai Buddhist temple outside of Thailand, according to the design team at ARC.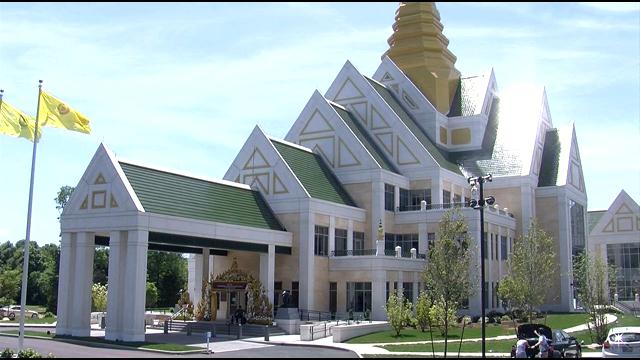 The complex consists of a temple, residence halls for temple monks and a multi-purpose hall that was built around a central courtyard and will be used for major Buddhist celebrations during the year. And that's a joyous event for the Buddhist and Thai communities in the area and perhaps beyond.
The Temple officially opened for a world Buddhist conference  with Buddhist monks arriving from all over the world.
The centerpiece and most prominent feature of the complex is the three-story temple, topped by  a 185-foot gold Chedi, or steeple, which pays tribute to Buddha. Clustering of the building's many multi-tiered roof gables reduces the massiveness of the structure and is characteristic of both traditional temples in Thailand and rural New England architecture.
The size and beauty of the new Thai–Buddhist temple in Raynham, draws you in.Richard and Anne Bragge were blown away by the beauty.
This phase included offices and conference rooms located in the temple basement, a museum fit out for King Bhumibol Adulyadej Rama IX on the first floor and the meditation room and commercial kitchen on the second floor.