Shipping containers come as a standard 8ft wide, and either 20ft or 40ft in length, so 10ft containers are usually cut down from 40ft containers. This process of conversion enables clients to choose the type of doors most suitable for purpose. These flat panelled doors are much easier to open and close and are more aesthetically pleasing. The original door is most popular on building sites and has the advantage of rubber door seals to seal the unit. At Containers Direct we offer a unique third option which combines the advantages of both types of door.
Side doorsIf you'd like doors in the side of the container, we also have options available. RepaintingThe price of all of our 10ft containers includes re-spraying with our specialist rubberised container paint, in your own choice of colour. Compressed door sealsAn option for S1 doors - these are attached to the inside of the container door and compress to form a watertight seal when the door is closed.
Shelving RacksMaximise use of the ALL the space available within your container, including the height! ElectricsIf you require lighting, heating, or sockets for your container, we've got the power! Ply LiningFor containers requiring a more constant inside temperature, for instance when storing paperwork, textiles or household furniture, adding a plywood lining with insulating material will protect these items from moisture damage. Wipe Clean Melamine LiningRecommended for containers used in food preparation -melamine lining is hygienic, wipe clean and bordered with plastic trim. AbsorpoleFor a cheaper alternative to our standard anti condensation treatments, these can be purchased for £35 plus VAT per Absorpole.
Michael J Snell from Alva Glen Car Park was very happy with the 10ft storage container which fitted conveniently and neatly on the car park's premises. The Grange School in Manchester purchased a used 10ft container with S1 door, repainted in navy blue.
Andrew Hobart purchased a 10ft container with S3 doors, to provide a clean and secure furniture store, while having work done on his house.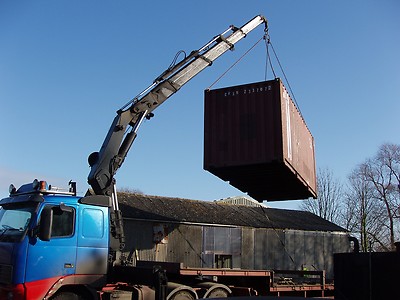 A 40ft shipping container will therefore produce four 10ft containers, one of which will have the original container doors, and one the original container end (or front wall to the use the proper terminology!) For the remaining cut down pieces, we fabricate new doors, and a new wall build, to complete the containers.
They are often the preferred choice of schools, clubs and for use as garden sheds and personal storage.
We are lucky to have manufacturing facilities on site and have designed and manufactured door which is both easy to use and has rubber door seals. Made from galvanised steel, they are frequently used for container conversions, and can be fitted as an additional door, or a replacement for the original. All our containers can be treated with Grafotherm, a highly effective solution to keep condensation within containers at bay.