Now you can easily add some style to your kitchen with this amazing pantry, that will elegantly appeal to your decor and bring an air of richness to it. A kitchen pantry that will bring you the utmost convenience with the ample storage compartments, making sure you fit all of your belongings neatly. If you buy something in bulk a lot, save the containers to create your own bulk storage set.
Instead, stand the bin on its short side and secure it by reverse winding the packing tape (sticky side out first - not allowing the sticky side to touch the bin's finish).
Then, make the second tape pass in the regular way (turning the tape back over) - in effect welding the two sticky surfaces together as is shown in the picture above.
Using this technique the tape is tightly wound around the bin so that it won't slip off and so that the latched top is secured without leaving sticky tape residue on it. Just as the old saying goes which says that there are many ways to skin a cat, so it is with packing and moving. You can also plastic wrap a big or small file cabinet like the one pictured on the left because again - the plastic wraps inherent gripping power will hold the drawers shut without getting tape residue all over the file cabinet.
You can also reverse wind tape around each drawer if you don't have any plastic wrap available.
As much as possible in any move, you do not want the misery of sticky tape residue on anything. Further instruction on how to best wrap, protect and secure items will be made available to you when you become a member. Having cute baby clothes in a drawer usually means having off-season, different-sized children's clothes stored somewhere else in the home. My preference is to have one week's worth of clothes in the current size and season for each child, so that I can go a week before doing laundry.
Those look like IKEA separators in the drawer…and is that where you got the sweater boxes?
For the tote boxes, I finally just bought them after realizing the total value of the clothes being stored inside each one. Yes, giving away is so hard – my daughter will be 3 in November and I had been holding onto all of her clothes.
I have a 3 month old son now, and even if I ever have another girl, it will be a while – and those clothes were just sitting there. My daughter is 10 years old and I've kept about 6 pieces of clothing that bring cherished memories to mind.
Seeing them happily wear my daughter's clothes makes it alot less difficult parting with it. We receive some handed-down clothes for our 3 year old, plus I have some purchases I made at end of season clearances with a gift car. I have two girls and decided to make a baby clothes quilt out of the clothing that had sentimental value or ones that were used up by my two girls.
We have a similar system, though I haven't been as thorough in the weeding-out process. One of the things about kids' clothes that REALLY bugs me is the wide size discrepancies.
As far as clothes go, two little girls gave my first girl all of their EXPENSIVE newborn through 3T clothes. With my daughter, I'm having a bit harder time parting, only because she is my last child and, I'll be honest, little girl dresses are so darn cute!
Both kids have about 1 weeks worth of clothes, and I use this tip (courtesy of the happyhousewife blog, if kids clothes are stained (and my kids had some doozies) use Oxy Clean and HOT water. I find that newborn to one year's clothes seemed to be outgrown so fast, I need to change every month, as they grow so much in early years. Now we dump it in a big bucket in their closet, wait til the next season and then give it away. I save a few choice items and put them in a closet and they will eventually be moved to a box for each girl. I'm sure that just about a weeks worth of clothes is fine…if you have at least 2 changes of clothes for each day! And for getting rid of clothes, I tried using kid consignment places, but they hardly take anything and hardly pay anything for it, so I've found greater satisfaction in passing on the great stuff to friends and family and donating or chucking the rest.
My mom saved some of my outfits when I was a baby and gave them to me to use as doll clothes. I have just been looking at all my childrens clothes wondering how I can possibly keep it all together … so thankyou for helping me get started!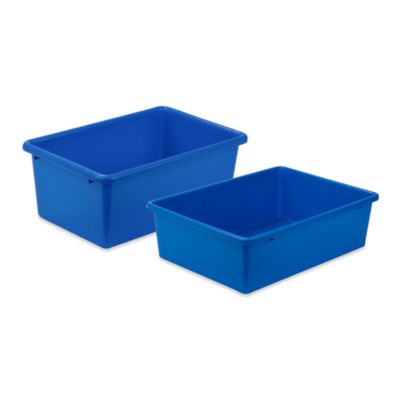 I really like the idea of the boxes… but with three children of dieffernet ages, boy and girls its hard to find space for all of them. A year ago I had twin girls, and i decided to look for the keepsake items I had kept from my older daughters 16 and 19. 10 weeks after the birth of my third child (and first boy) I have begun to ruthlessly give away infant clothing.
I have such a hard time getting rid of them because we would like to have more children and as it is the clothing that was given to our oldest daughter will now go through both of her younger sisters. I try to only keep about 5 days worth of play clothes but find it hard to part with the nicer items knowing that by the time they get to girl number 3 there may not be as many nice outfits to choose from. When I was doing some deep cleaning in my kids bedrooms last week I decided to research some non plastic options for storage containers. I also liked the Metal Locker Baskets. Front side features three old school locker vents and an authentic looking locker number plate. Colorful Large Canvas Bins – I like these for under the bed or laying inside the closet. I thought these Kids Flea Market Wire Bins would be awesome for my boys and for our sports equipment. This awesome three tier Flea Market Bin can be used much the same…for small crafts items or or art supplies. We must be on the same wave link…first dry, itchy skin and now trying to organize the toys.
I plan meals around what I have in the pantry and I buy what is on sale to keep my pantry well stocked.
What you should buy in bulk, what you shouldn't buy in bulk, and how to store it safely. Normally under-shelf baskets are used for storage in kitchens but they are great for storing toiletries, washcloths, etc. This makes both sides of the tape nonsticky (somewhat like creating a tape strap, so to speak). An alternative to tape as a means to double secure the lid on this plastic container is to plastic wrap it using a few layers as shown on the right.
Those new additions plus the little girl clothes we already had meant it was finally time to do something about our clothes storage. Sorting and donating always come first, and the times that you need to buy something new to store something else should be few and far between. Sometimes we have a little more, but that's my preferred amount so that everything can be fully used.
I've been looking for storage containers for just the same thing and they seem to be so expensive!
I've been using the big rubbermaid totes, but hate sorting thru the whole thing every season. Always so grateful for them, BUT also feel a little overwhelmed when someone hands me a HUGE container to go through. I get rid of anything that I don't absolutely LOVE, and that helps get the amount of clothes under control. The older ones wear the same size and I would guess we have about a week and a half worth of clothes. While I did struggle with cutting up perfectly good clothes, I remembered that I donated ALOT of clothing over the years.
When baby #3 came along, I decided to go back through the clothes and only keep items that I really loved, were in good quality, and were not terribly out of style. Fill a bucket with HOT water, 1C of Oxy Clean (not the bleach kind) and let the clothes SOAK. This time we are actually having a tag sale as the girls clothes are very good quality (would sell on e-bay if I had the patience).
Well I was floored when i realized I had saved five storage containers full of clothes and did five loads to clean them all and realized that although some still fit the twin girls, that I already had so much new clothes for them I decided to truly keep only a few of those things that I remembered dearly and the rest I'm putting up in a garage sale or donating . I am going through anything that is too small and offering the best to my pregnant friends. We have several of the plastic ones already and certainly don't want to add to that number by buying more.
But just in case anyone else has looked for options like these I thought I would list them here. I liked these so much that it made me look for old lockers (the real ones) on Craigslist and I actually found several so next time I need  storage or shelves I may go that route.
They have three roomy, divided sections ideal for organizing toys, laundry and other stuff.
Well, fabric and crafting stores often sell plastic organizers for notions and materials but these fabric storage boxes are nifty. They are completely recycled & recyclable paper made into incredibly sturdy cubes, desks, tables, etc. We're moving our two-year-old son in with our four-year-old son soon, and these are some great ideas for me to get their room a little more organized.
I have been looking for that kind of container to have my kids' things properly organized. Below you can find a wide selection of practical and aesthetic cabinets, as well as numerous organization hacks that will make your pantry a neat and functional space. If that doesn't work use another piece of tape to patch up over and around the twisted part that has exposed residue. The plastic wrap has inherent gripping power that makes it a very good means to secure items like this without leaving any tape residue.
I had been storing children's clothes in a large bin, plastic bags, and even paper grocery sacks. Even after sorting through them, it seems like a lot of boxes, and there will likely be more. For each kid I have one tote of sentimental clothes to keep, so I won't accidently give away the hospital hat or heirloom sweater. When we were offered all of these little boy clothes, I only took home a small portion of them, although I could have taken more. I personally only own about a week's worth of clothes in each season, and the rest of my house and stuff is very organized.
The quilt (almost finished!) is such a great way to keep my memories without extra clutter. Last weekend I sorted them by size and put them in cardboard boxes, but I was still unsatisfied with my method. I put those in non-clear tubs with labels, but using clear tubs surely would be much easier.
With #1, I used to keep the outgrown clothes in large bins, but there got to be too many, so now I use space saver bags. We also have no money for clothing so when people give us hand-me-downs we gladly accept them. The trouble with the big bin was that everything was jumbled, making it hard to find a current size, and the clothes in bags wouldn't stack.
There was enough clothing for several families, so I got to be selective and pick out my favorites, the things I knew we would use.
It is such an efficient and actually quite attractive way of storing them… well done!
It was a leap of faith, but I finally realized that if God provides me with any more children, He will provide me with clothes so they won't have to go naked.
Since I was looking for my kids rooms obviously some of these will be kinda kiddie looking.
But it makes such a big difference to go through the process from time-to-time, and a clean room is a great way to start the school year. Often people battle to get rid of their stuff, it was their child's most precious outfit and so on, well I reckon by providing a drop-off point half their battle is won.
Their generosity saved me a lot of money and my girls got to wear much more expensive clothing than I could have afforded. His clothes that I'm storing for future kid number two threaten to take over one wall of our garage. I definitely get rid of things when they are stained (or applique over the stain) and pass down a lot. I washed it all and sorted it by size and then season.i had a ton (she had 2 boys and my sister had sent her stuff from my nephew some of it was 4 yrs old but looked brand new). I don't save anything as sentimental except things their great grandmother knitted them.