Using Organic Mechanics Premium Soil as the planting base, I mixed three of the coleus together in a tall container.  Although I fertilized the coleus plants with organic fertilizer only twice through the summer season, they really performed well. Shawna Coronado is an on-camera spokesperson, newspaper columnist, keynote speaker, blogger, and the author of the critically acclaimed book, Gardening Nude, which is a guide for living a green lifestyle. Shawna educates the online community on green-living tips, sustainable gardening, inexpensive cooking, home vegetable production, and techniques for every day homeowners to save money by being green and feeding the hungry during a down-economy – all this right from her very own home and ornamental front lawn vegetable garden in Warrenville, Illinois.
Shawna appears regularly on television and has been featured on many stations including ABC, NBC, WGN, and PBS TV.
I planted these last year but they didn't thrive like ordinary coleus planted at the same time in the same environment.
Shawna is a wellness lifestyle advocate, professional author, blogger, photographer, and media host who campaigns for social good. So you asked for more pics of my containers and I went around last evening and grabbed a few. Deanne, the only discussion I've seen on overwintering succulents comes from Thomas Hobbes in his The Jewel Box Garden (page 143 -- maybe Amazon will allow a gander at the page!) He says you can squish them all together in a flat, barely heated, but they will need bright light or they will elongate. Denise, 2 years ago I got so disgusted, I threw out evey one one of my Fuchsias except for Voodoo and a species climber that I have that is totally impervious to mite. Whether your home has a big yard of its own or you live in an apartment with a small roof or balcony, you can find a place to plant lush veggies and flowers. I used a special coleus in this planting which has a unique multi-color lobed design on each leaf.
She has a "make a difference" focus on green lifestyle living, organic gardening, and healthy food recipes built to inspire. Tasmanian Tiger into this big pot, in place of the osteospermum that seemed to be croaking. The little round leafed plant is a strawberry begonia that I'm hoping will eventually drape over the edge. Usually I only have to move them to a protected area and they do ok, but we had a stretch of nites in the low 20's last winter and they went a' croakin.My bad, shoulda moved them.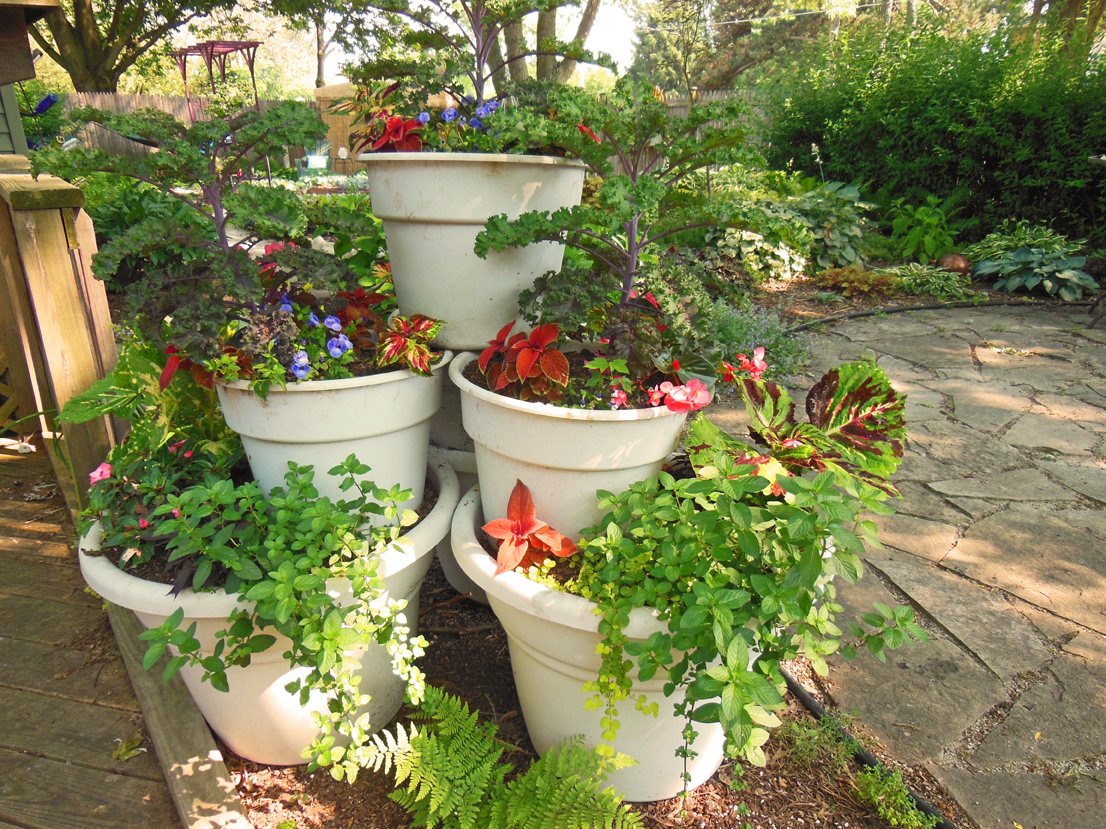 I've picked up a couple fuchsias this year thanks to your photos, a 'Dark Diva' and another unnamed, and we'll see if the mites leave them alone. I'll have to look into that although I don't know if I can stand to have another group of plants to deal with overwintering. This year I have started collecting them again- but have tried to incorporate mite-resistant cultivars. I was too busy with other stuff to pot it and save it, but watch to see if yours does the same! By using this site or any media associated with Shawna Coronado, you agree to the "Terms of Service". I think Cynthia has mentioned before about how those of us up in the colder regions are able to mix just about anything up in our container gardens. I love them all but especially the creamsicle container, the all purple one, the red and white one, and that last one too with the red and blue. That is indeed an abutilon , but it was given to me untagged by a friend and I don't know the cultivar.
It is a real eyecatcher, but I've yet be successful overwintering one and it's kind of pricey for an annual.
I think the plant you're referring to is the Salvia chiapensis, one of the best garden salvias IMHO. I used to grow the fuchsia species as garden shrubs -- they have such beautiful leaves, until the mites had their way with them.
Plus, with so many planter options, you can easily create a personalized look for your outdoor space. The silvery mat is a helichrysum new to me this year that I lost the tag to, with 'Black Pearl' peppers, another aeonium and sweet potatoes. I used to pay more attention to that, but it does all seems to work, so now I'll try just about anything together in a container. They're all incredible, but the sixth pot with the creeping jenny is unbelievable, really a stunner.
I hear this is the story up the coast, right, Kathy, that San Francisco used to be THE fuchsia capital until the mites came. Kathy recommended I use the Maxsea fertilizer which is made from seaweed and that does a great job. Are you manipulating settings on your camera to make the lighting so consistant in your pics ?
ItA's not completely happy in its full sun location there even though the tag said it takes full sun. How cold tolerant are they?~~ RE fertilizer, I alternate between the Maxsea and Algoflash fertilizers. What a great chartreuse combination in the one with the Abutilon pictum and Fiber Optic Grass and what is the tall plant in photo #5? IA've got to be careful with what I put on the driveway because that throws off a LOT of heat when the temps get over 90.
I do take the pics when it is either overcast or go out early at dawn or in the evenings if it isnA't cloudy.
I use organics in the gardens, which don't seem to give that quick infusion that's needed for pots.
I've been brewing a foul-smelling elixir, a tea from fish emulsion and powdered organics in a Sparklett's bottle that I dilute for foliar feeding. I put the fuchsias under lights in March so they can get going and have some size come June. I divide them up and use them in my containers so I get more mature plants than if IA'd used flats of annuals.