03.06.2015
New safety concerns for Coddington Hall have arisen in the wake of this week's fire at City Hall. In addition to previous hard-hitting as well as numerous stories by Quincy Quarry on building code and safety concerns at both the City Hall and Coddington Hall renovation projects BEFORE the recent City Hall fire, the Quarry's world class corespondents have yet again gathered up troubling new concerns.
As one can see from exclusive Quincy Quarry photography, the Quincy Fire Department's wire truck was at Coddington Hall Thursday morning. Considering that the building has already surely been provided with an occupancy permit – albeit probably a temporary one given all of the work yet to be completed on this project – and that such requires an comprehensive inspection by the Fire Department, why then is the QFD wire truck back at Coddington Hall?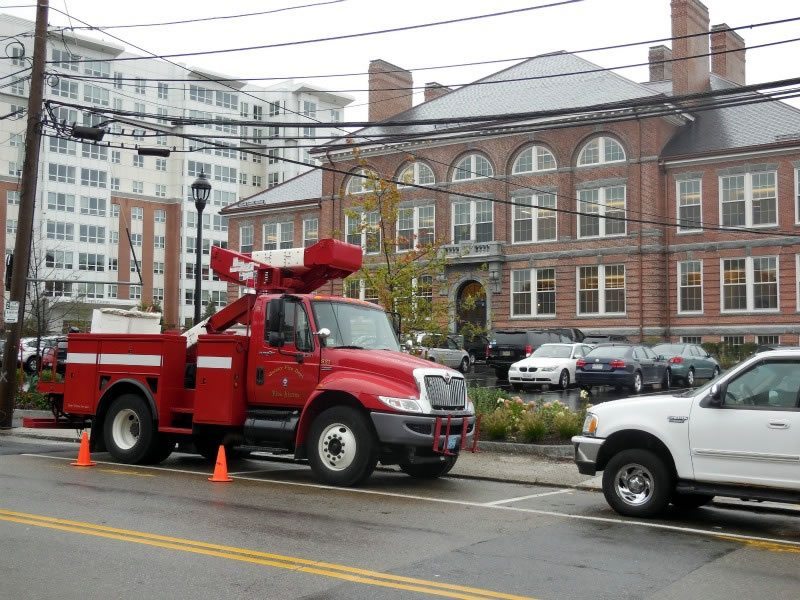 Also, where was City of Quincy Parking Control as the wire truck is parked facing the wrong way? Alternatively, was there an emergency at Coddington Hall and thus the wire truck was operating under expedited parking protocols? Quincy Quarry was not able to obtain statements from Koch Maladministration officials or the Fire Department on any of the many above cited concerns as it knows all too well that none would be provided to it if it asked. Even so, Quincy Quarry – as well as surely its growing legion of readers – only properly would appreciate knowing why was a jerry-rigged and arguably deficient temporary phone line hook-up allowed for the required hard wire fire alarm system at Coddington Hall?
Important: Commenting below is merely expressing your opinion concerning this specific post. Northern Tool + Equipment, Generators, pressure washers, air compressors, power tools, trailers, heaters, stoves, food processing, go karts, and more!