If you've already mastered basic piano skills, then this is the piano software you need. The piano software includes 50 classic piano pieces, from composers like Chopin, Irving Berlin, and Jelly Roll Morton, to make learning piano fun. A piano tutorial on improvisation that teaches music theory and the relation of piano scales to piano chords to teach piano improvisation. Over 50 video piano lessons, with split-screen for learning hand positioning and fingerings.
Performance Evaluation technology on selected exercises to allow the piano tutorial to score you on incorrectly played notes (MIDI keyboard required). Instrumental accompaniment on select pieces (both orchestral and jazz) to make piano lessons fun. A digital metronome to keep you on rhythm and a recorder so you can listen back and evaluate your playing. Whether you want to work on piano technique, play a piano solo, learn new piano chords, or master classic piano pieces - the piano lessons found in eMedia Intermediate Piano & Keyboard Method piano software takes your playing to the next level. Peninsula Academy of Music Arts has openings in September for piano students of all ages and levels.
Piano lessons at our studio or in your home will serve a multitude of students, from beginner to advanced. Advanced students have opportunities for critique and are given direction that will broaden and improve their technical training. Which piano teacher is best for a student depends on goals. During my piano studies, I have been fortunate enough to learn under the tutelage of numerous professors and pedagogues, most recently Dr. I am originally from Brazil, and I have a career as a soloist pianist, piano teacher, collaborative pianist and Opera Coach.
As an accompanist I worked with several opera companies and operas program such as Atlantic Coast Opera (New Jersey), "La Musica Lirica" (Italy), Fio Americas (Brazil)  Russian Opera Workshop (AVA- Philadelphia) "La Boheme" (New Jersey), "Libera Opera" (Philadelphia),  "Fringe Opera festival" (Philadelphia) and Delaware Valley Opera to name a few.
I teach piano, guitar, and ukulele. I'm 29 years old and have been playing for the last 18 years and grew up in a musical household. When teaching, I like to give my students a good balance of studying technique and learning songs. Offer a comprehensive curriculum that will teach the intermediate piano player the skills needed to take their playing to the next level.
The Note Tracker and Finger Tracker tools show you the note you play as music notation and on eMedia's Animated Keyboard. Author of the innovative eMedia Intermediate Piano and Keyboard Method, holds a Masters Degree in Piano from the Julliard School of Music, and has taught extensively at Juilliard, New York University, and the Manhattan School of Music. Slows down the audio to any tempo, while the Animated Keyboard shows song fingerings as the music plays.
MIDI playback options let you select left or right hand only, or a tick metronome track to play along with.
For selected exercises, Instant Feedback shows you when you play the correct notes as you progress through a melody.
When using an electronic MIDI-compatible keyboard with selected exercises, you can get specific feedback on note and rhythm mistakes.
Interactive review and ear training screens help reinforce new concepts and develop your ear. Highlight an entire page, or just a portion of a song, and loop it for playback at whatever speed you are comfortable playing. Selected pieces include orchestral accompaniment and even a jazz band with which to play along. The piano fingerings help teach you the correct fingering for each note and can be toggled on or off for any screen. I have just purchased both the jazz and accompaniment tutorials (downloadable versions, as being in India the more efficient option) and find them very useful both in improving my technique as well as providing interesting ideas for improvization. Piano Lessons Teach Blues Piano, Advanced Piano Chords, Technique, Music Theory and Piano Improvisation!
The piano software listens as you play individual notes and displays them in music notation. We take into consideration the skill level and interests of each student before pairing them with a teacher. I have received some national and international awards in piano such as the Stegner Scholarship for best pianist at Georgia State University in 2008-2009, and Cadenza Piano Competition in Bauru in 2004 where I also received an award for best interpretation of Brazilian music. I started playing piano in 2nd grade, saxaphone and clarinet in 4th grade, bass clarinet and guitar in 6th grade, and have been singing forever.
Being born into a family of musicians in southern Delaware, I grew up in a house that was constantly filled with the sound of music. I've played lead guitar in a few bands along the way all while maintaining a steady interest in classical piano. I grew up in a musical household taking piano lessons from my mother, jamming on drums with my father in the basement, and writing songs with my younger sister.
I graduated from The University of the Arts in 2012 with a Bachelor of Music degree in Jazz Vocal Performance. For the last fourteen years, I have been playing piano, as well as guitar for the past nine. I've been singing since a very young age, and loved being part of my church choir growing up. Since obtaining my Bachelor's of Music in Performance from Temple University in 2007, I have been teaching private music lessons in the greater Philadelphia area to students of all ages and skill levels. I grew up in central Pennsylvania playing music at my church and in my school's symphonic and jazz bands. Good technique and a solid understanding of music theory is critical for a student to grow into a strong musician but it's important to keep students engaged and inspired by the music they love. In addition to being an accomplished musician and personable individual, Joe is able to communicate and instruct regardless of the skill level of the student. Beginning with intervals and expanded hand positions, the lessons progress through building dexterity, advanced rhythms and transitions, interpretive expression marks and voicing, and, finally, to blues improvisation based on the blues and the piano in Ensemble. Colorful variable-speed MIDI accompaniments are also available and can be fun to play along with! Clicking on an individual feedback balloon brings up a keyboard showing you exactly what mistake was made and what should have been played. This feature allows you to compare your recordings with the instructor's version, fine tune your skills and share your recordings with friends and family. I purchased your jazz course and I cannot even begin to tell you how much I have learned and am implementing because you made it so simple.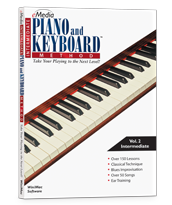 Interactive Feedback technologies make this piano tutorial easy to understand, and you can click immediately to any of the piano lessons so you learn faster.
Depending on needs, instructors will guide  beginner students as they navigate the basics of piano.
As a young pianist, I was encouraged by my parents and close network of friends and teachers to pursue this passion. I was given to opportunity to study all eras of classical music, including early music of the harpsichord and fortepiano under Dr.
I graduated from University of the Arts in 2015 with a BM in music and have been since working in Philadelphia as a freelance musician and piano teacher. Having parents who are professional music teachers, and siblings who share my passion for music, I have always had the support and encouragement to pursue my own dream of becoming a performer and teacher. In May of 2016, I graduated from Boyer College of Music and Dance, Temple University, with a Bachelor of Music Degree in Violin Performance. I've been teaching for the last 4 years, sharing the joy of music with students in Philadelphia.
At 13 I discovered my love for bass guitar and enrolled in the Uptown Music Collective in Williamsport, PA. In addition to songwriting, I also specialize in singing Jazz, Pop, Indie, Classical, Rock, and Musical Theater.
My experience with music includes voice, flute and guitar, but I am most well-versed in piano. Music is a chord struck deep in the heart and it is a special passion of mine to pass on the skills necessary to experience such a visceral medium. At 18, I recorded my first solo album, Echoes of Ireland. I studied Vocal Performance at Marywood University and then moved to Philadelphia to pursue further studies in opera performance.
On any given day I am performing, teaching, recording, rehearsing or writing music. I began playing and studying drums at a young age and continued my music education all the way up to college.
After studying music composition and music recording technology at Lebanon Valley College I moved to Philadelphia to pursue music and recording.
He has a unique ability to engage our daughter with the instrument, firmly grounding her in classical piano technique while exploring the singer-songwriter genre. Music tracking highlights the notes being played on the screen making it simple to follow along. By the time I was sixteen years old, I was performing with the School of Rock all stars at major festivals such as Lollapalooza in Chicago and Austin City Limits in Austin Texas. At age 4, I began taking piano lessons with my father, and later, at age 12, began studying violin at the Music School of Delaware. I have performed as a soloist, in group concerts, and many family concerts all over Delaware, Maryland, and areas of Philadelphia.
I have performed a variety of operatic roles including Despina in Mozart's Cosi fan tutte with the Charleston Symphony Orchestra, Adina in Donizetti's L'elisir d'amore, Susanna in Mozart's Le Nozze di Figaro, and Maren, the title role, in the world premiere production of Maren of Vardo: Satan's Bride by Jeff Myers. I attended Berklee College of Music where I graduated with a BA in bass performance and music education in 2014. I have over 15 years of vocal experience, and over 6 years of teaching private instruction in voice, songwriting, guitar, piano, percussion, and ukulele. I am a classically trained pianist and spent the majority of my training studying composers including Bach, Clementi and Zuhlau.
I have experience teaching private and group lessons to all ages in various programs throughout the city, including Play on Philly and Temple Music Prep. I like to tailor the lessons to each individual student's goals and interests, all while focusing on the music that they find interesting and inspiring. I love being a part of Philly's amazing music scene as a musician, teacher, producer, recording engineer, live mixing engineer and enthusiastic fan. I like to keep things positive and encourage the student's love of music and the role they are playing in making it.
We benefit from Joe being able to teach at our house as well as his flexibility when other activities conflict with lessons… we're extremely pleased! His respect for her musical voice and style is something that I have not always experienced with other teachers.
I am currently in my second and final year of my Masters of Music studies in piano performance.
As a teacher, I strive to inspire my students to connect to the music on a deeper level, further than just physical technique. The first one is in piano performance from Georgia State University and the second one in Opera Coaching from Temple University. I am classically trained and I perform in many different styles including jazz, pop, Rock, blues, and funk.
I also enjoy playing, weekly, in my church band, as well as accompanying friends in various performance opportunities.
Along with singing operatic roles, I have toured Italy as the soprano soloist in Vivaldi's Gloria, cantored at many churches, performed at religious services, sang jazz standards with big bands, and performed cabaret and musical theater performances. I enjoy finding and teaching music that students are excited about, fostering creativity, developing excellent practice methods, helping students pursue their musical goals, and exploring all that music is and can be.
Currently, I play bass and sing backup vocals for Philly-based indie rock bands Ellen Siberian Tiger and Mother Moses and for Boston-based Bengali Pop singer Prithwiraj Choudhury. I also have experience teaching music in group environments, using collaborative and creative approaches.
I emphasize technique and practice methods in lessons while fostering an appreciation for all forms of music.
On top of that, it stirs the brain and body into healthy action, allowing for better coordination and muscle memory. Some of the best experiences have come from playing music, whether it's in a room full of friends singing and banging on drums or alone strumming on the guitar.
I began playing the cello when I was in 7th grade in Puerto Rico with Professor Fermin Segarra. In 2002, I was one of only two guitar players in Pennsylvania chosen for the Pennsylvania Governor's School for the Arts. He knows how to make the most of her abilities, while consistently coaching her to a higher level. I love to connect the study of music with everyday experiences, feelings and objects, to make it as humanly relatable as possible. I have been playing the piano for nearly 15 years and I can teach beginner, intermediate, or advanced students of all ages. Oleg Maslov.  While at the Music School of Delaware, I was recognized as an Honors Certificate Student, receiving many awards for both violin and piano.
Over the years, I have been selected to travel and participate in international music festivals including the Bowdoin International Music Festival, the ARIA International Summer Academy, and the International Music Institute and Festival USA.
Music and performing are truly a part of me and nothing brings me more joy than inspiring the same creativity and passion for music in my students!
I have had the pleasure of performing at Carnegie Hall, The Sidney Opera House, Preservation Hall, The Kimmel Center, and various venues throughout Los Angeles, such as House of Blues, The Hotel Cafe, The Viper Room, Molly Malone's and more. I am a Pennsylvania certified K-6 teacher and currently teach 5th grade at Memphis Street Academy Charter School in Kensington.
I have been fortunate enough to work with some great musicians in the Main Line and Philly areas including Nicholas Brower of Good Shirt Productions or fellow Philly Music Lessons teacher, Jennifer Pague, of Vita and the Woolf.
I also have an extensive background with the violin, piano and voice, having sung in multiple choirs throughout high school and college.
I am an active performer and have worked with many companies in the Philadelphia area, including: OperaDelaware, Poor Richard's Opera, Russian Opera Workshop, Delaware Valley Opera Company, and Delaware ChoralArts.
Instead of a hard lined curriculum I approach each student individually and establish personal goals. I believe that with instilling a strong technical foundation, in addition to a clear understanding of different learning styles, I can work with any student to help them excel in their piano studies, as my teachers inspired me to do. I teach all ages and I have a lot of experience with beginners as well as intermediate and advanced students.
With my students I focus on creating a solid foundation of reading, technique, and music theory.
The band has taken me to some really interesting places, such as singing at Citizens Bank Park for the Philadelphia Phillies game in June of 2015, and SXSW in Austin Texas. I served as concertmaster in the Delaware Youth Symphony and, later, as a first violin in the Temple University Symphony Orchestra. Teaching for over 5 years, I have gained a love and passion for sharing my knowledge of music with others. I recently won a 3 month long vocal competition in Philadelphia, entitled, Songbird: Search for Philly's Best Singer. Additionally, I also have an affinity for punk music and have put together a small lo-fi EP (Distant Milk) of ambient punk for my project, 'Future Seer'. Via all these good musical experiences, I have developed a teaching strategy that focuses on equal parts theory and improvisation. After I graduated from Escuela Libre de Musica de San Juan, a school specialized in music, I went to the Conservatory of music of Puerto Rico for 2 years to focus on Cello Performance with Professor Luis Miguel Rojas. The foundation of my teaching is always breath management, body awareness and tension reduction, as well as musicianship. My goal is to motivate students and make them as excited about learning and playing as I am. I have performed as a multi-instrumentalist for BC Camplight at Union Transfer and the Bonnaroo Music Festival in 2015. My teaching focuses on developing proper and sound foundational technique so that the singer can perform all different styles of music without fear of damaging their voices.
When teaching, my approach is to focus on the student's needs and reach goals that he or she is focused on. I believe in building a strong foundation in theory and exploring multiple realms of music to guide each student towards their own unique niche.
I mostly teach piano in a Classical style, but would love to work with those who want to play pop or show tunes. Afterwards, I transferred to Temple University to finish my bachelor's degree in Performance with Professor Jeffrey Solow. I try to arm my students with a "toolbox," foundational techniques and exercises they can come back to if they're struggling with a note or phrase, whether they're singing Broadway, rock, opera, etc. Since graduating with my degree in jazz performance, I have been featured as a guitarist performing in a variety of genres, and have contributed guitar to multiple recordings, including works recorded at Miner Street Recordings in Fishtown. He also uses technology where appropriate, employing a mobile device to play back songs that our daughter is learning, working with her to interpret them for the piano. Vita and the Woolf plans on releasing the next record in March of 2016. I approach teaching based on how individual people learn.
I can also teach vocalists how to accompany themselves on piano, while using the keyboard as a way to better understand the fundamentals of music. I gear lessons towards broadening the student's mind, and am open to all forms of creating art.
As for guitar, my experience lies rock, pop, and punk music, with a strong emphasis on strumming pattern and chord progression. I make sure students understand the purpose of exercises and how they relate to what they're singing.
In addition to guitar and music in general, I have been teaching audio engineering, production and mixing. I have also had a key role in the production and engineering for the albums of many local bands, including Juston Stens (former drummer for Dr.
I am a versatile player with years of experience and knowledge. I can teach you any style or technique you wish to learn.
I have spent this past year teaching music and art to people with intellectual disabilities at SpArc Services.
I utilize the Suzuki Method with most of my students because I find it to be the most logical and progressive method of teaching. Dog), TJ Kong and the Atomic Bomb, Grubby Little Hands, and The Looks of It (my personal project). I would recommend Joe and this school to anyone who is interested in nurturing their unique talent and bringing it to a performance level.
I have learned a lot about teaching concepts – Everyone learns differently and I feel it is of utmost importance as a teacher to cater to that. It is never too early to hone creative talents and to discover a passion for music and performing! I was a cello, violin and piano teacher for children ages 4-18+ years old for two years in a specialized program at the Conservatory of Music. In 2009 I founded Philly Music Lessons to bring a unique form of music education to my own neighborhood and to Philadelphia at large. With piano, I start students with the basics, such as knowing chords, names of notes, and scales.
I help all of my students to better understand their own instruments so that they can find their unique creative voices and make music that is all their own!
Whether you are just starting out and want to learn some of your favorite songs or preparing for a college audition, I have the tools and experience to help you achieve your musical aspirations. I love teaching and want everyone to have the gift of playing, performing, and composing music.