The Lesson Book comes with a CD full of fun songs and activities that teach the student about basic technique, how to make different sounds on the piano, and much more.
The accompanying Writing Book contains worksheets and activities that reinforce that concepts the student is learning about in the Lesson Book.
After the student completes level A of the Lesson and Writing Books, there is a level B and C that follows. These books are so colorful and fun, I can't imagine what young beginner wouldn't find piano to be a blast! Joy Morin is a piano teacher in Perrysburg, Ohio (United States) who enjoys keeping her teaching fresh with new ideas and resources.
I have used this series with a couple of young students now, and it is probably the best method I've found to engage 4-5 year olds (and many 6 year olds) in reading, and even improvising! I've been using this series for 3 years now (started 1 five-year old a year, three years in a row). The most wonderful book of all-time for 3-4-5 year old beginners is Music is for Everyone, Reader, by Gail Gilbert. Well I am using the My First Piano Adventure books with all of my six year old beginners this year, simply because the songs are sooo engaging.
I have taught a few five year olds and a four year old in the series previously and they loved it of course. I often use book B with seven year old transfer students and I have used Book C with eight year olds who were really struggling and it fits perfectly. I'm just starting using the Faber PA Level A books with a 5yo and 6yo brother and sister, tomorrow in fact! It depends on the family — sometimes, the family prefers that the students share books, and other times, they prefer that each student has their own books! Something I learned (during my pedagogy courses) to consider when teaching siblings at the same time was to use different beginner books. I have taught siblings using the same books, different books and personally, I find making the youngest wait at least a year has worked the best.
All Faber publications are available through the Hal Leonard network of local and online music dealers. Download a PDF of the 2015 Complete Catalog and Teacher's Desk Reference, or click below to view full screen. Mister Bass Clef books for piano, written by Joyce Lundeen, focus on note reading, improvising and theory.
Mister Bass Clef® teaches Note Reading is a supplementary series of two books designed to teach the names of the notes and their positions on the keyboard.
The Say and Play Sheets are timed making them exciting for the student and giving them a goal to reach. Fingering constantly changes to prevent the student from associating a certain note with a specific finger. The Say and Play Sheets should be studied until the student can say each exercise in 20 seconds or less for (Book B), 15 seconds or less for Book C and play each exercise in 20 seconds or less for Book B, 15 seconds or less for Book C (ignoring the time value of the notes). Before playing a Say and Play Sheet, the student should first find the hand positions to be used by locating the fingering for the left hand below the staff and the fingering for the right hand above the staff.
The Practice Sheet in the back of the book can be used by a parent who doesn't know the note names or for self study. Mister Bass Clef® teaches Note Reading Book B begins by having the student locate the keys on the piano by letter name. Mister Bass Clef® teaches Note Reading Book C continues to reinforce the names of the notes on the staff through Say and Play Sheets and songs.
Mister Bass Clef® teaches Theory Book C is a supplementary book designed to teach theory through writing. The summary at the end of the level includes the concept learned for easy reference and review.
The lesson plan can be found on the last page or the last two pages of the assignment book.
Each assignment page lists the books used for the level along with a blank area to fill in the assigned pages. I have spent over thirty years teaching piano and keyboard in group classes and private lessons. With a constant level of over 100 students, I became frustrated with the lack of teaching materials on the market to help my students learn in the areas of note reading, improvising, theory and technique. I ran across these books during the holiday season when I was looking for an easy Christmas book for a (just barely) 7 year old student who had only been playing for two months. I had been using the Music for Little Mozart series with one of my 4-year-old students, but the series just wasn't engaging her and was moving too slow for her learning pace. I haven't seen this book at our music store yet (was just in there today) so maybe I will see if they can order it in.
Love the teaching sequence which progress in a logical manner, and love the repertoire mix they use.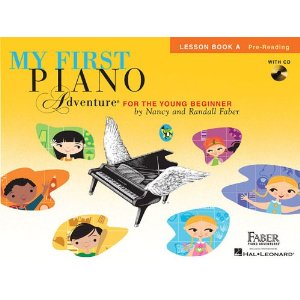 Therefore, I focused on developing these instruction materials and have tested them on my students since 2000. Since I would rather find the right fit, I made a trip to my local music store and found the "My First Piano Adventure" series.
Honestly, My First Piano Adventures is much more engaging and makes the students feel that they are really playing something nice! And with the 2nd edition of the PA book 1, the transition from First PA C is a bit smoother than it was last year. I had a (barely) 4 year old that wanted to start lessons so I did a lot of looking around for method books that would be ideal for a child that young.
I use only the Lesson book (I use lots of other tools and activities in my teaching and like to do it my own way).. The books look exciting and I'm looking forward to teaching them – I hope it is the right fit for them!
I cannot remember which level he has of the Christmas book, but he really enjoyed playing the recognizable tunes.
I was really impressed that series divides the material by pre-reading, line-reading, and skip reading. Some students need less pre-reading material than others, and I was able to start my student right into book B.
I decided to try to teach a 5 yo beginner from the book B (reading on the staff) instead of book A. Most of my students started book A mid-february and we just started book B last week (we've had a lot of holidays this year). I believe kids can learn right away from staff without having to spend so much time on relative reading.
What book A really wins from all of the others is the technique, so I bring the book A to the lessons when I want to focus on technique or concepts that are so well explained. I have been trying to find someone who had the same idea (thought I was getting crazy skipping the first book), so I am happy to have found you!