We are going to get my son one for Christmas, so I was curious if anyone has any recommendations for or against any certain one! We have the Little Einstein one (got it on Craigslist barely used for 25, but it's 100 brand new). We have the Fisher-Price Little Superstar Step 'n Play piano Entertainer and my husband just bought the Baby Einstein Musical Motion Activity Jumper,  The Baby Einstein has a higher back but the Fisher Price has a removable seat when they get older.
Walkers are illegal here in Canada (I guess too many idiots let their kids fall down the stairs in them). Your child may love to whisper (and holler); it's a way of exercising control over his voice.
Involving your child in birthday plans is a great way to make her feel responsible and respected.
You can help your child wrap his mind around that tricky concept known as duration -- how long something lasts. One of the greatest gifts you can give your child is teaching her how to calm herself when emotions are boiling over. They pose a risk of tipping over, and getting at things they shoudnt be able to reach and it even said it can delay when they start walking.
We plan on letting him only use it on the first floor where there are no stairs to fall down and under constant supervision.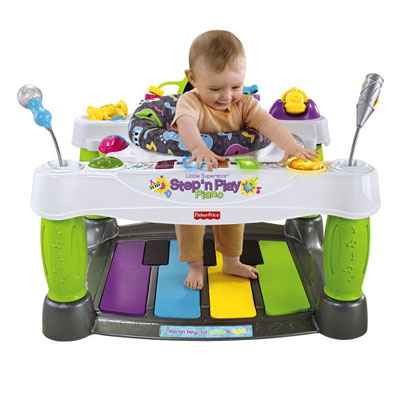 I dont know how true this is or where their info came from but I thought i would just pass it along.