Radar: The unique termite detection radar does what no other detector has ever been able to do. It is the best available non-intrusive termite inspection device, and is the only device that detects, confirms and tracks the presence of termites! It sends out radar through most common wall materials that locates and tracks the presence of termites, without the need for tapping or drilling holes in walls for easy and accurate treatment. The Remote Thermal Sensor with Laser Guide built into the Termatrac T3i hand-held unit performs a similar role as a thermal imaging camera (minus the visual capability), enabling the operator to scan Termite Risk Areas for changes in wall surface temperature which could be conducive to termite infestation.
Termites require a lot of moisture to survive, and when they are clustered together, they can generate heat and move around fast in order to bring their food source back to the nest.
Combining the principles of the two technologies, the Termatrac Termite Detection Radar emits a specially calibrated microwave signal where its reflection detects the movement of a target through a solid material. Export data from the PDA to your PC where the Termatrac Job Manager program allows for easy administration of termite inspection data and associated field logs and notes. The Termatrac Termite Detection Radar emits a microwave signal specially calibrated to detect termites.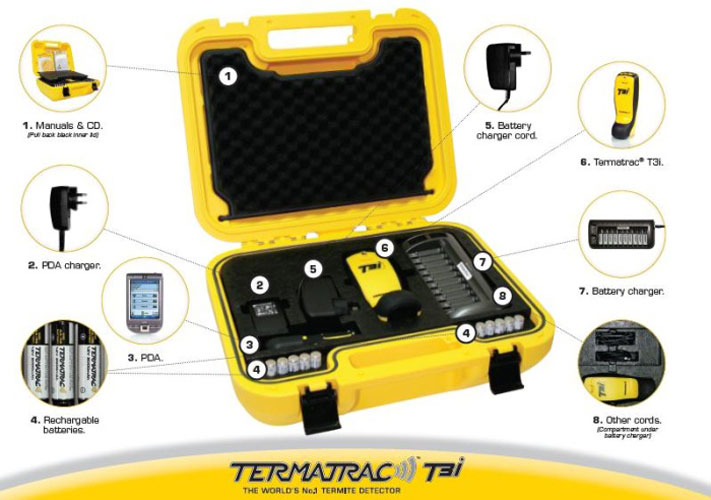 The emitted and received signals are processed to yield certain details about the nature of the signal disturbance; hence the Termite Detection Radar has been tuned to the movement of termite shaped objects. If the microwave signal is interrupted by termite activity, a visual indication is displayed on the units' screen that notifies the operator to the presence of Termites.