This kit is ideal for tackling Bed Bugs and fleas in the home, a hotel or a bed and breakfast.
The most effective residual spray on the market - using aqueous nano emulsion formulation technology and during tests this product proved to be the very best insect killer we have ever tested - kills on contact and will protect you for over 6 weeks!
A fantastic scientifically advanced flushing agent spray to flush out bed bugs and other crawling insects from their hiding places.
Agrodust is particularly useful for use in enclosed areas where the use of an insecticide spray is not possible or desirable. 1 X Pre-vent spray - Protect you from Bed Bug and insect bites when you are in bed or on the sofa. Spray underneath cupboards and into cracks and crevices to flush out pests and ensure your home is pest clear.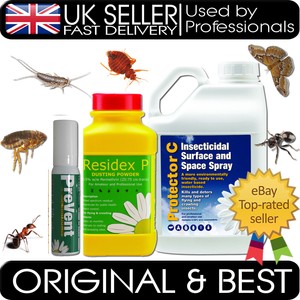 The desiccant dust sticks to the insects waxy cuticle which is then absorbed leading to insect dehydration, and is fantastically effective against ants, carpet beetles, fleas and bed bugs and flying insects too!