24.06.2015
The stitch-and-glue Petrel is a Greenland-style sea kayak with speed and refined handling that excels in surfing conditions.
Nick Schade's line of strip-planked Greenland-style sea kayaks are renowned for sophisticated performance on the water, beautiful lines and sculptural hull details, but strip-planked boatbuilding is not for everyone.
The new stitch-and-glue version of the cedar-strip Petrel eliminates the fussy strip-planking procedure. Like the original strip-planked version, the stitch-and-glue Petrel has a transitioning chine; a soft multi-chine bow and a hard-chine stern.
It can be built with all the features paddlers expect from a modern sea kayak; features not found in any other kayak kit. The stitch-and-glue Petrel is a sophisticated design that is not the easiest to build but the complexity pays off in the paddling.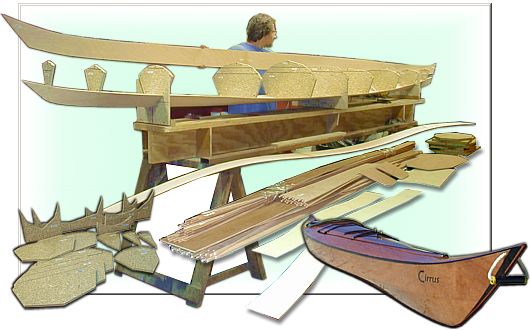 Schade also created a shorter, wider version of the Petrel: the 14-foot Petrel Play will suit a beginner for exploring lakes, or an expert surfing big waves.
Computer-cut plywood panels for the hull and deck are stitched together with wire, then reinforced with epoxy and fibreglass. This allows for responsive control surfing, with less tendency for the bow to lock in and softer landings going up through waves. These hatches are recessed to minimise spray and ease rescue techniques and the cockpit is also recessed to make rolling easier.
The boat works well as a long distance touring kayak for smaller paddlers or as a day or overnight boat for larger paddlers.
The simplified plywood hull has its own sculptural qualities and gives up none of the performance and handling of the original.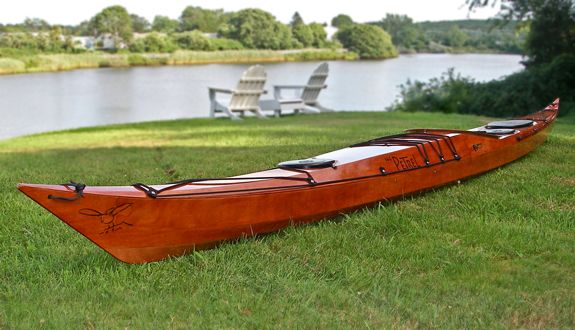 Puzzle joints, one of Schade's signature design motifs, give the stitch and glue Petrel great artistic flair.
It also has an efficient retractable skeg, which is easy to adjust and is offset from the centre line to virtually eliminate jamming. The stitch-and-glue Petrel is not very easy to build from plans unless you have plenty of experience.