11.08.2014
Over the years, I have tried different sizes and weights of these wire tomato cages – all of them have collapsed under the weight of my full grown tomato plants. I was inspired by pictures you posted of these cages a year or two ago, and had my husband build a large frame that stays in the ground. Yep, we have so many cages and long stakes and tree limbs recycled and have tried so many thing sover the years but always end up with a tangled mess of tomato plants in our raised beds.
I always found myself adding extra stakes around the pathetic wire tomato cages to keep the tomato plants from laying on the ground.
I have found the perfect solution to those flimsy wire tomato cages – check out these super sturdy tomato cages.
Now that the wood on mine has started to fade, I think I'm going to paint them this year.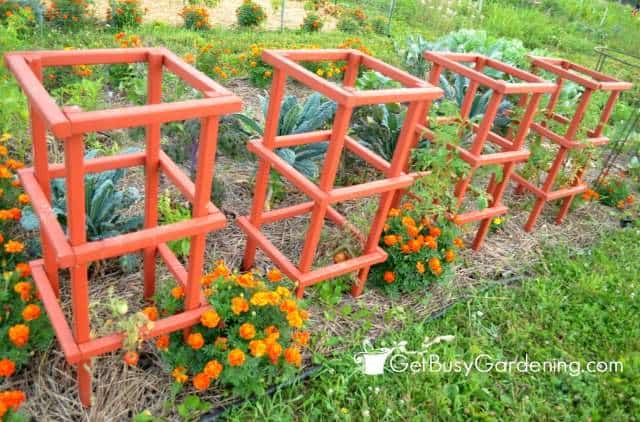 I did a few smaller varieties of tomatoes last year and planted them on the outside of the cages, then tied them up to the cages. I was actually thinking of placing them offsset and then planting some tomatoes in between two cages, and tying them to either side. I take them out of the ground after I pull the plants in the fall, so the cages are only in the ground for about 5 months max. These are by far the sturdiest tomato cages I've ever seen or used, and you will love them too! This year I am only using indeterminate tomatoes and I'm going to try and have them climb a trellis made with pvc pipes and nylon mesh. We could probably just pound them in as they are now, but I would worry that the force might break or weaken the cages over time.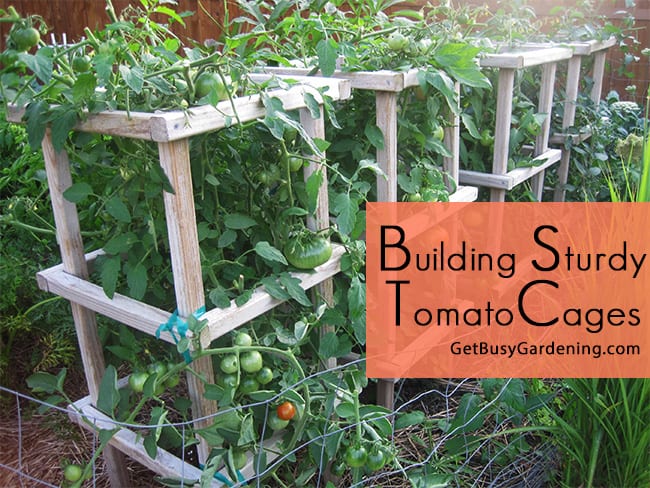 They look like soccer nets, but hopefully they'll work better than my cages did last year!
My brother-in-law has a workshop in his garage, so if I get the wood, it should be fairly easy for him to help me make them. Also, I swore (SWORE) I would grow no more than 10 tomatoes this year, so this might be doable.