27.10.2014
In this introduction video, learn the basics involved in building this simple storage chest. In episode two, learn how to tackle the basic elements of a box that you'll transform into a great storage chest.
In episode two, learn how to assemble the chest's frame and then insert the plywood panels and bottom to finish off the basic box assembly. Learn how to build and attach the top, finish trim, and a smooth coat of paint to your storage chest in the final episode of this project video series. In this extra episode, learn how to mimic a more traditional raised panel look on your storage chest. Build a Storage Chest: Follow along with the videos above to build this simple storage chest.
Maybe a bit late for Scott but for anyone else wanting to make this chest, here is all you will need. For folks who are brand-spanking new to woodworking, you may want to go with the simpler, flat panel version of the chest. The basic framework is built of poplar, which cuts easily and takes a painted finish that's super smooth when properly sanded and prepared.
Plus, you'll be able to choose between a raised panel or flat panel look for your chest. They act as a seat while providing an ample amount of storage space underneath to store any types of things to conceal the mess. Things will also not be left lying around unattended, but instead will be kept inside the storage safely for easy retrieval afterwards.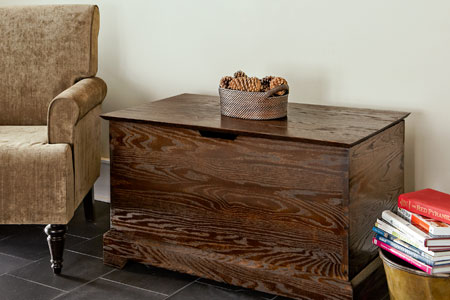 Constructed of solid oak using a type of box joint, this chest is as sturdy as it is good-looking. Watch all the episodes below, and if you're interested in building it, you can even download a complete diagram and cut list here.