11.11.2014
If you're looking for a stylish yet minimalist plant stand, this do-it-yourself Mid-Century inspired planter is a simple solution for your indoor plant storage needs. This entry was posted in Reviews, Tips & Tricks and tagged diy plant stand, do-it-yourself, plant stand, wood working, wooden plant stand, woodworking. This project is fairly easy, as far as furniture building is concerned, and doesn't require any previous woodworking knowledge. Given how retr0-fabulous it is, you'll be shocked by the easy-to-follow process involved in bringing it to life!Plant stand with Midcentury flairFor one more Midcentury-style plant stand from Mandi of A Beautiful Mess, check out this two-tiered stand tutorial, which involves the use of pre-cut wooden circles and dowels.
I love that you can personalize the look with the tile of your choice:Clean-lined modern plant standThis DIY Wooden Plant Stand from blogger Elise Blaha Cripe gives you plenty of room to display an army of plants.
While many of today's featured projects involve covering planters with paint, I like how the pics that accompany this one feature terracotta pots in all of their earthy glory! It's a DIY Concrete Planter, made from an old cabinet, Quikrete, foam insulation and a few other key ingredients.
Note that this project requires some heavy lifting:DIY concrete planterI'm in love with the design on this DIY Painted Geometric Planter!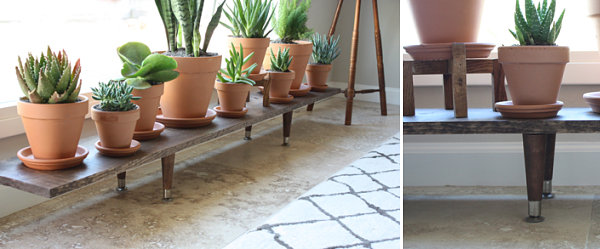 Check out the full tutorial here.DIY succulent planter projectAnd last but not least, we have this DIY Modern Hanging Planter, which works best when you use a lightweight pot to create the finished product.
And if you start with a plastic pot, a Crop-A-Dile tool is likely a better, safer option than a drill for making those holes on either side!