02.06.2014
Get more DIY home decorating ideas with our free eBook, "DIY Home Improvements Ultimate Pinterest Guide." Click the button below. You can turn an average closet door into something of a hidden "room." Simply replace the run-of-the-mill door with a bookshelf door. To support all the weight of the bookcase, he used four heavy-duty casters, cutting off the wheels and welding on conduit box pieces in their place.
Good Afternoon!My husband and I have finished up the bookcase and cannot be happier with the result. I think adding trim to the plan would be a great addition, because it allows you to hide the hinges if you like, which was the appeal to the "secret bookcase door". If you would like to also build this bookshelf doorway, the plans follow with instructions on modifying the plans to fit your doorway.
Take the door frame and fit inside the door, making sure it opens and closes easily and the gap is enough.
You can add trim, or door stop moulding behind the door frame to give your door a clean spot to close. I've been trying to figure out what to do with all my books since we got rid of the bookshelves in our living room. This is my first time working with wood at this scale, so sorry for the shoddy craftsmanship ahead of time. It's an easy DIY home improvement that not only adds a litte more room to your space, but it really brings back that childhood adventerous spirit.
Maybe you have a collection that's worth a lot of money, or a super-secret lab—or, like YouTube user korostelevm, maybe you just want a good hiding place for your guns.He turned his closet into a secret room hidden by a bookcase, complete with the obligatory movie-inspired book-for-a-handle trick.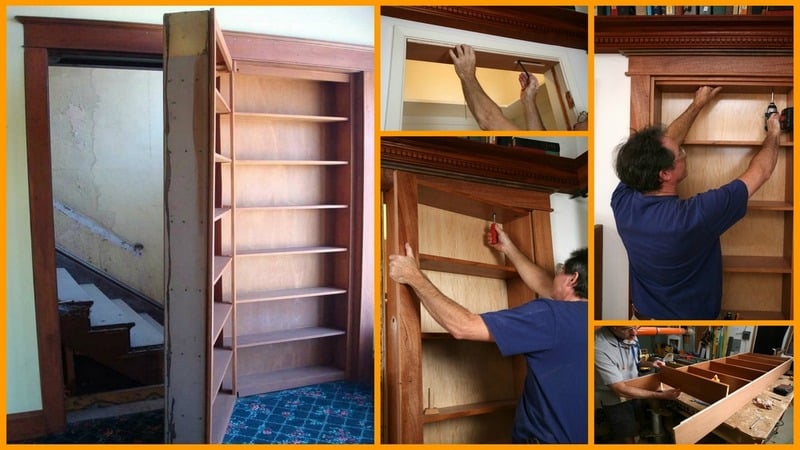 The bathroom has two doors, one that allows access to the master bedroom and another door going into the living room. I apologize for the less-than-stellar images, this room is a converted garage so has absolutely no natural light, and a dim ceiling fan to work with.
Plus I've learned that Polyshades stain is a nightmare to work with and won't be using it again!