Coconut water is increasingly marketed as the natural isotonic of choice, setting it up in competition with sports drinks. Sports and energy drinks accounted for 6.5% of total global soft drink introductions recorded by Innova Market Insights during in the 12 months ending August 2014. The US sports drink market is particularly large and mature and sales growth has been relatively limited during the past few years.
PepsiCo continues to dominate the sports drinks market with its Gatorade and Propel brands, which account for more than three-quarters of sales value, ahead of Coca-Cola's Powerade with more than a 20% share.
Recently there has been a strong focus on the brand's sporting heritage and it has a Sports Science Institute working with elite athletes to develop products suited to different sporting needs and occasions. Coca-Cola's Powerade, meanwhile, has seen ongoing development of its range with its ION4 Advanced Electrolyte System. Coconut water also is increasingly marketed as the natural isotonic of choice, setting it up in competition with sports drinks. Coconut featured in more than 4% of all global soft drinks launches recorded by Innova Market Insights during the 12 months ending June 2014. Interestingly, coconut water products mainly sit in the juice drinks market, either alone or in combination with other juices. As might be expected, product activity has continued apace, particularly in the US, where the relatively well-established market is now segmenting to maintain momentum. More broadly, Innova Market Insights has seen the US market for sports and protein drinks transition from separate categories into one, larger sports performance market.
The sports protein beverage market is still relatively undeveloped, but there are high levels of new product activity.
In 2012, the market took another key step forward to target more casual consumers and mass market channels. The Core Power brand was marketed as the first all-natural protein drink with real, fresh, hormone-free milk rather than milk powders or protein powders.
Innova Market Insights views sports and energy bars as part of a larger, dynamic cereal and snack bars market. Cereal bar new product activity has been generally high, reflecting a variety of formats, ingredients and target markets. The nutrition and performance bars category used to be confined to specialized products for athletes and other active consumers.
At the same time, snack bars sub categories have become increasingly blurred as health and performance ingredients are added to what used to be more mainstream cereal and granola bars. The US bar market has posted strong growth and now includes a range of better-for-you lines, including sports and energy, weight management and meal replacement options. In general, Innova Market Insights finds that the sports and nutrition food and drinks sector is, itself, quite healthy. Product introductions also are growing with increasing research behind a range of new (primarily) natural ingredients. Lu Ann Williams is director of innovation at Innova Market Insights, provider of market research services including the Innova Database.
This webinar will share some of the latest advances food manufacturers are using to remove troublesome heat from food processes up and down the production line; from mixing and coating applications to grinding operations. Now in an extensively updated second edition, the volume provides a source of concentrated and accessible information on the composition, properties and food applications of the vegetable oils commonly used in the food industry.
Check out the May 2016 issue of Prepared Foods, featuring our cover story on oils in food product development, how spices are herbs are being used in food innovations, and much more!
Sports nutrition products refer to energy bars and drinks, protein bars and dietary supplements.
Increasing health awareness among the consumers, rapid urbanization and rise in disposable income of the consumers are some of the major factors driving the demand for sports nutrition products globally. However, availability of counterfeit products is one of the major factors restraining the demand for sports nutrition products globally. Owing to the large number of upcoming industries in the developing nations, the per capita income is expected to increase over the forecast period. The report has been segmented by product type and geography and it includes drivers, restraints and opportunities (DRO's), Porters Five Forces analysis of the sports nutrition market.
By product, the market has been segmented into sports food, sports drinks and sports supplements.
The report also analyzes factors driving and inhibiting growth in the sports nutrition products market.
Sports nutrition products have gained popularity among various groups of consumers in recent times. North America is the largest market for sports nutrition products and is expected to continue its market dominance throughout the forecast period. High pressure processing (HPP) is a technology which is used as a natural option for processing an extensive range of food products.
Food allergies or food intolerances have affected nearly every person at some of point in their lifetime. Chillers are refrigeration devices used to cool equipment, raw materials, or fluid streams in industrial applications, as well as food and beverages in residential and commercial applications. The increasing demand for cosmetics, dietary supplements, and nutraceuticals made from natural ingredients is boosting the global borage oil market. As sports nutrition continues its push to increase its appeal beyond the bodybuilders and elite athletes that long dominated sales, companies are increasingly eyeing the most mainstream of the sports foods categories: sports and energy drinks.
The categories' strong appeal to basic consumer desires has helped establish their mainstream appeal. While energy and hydration concerns have long been of paramount importance to sports nutrition's core user base of elite athletes and body builders, many of the products made available to date are sold in bulk powder formats that do not appeal to more casual users, including recreational athletes and fitness-focus health & wellness consumers. Though sports drinks are not foreign to the portfolios of many sports nutrition companies, particularly those that have traditionally focused on endurance sports (including Italy's Enervit SpA and the UK's SiS (Science in Sport) Ltd to name a few), producers could do more to incorporate other popular non-protein product ingredients into new launches. The sports and energy drinks categories' consolidation poses a significant hurdle to expansion. Sports nutrition category growing quickly with related candies, chews for on-the-go athletes.
They also are learning more about the benefits of exercise and they need help coping with increasingly busy lifestyles. However, the sports drink sector does face considerable ongoing competition from other beverages—some of which also focus on added functionality. It also is highly concentrated and largely shared between the two leading soft drinks companies: PepsiCo and Coca-Cola.
Both of these companies' brands have segmented, with Gatorade now including Gatorade Perform, Gatorade G2 Perform, Gatorade Frost, Gatorade G2, Gatorade Fierce and Gatorade All Stars. Not only are protein options being added, but different flavors are being developed and trialed.
Powerade Zero Drops flavor enhancers were added to the zero-calorie Powerade Zero range in 2013. It is made with the juice of young, green coconuts and is already a popular drink in many Asian and Latin American countries.
In the United States, it represented nearly 10% of non-alcoholic drink new product introductions, although this does include use of any coconut flavors and ingredients (not just coconut water). Looking at the global juice drinks sector, coconut featured in more than 6% of global juice drink launches during 2014, up from 4.5% in the previous 12-month period and from less than 2% five years ago. Last summer brought its launch of Vita Coco Natural Sport, which is sold exclusively through US Target stores. An early driver was CytoSport, one of the United States' largest athletic beverage producers.
One example of mainstream market interest involved Hormel Foods Corp., which purchased CytoSport last summer. That's when Coca-Cola made its first direct investment in the US dairy industry and partnered with Select Milk Producers to produce the Core Power high protein milkshake brand. It delivers 26g of protein in each 11.5oz bottle, as well as 14g of essential amino acids and 5g of branched chain amino acids.
And although sports and performance new products span a wide range of categories, energy bars comprise the only sizeable market. That market is now relatively well established in most countries, particularly in its original home of the United States.
Interestingly, Innova Market Insights found that 82% of new bar products (worldwide) were positioned on a health platform during a 12-month period ended August 2014. Moreover, those products were only available at gyms, drugstores and health food stores, or by mail order. Meanwhile, more specialized products have adopted a broader health positioning and appealed to a wider audience. Meanwhile, marketers are improving consumer communications to promote the benefits of safe, nutritious and efficacious products. With 20 years' experience in the food industry, Lu Ann is a trend expert and frequent public speaker at events worldwide. Attendees will gain insight regarding how using liquid nitrogen can increase production throughput, reduce cycle times, and help prevent microbial growth…and ultimately gain an advantage in today's competitive marketplace. These products are manufactured using ingredients like creatine, linoleic acid, caffeine and taurine among others.
The market share of sports nutrition products is expected to increase over the forecast period. North America held the largest market share at globally and is expected to maintain its position throughout the forecast period. Owing to these factors, there is considerable increase in disposable income of the consumers in the emerging economies. By geography, the market has been segmented into North America, Europe, Asia-Pacific, and RoW (Rest of the World). Porter's Five Forces analysis offers insights into the market competition across its value chain.
However, sports food segment is expected to be the fastest growing market growing at a CAGR of 9.6% from 2014 to 2020. These are made with the view of replacing eggs in every possible recipe where eggs play a central role. Representing a market opportunity of over US$50 billion in retail value sales in 2014, the category has an obvious appeal. The drinks are fairly ubiquitous across market types with emerging markets accounting for just over one-third of combined global off-trade retail value sales, which grew by 5% to US$50.1 billion in 2014.
Energy drink brands have cultivated massive growth by expanding their positioning from edgy performance boosters to basic functional drinks.
However, as more of these casual users enter the sports nutrition category, producers of convenience formats – most notably RTD's – are increasingly incorporating claims around energy and endurance.
While sports drinks are generally formulated around electrolytes and carbohydrates to provide better hydration uptake and sustained energy, innovative sports nutrition companies are beginning to expand the formulations to include popular intra-workout ingredients like branched-chain amino acids (BCAA's). In 2014, the top five producers (PepsiCo Inc, The Coca-Cola Co, Red Bull GmbH, Monster Beverage Corp and TC Pharmaceutical Industry Co Ltd) accounted for 67% of all global off-trade RSP sales. Focusing on competitive analysis, Chris is responsible for the production Euromonitor's company profiles and briefings on corporate strategy in the consumer health industry.
For all these reasons, Innova Market Insights can point to increased demand for products designed to aid physical performance. In 2013, a Strawberry Lemonade Gatorade variant was trialed in 7-Eleven convenience stores before being rolled out nationally; and, in 2014 a Fierce Green Apple variety is in tests in a similar approach. The electrolyte mixes in 3oz squeezable bottles can be used to make up about 24 8oz fluid servings. It can be promoted on an all-natural platform, while it also offers many of the isotonic benefits of mainstream sports drinks. Looking at the US juice market, more than 13% of new product launches featured coconut and more than 8% of sports and energy drinks also featured coconut water. Last but not least, coconut water also has appeared in many flavored beverages including combinations with lemonade, espresso coffee, chocolate and even chili extract. Meanwhile, dairy ingredients and proteins, including milk, also are playing significant roles.
It launched its Muscle Milk powder for athletes and gym workout enthusiasts back in 2000 and came back with RTD milks in 2004.
The initiative started mid-year with Coca-Cola signing a deal to distribute the Fair Oaks Farm Core Power brand, a dairy sports recovery beverage. Overall growth has focused on more mainstream products suitable for all-day, on-the-go snacking. Dynamic market growth is largely attributable to a mainstream distribution shift, primarily in the US. Product developers are considering an increasingly wide range of consumers including those interested in different sports, exercise regimes and levels of activity, also potentially subdivided by age and gender. Developing countries such as India, China, Brazil and Japan among others have huge untapped potential for sports nutrition products.
Europe is the second largest market for sports nutrition products, owing to increasing health awareness. This is expected to have a high impact on the demand for sports nutrition products in the long run. Increasing health awareness and changing lifestyle are the major factors boosting the demand for sports food at the global level. Average selling prices (ASP) across all product segments are covered within the scope of research. The report provides the current market size and anticipates its status over the forecast period.
The report will help manufacturers, suppliers, and distributors to understand the present and future trends in this market and formulate strategies accordingly.
These products are manufactured using ingredients including creatine, linoleic acid, caffeine and taurine among others.
Increasing amount of disposable income owing to rapid urbanization is one of the major factors fueling the demand for sports drinks globally.
However, owing to increasing health awareness the sports nutrition market is expected to experience stable growth in the coming years. However, with so much of the space occupied by global packaged foods and soft drinks titans, gaining an appreciable share of the sports and energy drinks market may prove to be a herculean task for even sports nutrition's largest companies.
The need for energy and focus is fairly universal and highly praised by consumers from all walks of life.
Major producers have used both the protein and non-protein categories to target energy drink users, in particular, by positioning their products as more healthful versions of sugary, chemical-packed energy drinks. As sports drinks are designed to be consumed during exhaustive exercise, the inclusion of an ingredient like BCAA's, which has strong clinical backing as a muscle breakdown preventer, could provide added value to the sports drinks category.
Not only do the companies have the massive cash flows to flood local markets with advertising, their extensive and industry-leading production and distribution infrastructure gives them go-to-market capabilities in the drinks space that dwarfs even the largest sports nutrition companies.
He also serves as Euromonitor's specialist in the vitamins and dietary supplements and sports nutrition categories. Moreover, many products once viewed as specialty nutrition lines are moving into the mainstream market and manufacturers are giving them a new lifestyle-driven positioning. Other specific category leaders have included sports and energy drinks (28%), other beverages (14%) and dairy products, particularly milk drinks (11%). It features calcium, magnesium and potassium in a hypo-allergenic format—with no need for additives or even sweeteners.
Natural fruit flavor varieties include Orange, Black Cherry, Lemon Lime, Fruit Punch and, more unusually, Dragon Fruit. Meanwhile, the Austin, Minn., company said it was diversifying its portfolio and expanding its offerings of portable, convenient, protein-rich foods. This was followed by a year-end announcement that Coca-Cola was investing an undisclosed sum in the brand to create a complementary value-added nutritional dairy portfolio. Meanwhile, sports and energy products sit within the nutrition and performance bars category, which has showed good growth in recent years, but is still relatively undeveloped outside the US.
Today, these products are much more widely available and consumed on a more casual basis by a wider range of consumers looking for healthy and portable snacks for active lifestyles. Manufacturers of sports nutrition products are aiming to penetrate the developing countries in order to boost their presence at the global level. However, increase in the consumption sports nutrition products over the years has made Asia Pacific as the fastest growing market for sports nutrition products. We have featured the current market scenario for global sports nutrition market and identified future trends that will impact demand for sports nutrition products during the forecast period from 2014 to 2020.
Increasing health awareness is one of the major factors fueling the demand for sports nutrition products globally.
As for sports drinks, years of extensive advertising by brands like PepsiCo's Gatorade, Coca-Cola's Powerade and Suntory Holdings Ltd's Lucozade, even the least enthusiastic exercisers are aware of the important role of hydration in health and fitness. In general, the RTD and shot formats have been underexploited in non-protein products and could open the category to mass consumers.
While the smaller sports nutrition producers may be able to compete on advanced formulation expertise and authenticity as health-and-performance-focused companies, they will need to secure shelf space in major mass retailing channels nation-wide (something few sports nutrition brands have accomplished with their current portfolios) to make an impact in the much larger sports and energy drinks category. After taking a stake in Zico's coconut water operations in 2009, Coca-Cola, assumed full ownership at the end of 2013. Interestingly, Muscle Milk also expanded its market reach last year with a spring 2014 debut in Germany.
This indicated its interest in dairy-based beverages in general, and nutritional and performance lines, in particular. The category includes a raft of other better-for-you products, led by weight management and meal replacement entries.
Sports nutrition products are mostly used by sports persons such as athletes and bodybuilders. The manufacturers of sports nutrition products are aiming to explore the developing countries such as Brazil, India and Argentina among others in order to boost their market presence. In addition, rapid urbanization and rise in disposable income of the consumers is also expected to boost the demand for sports nutrition products globally. According to a late 2014 survey in the US by the trade group Council for Responsible Nutrition, "drinking enough water" was the number one health & wellness habit concerning Americans in 2015. For their part, sports and energy drink producers have also begun experimenting with sports nutrition products, as well. Recreational users who are engaged in weekend sports also use sports nutrition products in order to keep themselves active. However, availability of counterfeit products is expected to restrain the demand for sports nutrition products in the forecast period. With combined sports and energy drink sales expected to grow by nearly 30% to US$64.1 billion in 2019, consumer interest is not expected to abate anytime soon. The Thorzt drinks are particularly interesting in that their marketing targets builders, minors and other outdoor labourers, as opposed to the traditional athlete demographic. Given protein's global status as a healthy ingredient superstar, its sustained energy-boosting capabilities could prove to be a powerful marketing message moving forward. BCAA's have seen a strong uptick in interest among sports nutrition users recently, which could lead to their inclusion in more hydration- and endurance-focused launches in the near future.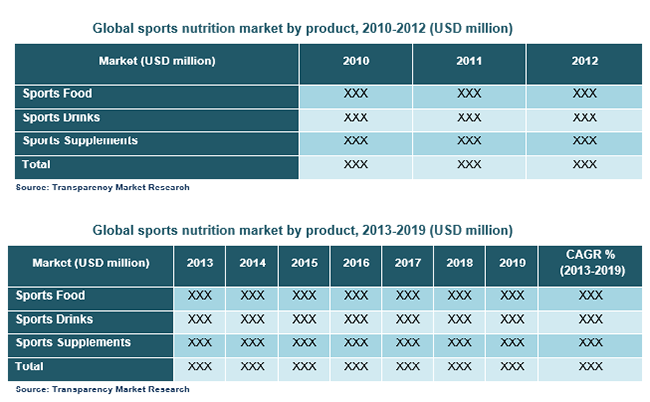 Comments »