This page is devoted to ab exercise equipment, ab machines, core exercise equipment and abdominal exercise equipment.
There are many different tools that you can use to work your ab muscles, and they all have pros and cons.
The con of every ab machine is that an ab machine cannot magically melt fat off your stomach. The pro of most ab machines or ab exercise equipment is that they can help to strengthen your ab muscles.
Crunches and Sit Ups are the most popular ways to exercise your stomach muscles, but using machines or equipment can add variety to help to keep your body balanced. Use ab exercise equipment and ab machines to strengthen your muscles, challenge your body in different ways, and keep your workout fun and interesting. In regards to core exercise equipment, the Rebook Core Board is a great tool to enhance your core workout and engage your core muscles. You can stand on the core board or place your hands on the core board to increase shoulder stability and hip stability while engaging more muscles and burning more calories. Hanging Leg Raises are a good lower abdominal exercise, but sometimes grip strength can limit the ability to focus on the abdominal muscles. It's hard to believe companies that sell Electronic Ab Belts are still in business, especially after the Federal Trade Commission filed complaints the 3 Top Companies for making false claims about ab toner belts. Exercise balls (stability balls) have become a popular piece of exercise equipment in the past years.
Because the exercise balls are unstable, they force your ab and lower back muscles to work harder during exercises and can increase your strength, coordination, and stability. When the floor becomes too easy, you can increase the challenge on your ab muscles by adding resistance to your ab exercises. Before spending more than $100 on a bulky ab machine, try a few dumbbell exercises for your abs.
Dumbbells are a great way to add resistance to your upper body, and ankle weights are a great way to add resistance to your lower body. It's one of the most popular pieces of abdominal exercise equipment in major gyms and fitness facilities.
I am generally not a fan of as seen on tv ab machines because almost every company lies and uses deceptive marketing techniques to convince people to but their ab machine. The main way that companies try to trick people is by perpetuating the spot reduction myth. Ab machines and ab exercises can help to strengthen your muscles and keep you fit, and some ab machines can be fun and challenging.
If you're board with your current routine and a new gimmick helps you get focused on fitness, then go for it. Remember, despite what clever marketers say, no ab machine or ab exercise equipment can magically get rid of stomach fat or give you 6 pack abs and a flat stomach.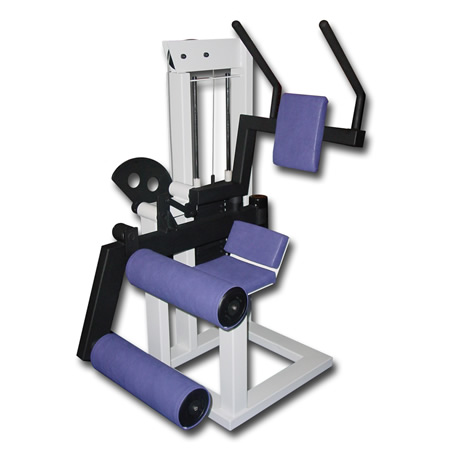 Ab machines and different types of ab exercise equipment can help to relieve boredom and strengthen your muscles in different ways then the floor or other types of ab equipment. Every week, I try to add more information to this site, so keep checking back to learn more about the best ab machines and the best ab exercise equipment.
If you're looking to buy an exercise bike but not sure which brand or model is right for you? Personal Training Secrets to Lose Belly Fat and Get a Flat Stomach is the answer to your prayers. It's a Complete Women's Fitness Plan with Simple Secrets to Lose Weight and Tone Your Stomach. There is good news for people looking for tighter abs - some of the best ab equipment is inexpensive and small enough to easily fit into nearly any room in your house. A study conducted by the San Diego State University Biomechanics Lab and sponsored by the American Council on Exercise (ACE) found that abdominal crunches on a stability ball may be one of the most effective exercises for the abs, making a good stability ball an invaluable piece of equipment for anyone looking for stronger ab muscles. Ranked as the best exercise ball by Bestcovery, this stability ball features a high burst resistance and is quite durable. The price for this ball depends on the size and features the customer selects, and varies from around $20 up to just under $70 on Amazon. The same San Diego State University study cited the captain's chair as one of the best pieces of exercise equipment for abs, particularly for the obliques. Relatively affordable at around $150, Amazon customers rate this piece of equipment highly for ease of assembly and versatility. Like the Power Tower, the Best Fitness Vertical Knee Raise can be used for a variety of exercises. While captain's chairs and stability balls seem to be the two ab equipment options most clearly identified as beneficial through scientific research, trainers and customers alike also find other kinds of equipment to be helpful. Using a hyper extension bench can be a great way to lose belly fat and strengthen your lower back. The Ab Wheel by Valeo is simple to use and small enough to store just about anywhere and is a bestseller on Amazon. Customers who have room in their home for gym-sized equipment - and who don't mind spending around $320 - can purchase a Yukon Ab Crunch Machine at The Benchpress Equipment Outfitters. When I ran track in college, I would work my abs for an entire 30 minute Simpson's episode. If you call us we'll give a huge discount on the advertized price - beating the price offered by our competitors. Fortunately there are lots of options to help you get a great abdominal workout without having to spend a fortune. A DVD accompanies this ball, and is appropriate for both beginning exercises and seasoned exercisers alike. Like the stability ball crunch, a captain's chair crunch is simple yet incredibly effective.
The sturdy base of the Power Tower allows users to feel safe using this equipment and the padded back and arm cushions make for a more comfortable workout.
It is lightweight and easy to move, though it is not appropriate for heavier customers since the weight limit is 250 pounds. This machine is praised by some body builders as one of the only pieces of ab equipment they suggest as effective for helping define abs. Reviewers on Amazon like this ball because of its durability and the firm grip the ball has with non-carpeted floors.
It is also available from Amazon, where one customer describes it as an "excellent piece of equipment".
Customers also state that it is simple to assemble and provides an excellent core workout for stronger abs. If you can't afford to stock your home with exercise equipment, start small with a simple ab routine and go from there.
Majority of the men dream to have a six pack body which remains an aspiration as long as you do not think seriously about your abdomen area as it is considered the most difficult area when it comes to getting six packs.Abdominal Exercise EquipmentKettlebellsKettlebells are bowling ball-sized cast iron weights with a single looped handle on the top. Working with kettlebells provides an excellent entire body and core workout while building strength and stability.Bosu Balance TrainerWhile using Bosu Balance Trainer provides a full workout for strength, agility and especially balance.
You can perform several great core strengthening routines that need coordination and proprioception training. Ab RollerThe Ab Roller can help you target the rectus abdominis muscle while providing support for your neck and head. The arm rests also allow you to relax your shoulders so you can do regular crunches without straining. Ideal for those who have neck and shoulder pain, or need assistance getting their ab crunch technique perfect.Ab WheelAb Wheels are extremely effective If you are using them properly. In addition to some basic ab exercise, the ab wheel can provide a complete ab workout.Medicine Ball ExercisesMedicine BallsMedicine ball work outs are a favorite of mine for getting probably the most out of any abdominal strengthening routine.
The number of exercises (especially ab work) that can be done with a balance ball is virtually unlimited.
Get a starter video to obtain the basics and go from there.Exercise Floor MatThe conventional crunch is still one of the best, best and efficient ways to strengthen and tone your abs. Obtaining a high quality exercise mat will make doing crunches more desirable during those commercials.
Comments »