Building your own rabbit cage generally works out cheaper than buying a cage and it is a good way to get exactly what you want. If you follow these cage plans exactly you will end up with a cage that is 6' (180cm) x 2' (60cm) but you can easily adapt the design to any shape or size you like - even add a second level. The main frame for the cage will be made from PVC piping, 1" diameter pipe is ideal but you can use a different size. You can use rigid mesh panels or off the roll mesh, like you would on an outdoor rabbit run, to secure the cage. Next attach the mesh to fill in the cage frame (excluding the front where to doors go) with cable ties.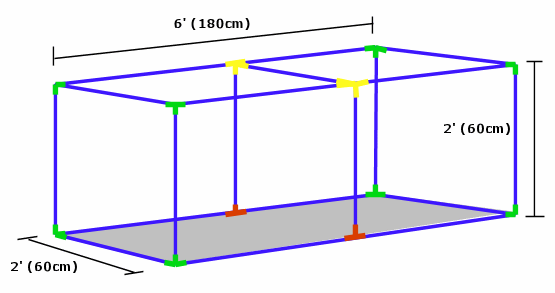 These cage plans do not include a base; you could add a tray made from wood or corrugated plastic or simply stand the cage on a piece of lino flooring.
There is no reason why rabbit housing can't be good looking as well as functional, as demonstrated by this great cupboard conversion by Netherland's interior designer Evelien Lulofs for her rabbits Amigo and Tinq.
The doors and frames are made with the same technique as the main cage strcuture (see diagram right)).
If you can't find the size or colour you want then buy plain stainless steel weld mesh and finish it with Plastikote Fast Dry Enamel spray paint. As well as writing a blog and book about rabbits, I run a site that promotes UK rabbit rescues (which incidentally is how I ended up with Scamp).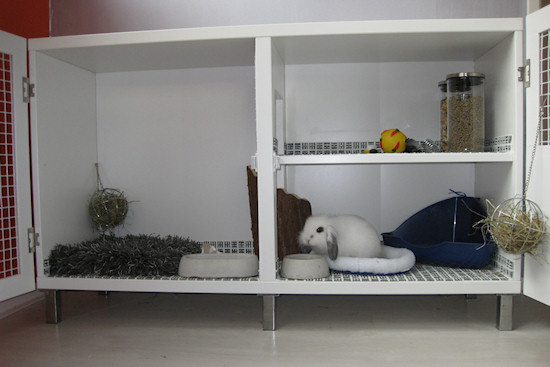 For this cage the Gardman Mesh Panel (3'x2') which is available in green and white would be ideal for a nice finish, you'll need 8 panels to complete this design.