When it comes to mobile app interfaces, textures as well as patterns are incredibly versatile tools. Today's showcase features impressive examples of mobile app interfaces that take a full advantage of implementing high-quality, rich and dense textures. Punters Club by Sergey Valiukh has a mind-blowing design with skillfully implemented textures, sophisticated coloring, and subtle shadows. Ftou Ftou Ftou by Lefteris Papadeas Designer beautifully leverages a cloth texture that is decorated with hand embroidery. Alaska iPhone App by Urban Influence has a wonderful maritime vibe with a slight vintage touch. Good Food by Julia Czingon has an exquisite complex interface design that plays heavily on various textures. Felt Cassette Tape for iPhone App by Hine Mizushima fascinates users with its marvelous cloth-inspired interface that is designed in meticulous detail.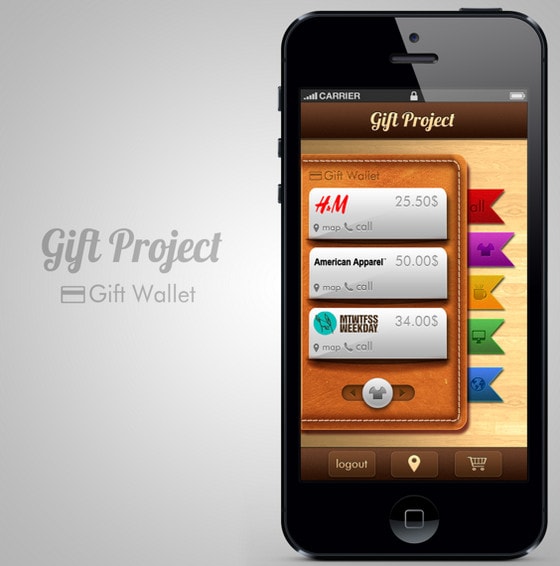 Mobile App by Maria Karydi easily increases appetite via food themed decorations, realistic table cloth background and tempting red color. Earnie by Justin Lockwood showcases quite an engaging design with pleasant school atmosphere.
Designers have definitely taken a fancy to utilization wood texture in designing various mobile application interfaces, especially those that are dedicated to food industry. Wood texture serves as a perfect background for such adornments, giving an app a rather realistic feeling. Designer makes use of natural grey wood texture that is ably supported by lovely blue panels, frames and buttons, making an interface look more elegant and pleasant. Designer does a great job of combining various textures together in order to give an UI a uniqueness and skeuomorphic allure. Designer utilizes 3 popular textures: wood, leather and paper, since they harmoniously interact with each other.
Designer skillfully leverages barely noticeable smooth dark texture in a background that perfectly highlights control center elements.
Designer uses habitual dark wood texture background in order to naturally set off foreground elements. Designer relies on well-balanced combination of wooden and paper textures that produces rather appealing style. It nicely conveys an organic feeling, naturally adds depth and richness to design, and perfectly works in tandem with other textures.