29 Nov. 1990


Wooden hay racks for horses,lie nielsen chisel plane 97 1/2,how to build a wood retaining wall video - .
I still have to add the trough under the manger to catch the chaff, but it has gone into use early because they needed to be hayed tonight.
Thanks for sharing lupin (without the e ) I have to make one of these for my horses, but I'm afraid they will have fun tipping it over as they like to do with their metal troughs.
The trough not only adds some weight to it, but also catches all the bits that drop out the bottom, like the chaff, and the bits of hay they discard.
Please be careful, folks -- lupinfarm will doubtless laugh at me Ha Ha, but horses and 2x4 lumber (much less 1x2s) and the associated screws or nails do NOT MIX WELL.
Even welded metal mangers and hay feeders are a fairly reliable source of injuries (although in some cases they may be the lesser of several evils); wooden ones are even worse. And, regardless of the feeder, it is not the cleanliness I am worried about or concerned with, it is the fact that once on the ground, Luna flattens the hay, and will no longer eat it.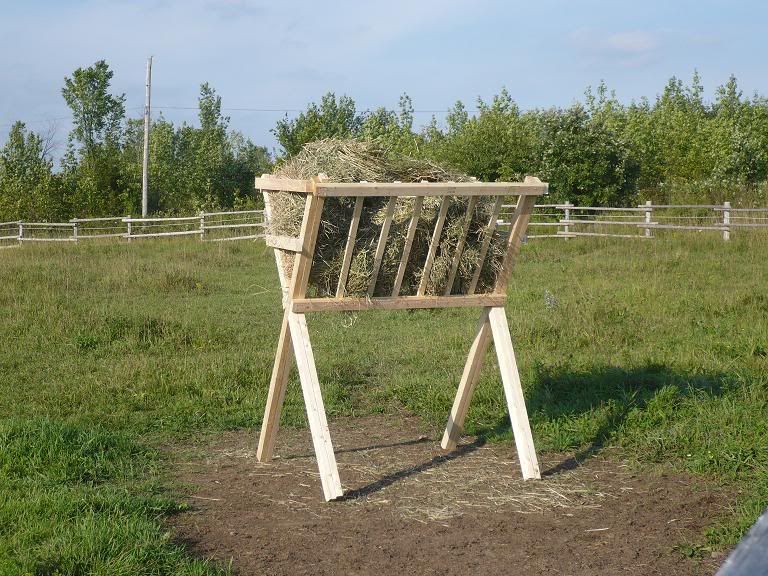 I built a hay rack on the wall with a tray underneath, and the goats like to put their feed in the tray to reach the best bits, then won't eat the stuff in the tray. I have a big, square free-standing hay rack I built that has solved the bigger danger to a group of goats, which is bonking, which almost killed Ginger recently, thank goodness I was home to save her life. IMO, Freemotion, I have seen plenty of serious (and one that killed the horse in the end) injuries from electric fencing (a Dutch Warmblood at a boarding facility I boarded at got all caught up in the electric and had to be euthanized) and yet almost every horse owner I know still uses it and adores it. I would put it down, and she would roll in it, flatten it, and then wouldn't eat it after because she had rolled her dirty big horse body all over it LOL So I built one of these! It is about 6ft high (I will make the next one shorter with a wider base), and 4ft long and holds one 60lb hay bale really well. Rubber mats in a shed is a good start (feeding hay on the [clean] ground is also healthier for horses' eyes and lungs), or there are various other DIY or store-boughten arrangements that are much safer if you really want the hay up at chest level.



We have 3 in use that have the grates made of chain link with a wooden frame around it, and one with a solid metal grate. I do think it would work, though if the horses had constant access to it they might kill it by keeping it too short anyway.
I couldn't bring myself to use it as we have a couple small footed horses I could just imagine finding a way to get their legs through it.
I know I would have been desperate to buy one if my hubby hadn't been so kind as to build them for me!