12 Feb. 1987


How to make wood poster frames,ct wood carvers association,free wall mounted desk plans - For Outdoors
As Sherry mentioned in her Pinterest Challenge post this morning, we DIYed some easy wood frames for her homemade artwork.
Since Sherry had painted two canvasses, I repeated the process with another piece of scrap wood to make a second frame. Before attaching the sides together, I did a quick pass with some sandpaper to make sure all of the edges were smooth. When you're ready to attach your frame to your map, make sure you go ask a grown up for help with the power tools.
Since we were building two frames, that meant we needed four boards of the same length (for the sides of each of the two frames) and four shorter boards of the same length (for the top and bottom of each of the two frames).
So two clamped cuts later I had four long boards (for the two sides of the two frames) and four short boards (for the top and bottoms of each of the two frames). The short boards were cut to 1-inch longer than the width of the poster to create some overlap (i.e. We started off on the right foot by digging out enough scrap wood from my enormous basement junk pile.
It happened to be a different type of wood from our scrap wood (less polished, sort of knottier and more rustic), but at least it was the same size.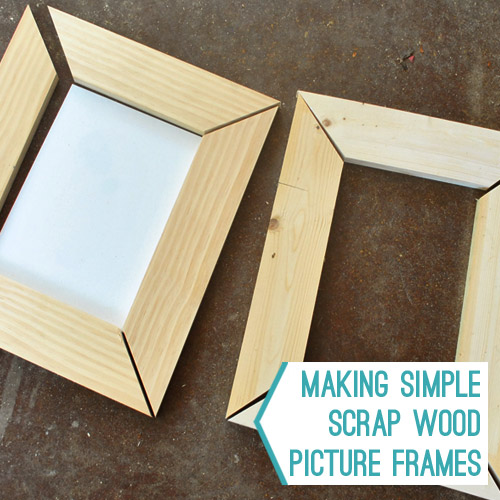 Although I'd need to buy wood, wood glue, a triangle, a saw, a staple gun, staples and photo hanging supplies. Ive been waiting patiently all afternoon for this post :) I have a stack of offsized art that I dying to get up on my walls but spending all that dough on specialty sized frames seemed crazy to me. When I got up this morning, I thought about making frames would be a great thing to learn so I could begin decorating our (hopefully) new home on the cheap.
In frames that only cost us $14 to make ($7 each!) and whose most challenging step was finding the patience to let the wood stain dry before I could finally hang them. So attaching the boards into a rectangular frame was pretty easy and completely miter-saw free (seriously, if you had Home Depot cut your four boards to the right sizes, all you'd need to do is the following part at home). Oh and it did help to make pilot holes first with a small drill bit so my wood didn't split when the screws went in. The inch I added to each side meant the poster sat on the frame comfortably without being visible along the edges.
Here you'll find nearly 3,000 free projects & posts in our archives plus new book & product updates (and lots of exclamation points!!!). I'm trying to avoid buying one but I need to be makin' some picture frames right quick for my new shop!


My poster was printed on pretty sturdy paper (it's similar to thick poster board) so I was able to just staple it around the edge in a few spots as a means of attaching the art to the frame. We have a huge map that I'd like to frame out with some trim soon but I may wait until we have a more permanent location for it (in a house soon hopefully!). I just really wanted to make simple frames so anyone at home without a Jig or other more complicated materials could follow along. We figured this was the faster version of priming it with a brush, waiting for it to dry, and then painting it by hand – but that always works too (we have painted frames both ways with success). We follow those directions to the letter, and usually use a few of them to hold things up (ex: four of them on each edge of the frame).