11 Mar. 1989


How to build a farmhouse table and bench,free headboard building plans,bali wood carved masks,wooden treasure box designs - For Begninners
The supplies are really basic, so it isn't expensive to build (around $100), but it does take some time. After the table frame and the bench were complete, we laid out some paper, hung some plastic, and built a makeshift paint booth in our garage so that I could use my newest toy – the HomeRight Finish Max Fine Finish Paint Sprayer. HomeRight sent me this little powerhouse to try out a couple of months ago, but we were so wrapped up in the hustle and bustle of the holidays that I just finally had the chance to use it! Normally I would have painted the table outdoors where I have proper ventilation and don't have to worry about any messes, but it was a cold and rainy evening, and we were in a hurry to get our homeschool room set up.
After the frame was dry, Mitch attached the top planks and used a planer to smooth everything down. My boys will be sitting on the bench for extended lengths of time as we do our schoolwork at the table, so I knew that I wanted to pad and upholster the bench.
Next up, painting the living room (with another fun tool from HomeRight!) so that we can relocate the colorful gallery wall (*sniff, sniff!*) to make room for our maps, charts, and a large dry erase board. I have to start by giving all the credit to the Ana-White website and Restoration Hardware.
Once all four planks are screwed together, I test fit the breadboards onto the flush end and find the best fitting board.
I created the jpeg below to show you how I drilled the pocket holes and dowel holes for the breadboards. To build the base, I begin by cutting all my wood down to size (the picture also shows the bench legs that I cut at the same time). I use the same tools as I used on the tabletop and distress on the exposed faces of the boards that will form the base.
Lately, I've been using a hand planer to smooth out the seams, edges, and breadboards. I start by staining the underneath side of the tabletop and then every nook and cranny of the base, bench, and extensions. I like to sand down the benchtop after the 2nd coat using 220 grit sandpaper and then apply a 3rd goat of poly. I sand down the tabletop with 22o grit sandpaper, wipe off the dust, and apply my first coat of Briwax. For the Briwax, I just use any old rag and wipe the wax on making sure to get it into the pores of the wood. An awesome tutorial for a farmhouse table…beautiful, simple, and best of all…cheap! This table is really very simple (well, in relation to other tables) and is just pine planks from Home Depot. We already had it on hand and we could finish it in a day (instead of weeks like a lot of other products that were recommended).


I built that same table for our dining room, but with slimmer legs, a little shorter length and with 1″ thick boards. Table A won by a landslide since we mentioned that it would be residing in our homeschool room. We used a water based paint, so I just added a small amount of water and stirred well before testing.
I have used paint sprayers in the past, and they've always had to be hooked up to our small air compressor which is both loud and obnoxious when you run out of pressure mid-spray. He filled all of the screw holes and cracks and then sanded it with a belt sander until it was ultra smooth. I gave the entire top a double coat of satin poly to finish it up, and then it was time to turn my attention to the bench seat. I'm also really cheap thrifty, so after wasting an entire day shopping for foam and fabric (and finding nothing that I loved), I came home and decided to use some old foam chair pads and a tablecloth that I already had on hand. He cut the pads for me, and then I sprayed adhesive on to the back sides and stuck them in place on the bench top.
My husband has a planer, so we filled the cracks, planed it and then sanded it until it was completely smooth. This revenue allows me to continue to run this website and provide high quality content for my readers. I will create two additional posts documenting the construction and finishing of the bench and the extensions.
One of our readers recently made an amazing table and used dowels so I decided to give that a try for the first time ever on this table and I loved it.
I use some wood glue for the dowels, place them in, and begin to clamp the first two planks into one another. I bought a simple planer and run it along the seams a bunch to give me a nice smooth transition.
I found the easiest way to do this is to use the extensions as a way of helping me align the center of the tabletop.
According to the responses, it appears to be much sturdier and kid friendly…BUT, as a few people pointed out, the benches in the original plans were too wide to slide underneath the table. Using the included flow cup and a timer, we were able to find the perfect balance with ease, and my older boys had a blast helping with this step. The HomeRight Finish Max is electric, so there's no need to start and stop in the middle of your project (love, love, LOVE!). I stained the top first with Rust-Oleum Ultimate Wood Stain in Early American, but it was way too light for my taste, so I topped it with a quick coat of Kona, and it came out exactly the way I was dreaming about. I like the table A, because it is looking great with the color and design compare to table B.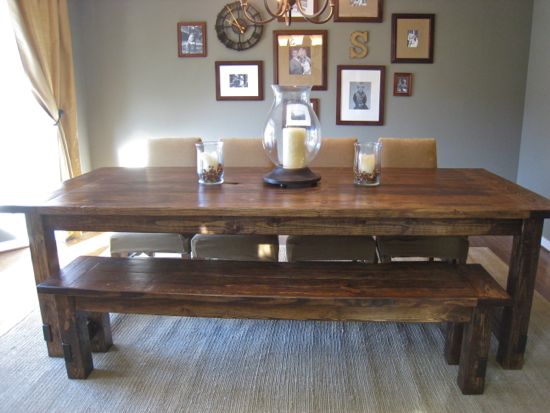 I then mess around with different possible arrangements and look for any irregularities in the edges and fitment of boards next to one another as well as determining what will serve as the topside of the boards. I mark the planks at 81″ and clamp down the breadboard to the planks to create a straight line for me to cut along. Once those are attached, I use my router to round off all the edges (top and bottom) and give it another good sanding. Make sure the stain is dry and be careful along the edges and keeping the sander in one place for too long. So if you're in the San Antonio area and want to purchase an awesome farmhouse table and bench, please e-mail me! He did One REALLY thick coat and never wiped it off…it looks just like my four coats did.
Luckily that's a quick and easy fix, so we modified both the table and bench dimensions to fit our space before we moved forward with building Table A, the Rustic Farmhouse Table and Rustic X Bench from Ana White. The nozzle has 3 adjustable spray patterns and the pressure and paint flow is completely adjustable. The chairs are great for one-on-one lessons, and the bench is fantastic when they're all working on a project or assignment together. After it's sanded down and smooth, I wipe it down with a damp cloth and apply a coat of clear gloss polyurethane. It dries in only an hour and only takes one coat (if you choose the right color, ha!), so it's the most painless staining process ever. The way the seams lined up on these planks were staggered so I marked off one end and cut them square (I left the opposite end untouched). Once it's in place, I clamp it all down, climb under the table, and screw it into place using all the pocket holes created in the aprons and a few screws through the supports. Also, we finished it differently than they did in the tutorial, mostly because we have kids and need it to be bulletproof.
I want the table to look rustic but I also want it to be a high quality table that will last for years and years. Once that's right, I follow the same procedure of making tiny cuts, knocking the slivers out, and using the blade to smooth out the cuts. It's still rough after this so I take it back to the table saw and swirl it around to smooth out the cut.