16 Sep. 1975


Glider plans depron,stanley woodworking tools the finest years,diy plywood furniture plans,wood full size bed frame plans - For Outdoors
Some of the following material was placed on this page starting in April of 2007; this page was last updated on September 4th, 2012; thanks for visiting!
Another note of interest: the 3mm and 6mm grey Depron which I used for the tailgroup on the DANCER responds **very nicely** to the heat forming techniques, using the covering iron!
The balance is presently at 38% of chord; I'll play with shifting it back toweards 40% when I get a chance to fly thermals in lighter air, and try to define the exact 'sweet spot' for the balance on this wing. Competition Glider guys know 'it's all about the airfoil', and the RG14 is a superb thin high speed glider airfoil. Print out a copy of the RG14 at 7" chord in the Profili software (free evaluation copy does this OK), then look at it- make templares from it to use if you want- and figure how to sand and carve away and heat compress the excess foam that doesn't fit within the airfoil shape template, and you will have a good start at forming a cleaner, more efficient glider wing from Bluecor, Depron, etc. That emphasizes how significant the shaping of this section of a wing can be when we're looking for efficient glide, as well as wind penetration. First I need to fine-tune the balance on Dancer; it's a bit forward of ideal for most efficient thermal gliding capability.
5> The upper layer is another sheet of 6mm thick Bluecor (or Depron) that is slightly rolled to form the curvature of it's upper surface before being glued to the three contact lines. Above: Epoxy has been applied, and the top layer is in place, throughly and evenly weighted down with old Gel Cell batteries while the epoxy sets up. My SPINNER is an aerobatic 3D type design, and the first two were built with flat plate Bluecor wings. From trials the chord %ages that improve the glide have been found, but with some planes they are including the ailerons and on some they dont.


The glide efficiency performance testing is where I've focused some of my design & prototyping work, since the results are most obvious in the degree of power-off glide efficiency achieved by variations. This emphasizes that to achieve greater glide efficiency, it's very necessary to pay closer attention to shaping the airfoil in that front 25% of the wing. If you don't shape it, then that front 25% of the wing chord is probably not doing as much as it could, and the glide on a glider wing will not be as efficient as it could be.
Most of the flying is more 'hotliner' flying rather than gliding, but you'll get an idea of the performance capabilities, from the hand launch to the hand catch. 1mm CF rod cap spars will also be added on top & bottom; since they also act as "turbulator spars", starting the surface boundry layer air turbulation process, I plan to locate these at 33% of chord, as I did on the first DANCER wing.
For a while I've been wanting to design a fairly slick (as in not draggy) glider out of FFF. The front narrow 3mm Depron strip has also been heat-compressed along the front edge, for better contact & final airfoil shape. Hot melt glue was applied between the two Bluecor layers, then a heat gun was quickly used to heat-temper the upswept curvature into place.
The top rear center doubler is in placed and shaped, and the 1mm CF rod spar caps have been glued in place at 33% of chord. I'd expect a conventional RG14 Airfoil, of similar leading edge shape and layout & at a thickness of 7.5%, to glide well with the balance set at 30% of chord, so the KFm step addition back at 50% of chord seems to effectively move the center of lift back about half of that difference- to 40%. Second, with the very rigid wing structure resulting from the triple layer build, there's no 'camming' of the wing compared to what is seen on thin flexible flat plate wings when transitioning from up-loading on the wing to down-loading.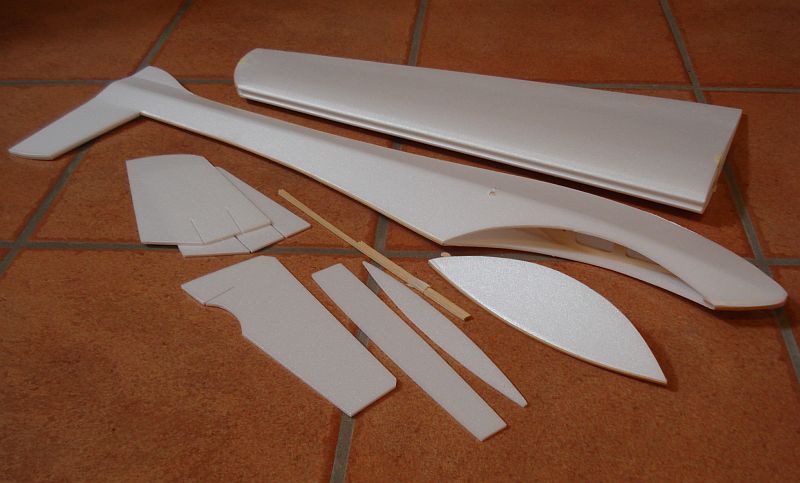 In the early half of May, I flew on days where this thicker wing seemed to be able to glide in soft lift & dead air at lower speeds & with less sink than the 7.5% thick, single step wing could in the same air. The ailerons are hinged with Scotch "Extreme" cross-filament tape in threee places on each aileron's top surface. There are also top 'spreader' plates between the side plates, to keep the foam from deforming or compressing in these areas. The nose area around the battery bay is reinforced with 3M Extreme cross-filament tape before the clear plastic hatch cover plate was taped in place. It is then glued in place along the three contact lines: leading edge, front depron spacer strip, and at the step.
I'm going to say at this point that the glide is flatter, and it's able to glide more slowly than the 7.5% thick DANCER wings (with their much thinner leading edges and lower airfoil camber lines) without beginning to 'mush'. Two 1mm diameter CF rods were also epoxied in place ater being sharpened and then inserted through the foam, running up from the tailboom to the outrer edges of the rear wing mount plates.
It does have other structural qualities that I like better than the AquaRider foam, however, so each has it's place.