02 Nov. 2010


Diy planter box drainage,make wooden wine glass rack,building pantry shelves plans,workshop wood storage ideas - Review
We already planted some trees and berries individually in big pots but I also wanted to have some vegetables and for this I made some planter boxes from wooden pallets. You can design your own pallet planter or follow simple steps for building a pallet planter box at Instructables here. You may choose to line the bottom of the pallet planter box with burlap, or with a heavy sheet of cardboard, to keep soil in (the pallet planter box does have gaps between the slats when finished), plastic will retain water and should not be used unless you've used a vertical slat space design that allows drainage to the bottom of the pallet planter through the sides.
You can also do more mixing and matching in the larger area of a pallet planter box, so experiment with carrots, lettuce and tomatoes, some basil, rosemary, or chamomile and a few other greens.
Fill the table top with your soil mixture following the rules listed above, and plant your salad greens, along with a few herbs for a great summer long salad garden.


Just rinse them out with a hose, and put in your compost and planting mix and you are good to go. One thing we've done for years is to toss a few earthworms into the planter boxes and tubs, along with some nice kitchen scraps, right at the bottom of the container before putting in the rest of the finished compost and soil, so we give the plants the benefits of worms even if they are not in the ground.
I kept the plastic bags from the bags of soil we bought earlier for planting the trees and berries and now I can use it for lining my planter box. Although it would be nice to plant directly on the ground, growing plants in pots or containers do have its own advantages, like it requires less or no weeding at all and the ease to move or rearrange pots anyway you like it or as the plants require (shade or sunlight at different seasons). But first I measured from the base of the foot up to the intended height of the planter box.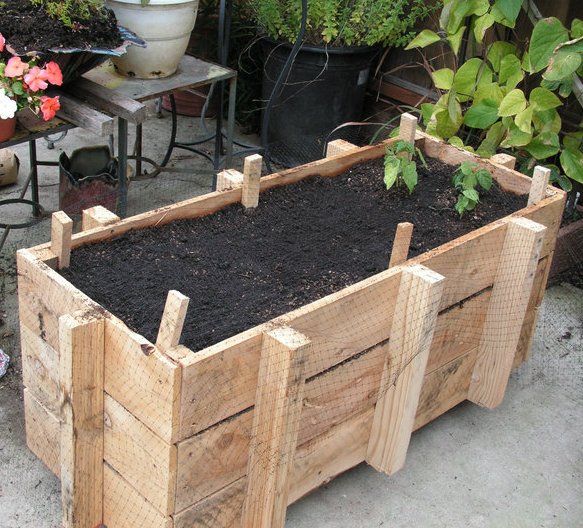 In this box I planted several different vegetables and herbs like tomatoes, garlic, chili, bell peppers, basils, parsley, rosemary and beans.