18 Nov. 2008


Diy crafts with scrap wood,woodcraft lathe sale,hokku designs voss coffee table,wooden yurt building plans - Review
One of my most popular posts ever is my DIY Wood World Map but this US version is faster to make and easy too! This iPad stand and Desk Organizer is a great DIY gift for the techie or men in your family and it takes such a small amount of wood to make!
And if you're like me and have a lot of leftover wood from larger projects this little bench is the perfect way to use them!
Create some unique wall art out of reclaimed wood, stained with items from your kitchen, like vegetables, fruits, coffee and tea! Each of these stains produce rich, vibrant colors and can be applied and left alone or to really preserve the colors, you could seal them with polyurethane (but that's not the most eco-minded, so we didn't seal the wood for this project). For each piece of wood, we used some wood glue and attached to the plywood with our nail gun fitted with finishing nails.



To make a triangle shape, cut the ends of two pieces of wood at 45 degree angles, making sure that you cut one in each direction, so when they meet together they make a clean 90 degree angle. The easiest way to measure and cut the triangle pieces so they fit perfectly is to start with your two 45s and create the triangle shape. We loved how the scrap wood art contrasted so well with the white brick walls we'd painted.
Since I was hanging out all week with my boys instead of working on projects I thought I'd round up five of my favorite past projects I've made with scrap and leftover wood! We began with some vertical pieces in the light wood, and then got to work on some geometric shapes.
The wood was in various sizes and not all of it was from the same house, so it was different types of wood as well.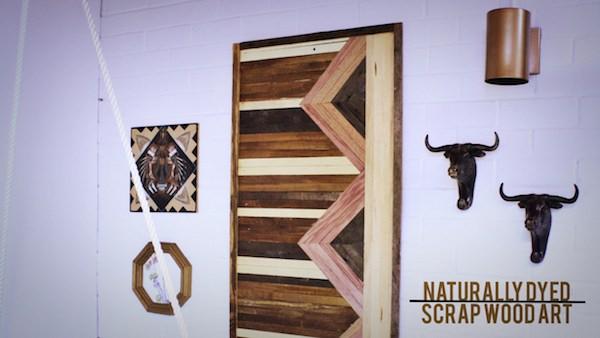 The wood we had did vary in color on it's own, but we wanted a certain vibe from our artwork, so we created natural wood stains.
We used more of our scrap pieces to add a border around the entire piece and then stepped back to look on the epic art we'd made.