27 Apr. 2007


Deer hunting from tree stand tips,simple wood game plans,garden swing plans free - For Outdoors
Tree-steps or tie-on ladders are great tools for gaining elevation, but some folks still use large nails as steps since they are less expensive.
These following tips are really quite obvious, but please remember them because they could save you from injury or even save your life. Although I have taken a few deer from the ground, I took a majority of my (only a dozen) deer from a treestand. That said, there are definitely some rules to follow if you want stands that consistently produce high-odds shots at whitetails. The higher you go, the easier it is to keep your scent above the heads of downwind deer, but the more difficult the shot becomes — especially when the animal is close.
I have a friend who believes, through personal testing, you have to be at least 30 feet up to keep your scent off the ground for a long enough distance that deer passing within range on your downwind side won't be able to smell you.
Being afraid of heights, I don't like 30-foot stands in the first place, but I keep my stands lower for another reason.
I like to set my stands on the backside of the tree — the side away from where I expect deer to come. I try to place my stand near large branches whenever possible to break up my outline and give me a sense of security in the tree.
Putting stands up during the season is also an option, but I have a few tips to keep in mind. You can also get away with placing stands during the season by going in during a rain shower. Longer shots may allow you to get away with a bit more movement in the tree, but dealing with walking deer or deer that are likely to jump the string becomes a much tougher challenge. Second, I can't get up the tree as quietly in a climber as I can with screw-in steps or strap-on climbing sticks.
There are situations where climbing stands make sense, such as when hunting a big tract of straight trees on a limited budget.
You have likely noticed that the first time you hunt a stand, or the first time after a long rest, usually results in the best action. The first strategy obviously requires a sizable checking account to buy all the stands, but the second strategy is not without its own costs.
You can either put up fresh stands in the afternoon and hunt them the next morning, or take them down when you leave the woods and hunt stands you already have in place during the mornings. The most important product available for treestand hunters is not the stand, but the climbing system.
Most falls don't occur when the hunter is on stand, but rather when he or she is climbing up or down.
I agree with most of this article except, I hunt using climbing tree stands almost all the time because of theft issues, not wanting to educate other hunters where I hunt, and not wanting to leave scented up stands, steps, ladders etc.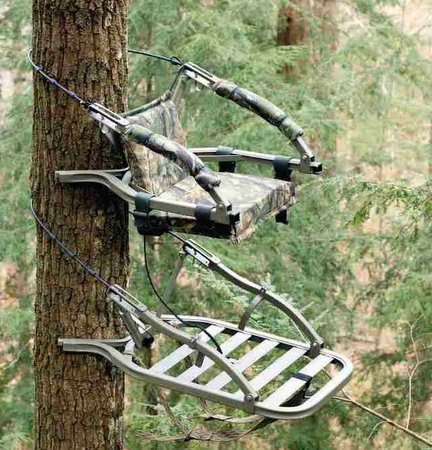 Climing stands are great for deer hunting because they are light and portable, but have obvious limitations if you don't hunt areas with a fair number of tall, straight trees. Tie-on or ladder sticks should always be checked to make sure that they are still secured to the tree prior to use. Using aluminum nails when hammering into a tree will minimize tree damage and only give up minimum strength, but make sure nails are long and sturdy enough to support the required weight.
Always use a safety lanyard to secure yourself to the tree when hunting, and if possible, while you are climbing. We all learn with experience, and there is definitely an element of "feel" involved when it comes to choosing stand locations and hunting them.
This article isn't about deer movement or funnels or that sort of thing; this is the nuts and bolts of stand placement. That is about as high as you can go and still have a good angle for a double-lung hit on deer that are 10 yards away, possibly a bit less. I have also hunted a few stands (and still do sometimes) where it is tough to get away clean at dark. It is good to have at least two stands for every consecutive day you plan to hunt — up to some reasonable maximum.
Trees this size are easy to climb and big enough for concealment, but not so big I can't shoot around them fairly easily. I place the stand so these branches are at roughly hip level so I can shoot over them easily when standing.
The lessons from the season are still fresh in your mind and you can see all the sign from the past fall. Next, using the very best scent-control methods you know (even going so far as to wear PVC waders to the base of the tree), sneak the rest of the way in and place the stand. First, the trees where I hunt often have too many branches and are too crooked to accommodate a climber. When sneaking into an early-morning stand on a still day, the climbers make too much noise for my taste. So, I am left with the only option of leaving the stand at the base of the tree when I am not hunting it. In that case, carrying the stand to and from the woods each day is just an unfortunate requirement. Unless you are using a climbing stand in an area with lots of straight trees, it is very tough to put up a stand in the pre-dawn darkness without making lots of noise. Typically, once a nail is in place, the tree grows tightly around it, but remember that nails do provide entry for bacteria and fungus into the tree. Add in some scouting and a few seasons of experience and you will be consistently taking whitetails from the branches above.


And this height still keeps you above the normal peripheral vision of deer within 20 yards. I don't even like hunting the latter group at all, but in situations where stand options are limited you have to put them in the rotation.
Unless the stand sets up nearly perfect for undetected hunting, rest it at least a week between hunts. For example, if you are going to hunt for a week, it would be ideal to have at least 14 stand sites.
They also require too much movement when sneaking out of a stand next to a bedding area after a morning hunt or next to a feeding area after an evening hunt.
Deer are not going to take the sudden appearance of a climbing stand nearly as well as the sudden appearance of a tree step. These products keep you safely attached to the tree from the time you leave the ground until you return. You don't necessarily have to have stands set at all of them, but you should have that many spots picked out, scouted and ready to roll. When shots are less than 15 yards, you run a greater risk of being seen or heard in the tree.
First, you can have many stands out so you are hunting fresh ones nearly every day, or you can carry your stand on your back and hunt fresh areas often.
A climbing rope has already saved one of my good friends from a very ugly fall that would have killed or severely injured him. If you hunt from treestands long enough, it is not a matter of if you will fall, but when — and how badly you will be hurt. I live on venison and eat it every day so being able to kill as many deer as possible is a necessity for me and therefor scent control is a big key. The higher you go, the harder this becomes, especially on deer within 10 yards of your stand — possibly even 15 yards if you go high enough.
This can take some getting used to, because you will have to decide ahead of time which side you will shoot on because the tree will block part of your field of fire.
There is no sense in startling them by trying to sneak in when you know it will be nearly impossible. The most difficult reason to talk about is not being able to see anymore out my left eye… from my careless fall. I had several major surgeries now and I only want to help other treestand hunters to not fall.