NICE stresses that a patient's personal circumstances should be reassessed at each review and medicines could be ceased if they are not effective.
NICE also says patients should be encouraged to hit their HbA1c target, unless it results in adverse effects, such as hypoglycemia.
HbA1c levels should be measured at 3-6 monthly intervals until they are stable or six-monthly intervals once a patient's HbA1c and glucose-lowering therapy are stable. NICE has specified standard-release metformin as the initial drug treatment option for adults with type 2 diabetes. Dr Amanda Adler, consultant diabetologist and member of the NICE guideline development group, said: "This update to the guideline for type 2 diabetes is good news for people with type 2 diabetes and for health professionals given the many therapies now available.
Dr Ian Lewin, NICE guideline developer and retired consultant endocrinologist, added: "The guideline highlights that putting people with type 2 diabetes at the centre of their care package is essential.
Find support, ask questions and share your experiences with 209,001 members of the diabetes community. 10 week (free) low-carb education program developed with the help of 20,000 people with T2D and based on the latest research. The first comprehensive, free and open to all online step-by-step guide to improving hypo awareness.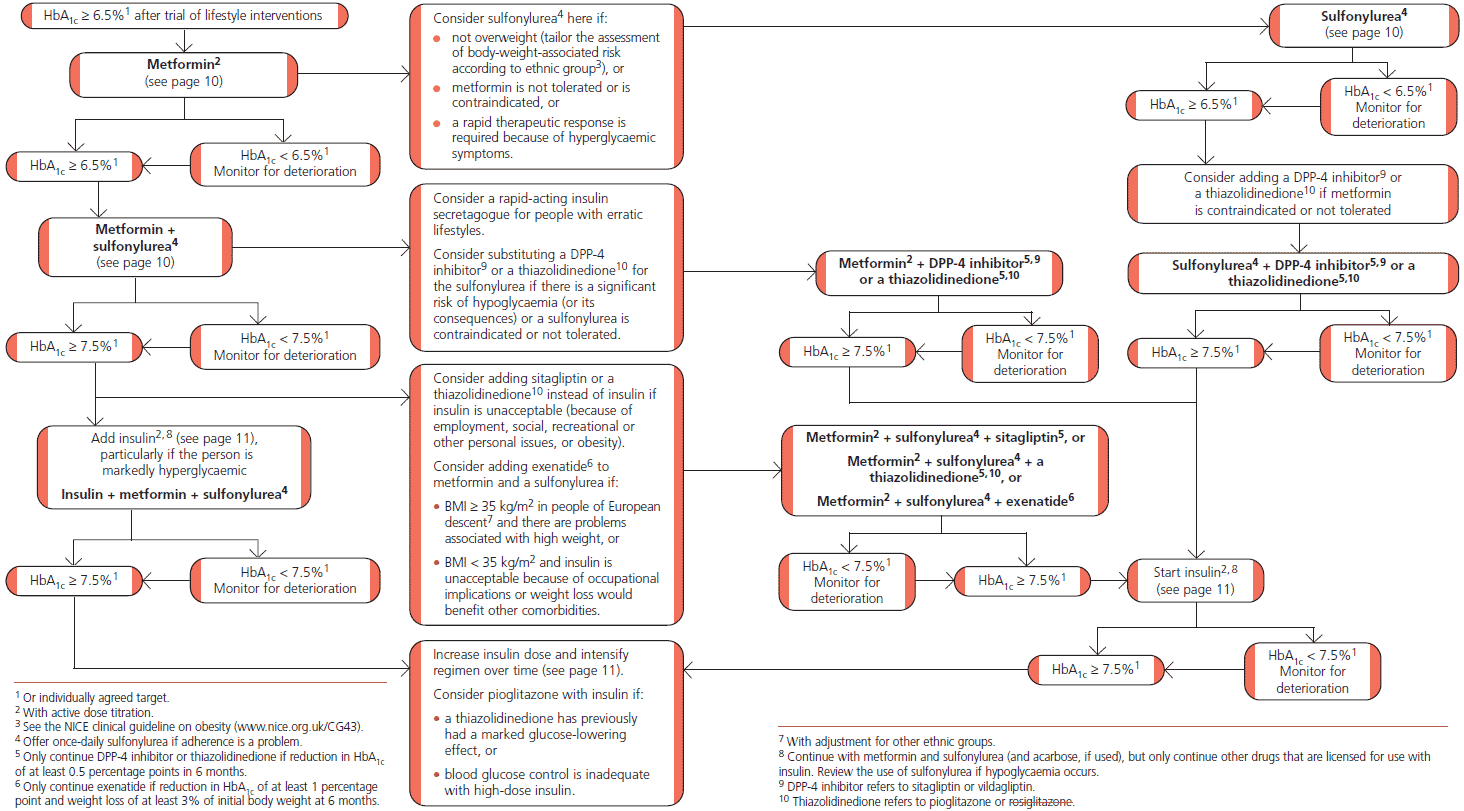 The National Institute for Health and Care Excellence (NICE) has been criticised by a group of leading diabetes doctors for its guidelines on treating type 2 diabetes, in an open letter.
The letter, written by researchers from the University of Warwick Medical School, was published in Lancet Diabetes and Endocrinology.
The letter takes issue with an updated draft of clinical practice guidelines for the treatment of type 2 diabetes.
The authors also take issue with the lack of practising diabetologists on NICE's consultation committee, a decision made to avoid conflicts of interest. The letter argues that the NICE guidelines are overly driven by the need to reduce costs, but a recent report, which suggests that the cost of diabetes drugs has risen from six per cent to 10 per cent of the NHS's drug budget, suggests that cost reduction may be the only option.
However, the open letter does not really disagree on this point; it only suggests that the guidelines may incur greater costs in the long-term. There is also disagreement as to the use of sulphonylureas as a second-line treatment because of its relatively low cost. O'Hare added: "Primary-care doctors and nurses, in particular, are struggling to look after growing numbers of patients with type 2 diabetes. NICE also recommends offering structure education to patients and their family or carers around the time of diagnosis.
Patients should do more physical activity and try to obtain a normal BMI as part of the recommended lifestyle changes to achieve this. The guidelines also include an algorithm to help clinicians make decisions on the best drug options for blood glucose-lowering therapy. For example the guideline recommends that adults with type 2 diabetes should be involved in decisions about their individual HbA1c target - the average amount of glucose in their blood over 2 to 3 months.
The guidelines, which were originally published in January, recommend the use of metformin first, followed by older drugs as second-line therapy. According to them, the guidelines don't take into account the cost of the side effects associated with these older drugs, such as increased risk of hypoglycemia. But the end result, the open letter suggests, is to have treatment guidelines determined by people who no longer treat type 2 diabetes on a regular basis. But J Paul O'Hare, FRCP, who authored the letter with colleagues, believes the revision failed to address the most significant criticisms. For example, NICE recommends that type 2 diabetes is first treated with metformin - something widely accepted as a good plan - but metformin treatment only intensifies in patients with HbA1c levels of 7.5 per cent of more.
O'Hare and colleagues argue that using sulphonylureas will lead to greater costs in the future, based on "the well-recognised side effects of hypoglycemia and weight gain - the very issues that NICE states clearly in its preamble should be avoided. In reality, they argue, treatment using older drugs may not turn out to be cheaper after all. This decision should in fact be made based on a number of factors particular to individual patients, the letter suggests.