Romantic-comedy series Ex-Girlfriend Club just wrapped this weekend on tvN, and despite being dealt a disappointing cutback that shortened the show by four episodes, the drama went out in much the manner of its run: sweet, understated, and feel-good. And despite the potential for aggravation with the hero—he is the main reason everyone's up in arms, after all—Myung-soo is a genuinely decent person, a point that all three exes and Su-jin recognize repeatedly. I'd say that Ex-Girlfriend Club has two primary points of success, and one is its comedic touch. I would recommend this for any one looking to watch a Down to Earth Rom-Com with strong female leads, LOL comedy and a Breezy Plot line. Like what you said, it's textbook recipe which if it was tightened up a bit, would be even more satisfying.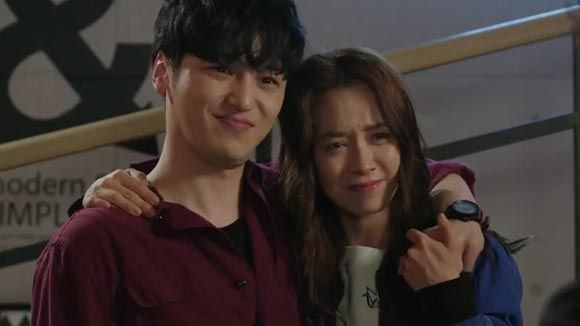 The girlfriends were a hoot and it's worth to watch just for them if for nothing else. Unsurprisingly, they end up in the hospital, where Myeong Soo gets fussed over by his two other ex-girlfriends, Jang Hwa Young (Lee Yoon Ji) and Ra Ra (Ryu Hwa Young), while Ji Ah looks guilty, and his current girlfriend, Soo Jin looks on angrily.
It enabled Ex-Girlfriend Club to remain mostly brisk and humorous, rather than introducing angst that felt sluggish or mopey. Before the girlfriends won me over, before the zany comedy kicked in, it was sympathy for Su-jin in this moment that kept me going, because I just had to see how Myung-soo would come around.
If you don't happen to run into the same super nice person, you can try making your own with this recipe from Zen Can Cook.
In case you felt the injustice of this sad moment, here's a recipe from Korean Bapsang, to make your own bowl of noodles in anchovy broth.
Ji Ah recounts her litany of regrets, dumping a good man like Myeong Soo to marry a man she didn't love. I want to see Myung Soo's next webtoon be just as successful with producers knocking down his door to produce it, which he all rejects because he only collaborates with his girlfriend.