The Ireland under-19 women reached the semi-finals of the European Championships last summer.
IN A TOURNAMENT that featured only eight teams, almost all of whom were footballing powerhouses, not much was expected of the Ireland under-19 women's side at the European Championships in Norway last summer. Yet Dave Connell's team were never going to be content with simply reaching this prestigious stage. Given that the Irish team were the clear underdogs ahead of the tournament, O'Connell feels this status (or lack thereof) worked to their advantage to some degree, and believes other sides viewed the Girls in Green with a sense of complacency, enabling them to capitalise by picking up consecutive wins over Spain, England and Sweden. Yet the Irish team's incredible success ultimately ended in disappointment, as they suffered an emphatic 4-0 loss to the Netherlands at the semi-final stage. Of course, particularly when it comes to women's sport, there is a sense that this type of mass support tends to be fleeting, and is only reserved for those rare occasions when a team enjoys unprecedented levels of success. O'Connell has now completed her Leaving Cert (despite having to reschedule one of her Oral exams owing to her exploits with the Irish under-19s). In addition to continuing to represent her club, Wilton United, she is hoping to feature for the Irish Colleges team at the World University Games.
Despite possessing players, such as Megan Connolly and Savannah McCarthy, who were part of the team's summer success and still eligible to play thereafter, Connell cites lack of squad depth as the primary reason for their subsequent failure.
Speaking of which, Connell also coaches the under-17 Ireland Women's team, and unlike their elder counterparts, they have managed to reach the elite phase of qualification. However, progress is far from a certainty, as having beatenВ Lithuania and Romania and tied with hosts Serbia to earn a place in the elite stage, the Irish were subsequently drawn in a tough group, and are set to face Holland, England and Hungary.
Ronan is bringing five uncapped players to America including three members of the Wexford Youths squad that recently won the Continental Tyres Women's National League for the first time.
PLEASE NOTE:WSU do not authorize members to become representatives of Women's Soccer United. The Irish are the seventh side to qualify from the 11 first-round groups and join France, Spain, Denmark, Norway, Czech Republic and Northern Ireland who have also won their qualifying groups. She cites the increased emphasis on fitness within the set-up, as well as the fantastic team spirit, as being pivotal to their success. The work that Dave Connell and [his assistant] Dave Bell put in was phenomenal — trying to ingrain the whole idea of work rate, not leaving anything on the pitch, [ensuring] every teammate works hard for each other. O'Connell cites exhaustion and the overwhelmingly hot conditions as two reasons for their sudden loss of form against a team they had previously drawn with during the qualification stage.
Furthermore, as part of her scholarship, O'Connell has sat down with former Irish rugby coach and currentВ Director of Sport and Physical Activity at UCC, Declan Kidney, to discuss her goals.
The games will be played between April 9-14, with the Irish team being handed home advantage for these encounters. Sue [Ronan, the senior team manager] will probably tell you that there's a big difference between 19s and senior.
The trio includes Continental Tyres Women's National League Young Player of the Year Ciara Rossiter, as well as Jessica Gleeson and Nicola Sinnott, all of whom have played at under-age level for Ireland.
Senior Women's Soccer International Friendly, Republic of Ireland v Switzerland, Richmond Park, Dublin.
It also includes Continental Tyres Women's National League Player of the Year, Aine O'Gorman, who won her 75th cap last month against Spain.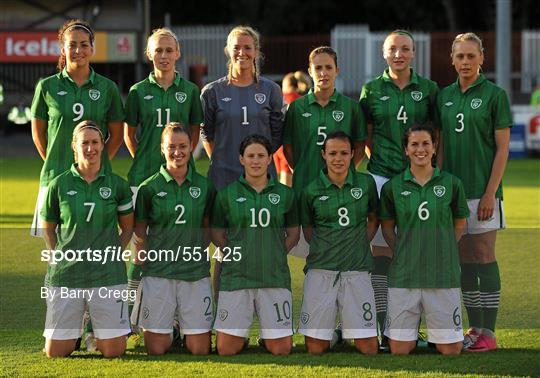 Comments to "Irish women's soccer team"