Steve asked her what she wanted to do … go to Mexico on the weekends, spend their money … and she said, "Stay here, do the chemotherapy, home-school the kids, and write music." As 2015 began, Steve was able to report online to their fans and friends that Deb had come through — she was, and is, cancer-free and they're already on their new tour. If you've ever heard a song in the background of a film or TV show and the joy or sorrow in it seemed to fit the soundtrack of your life, you've probably been moved by the music of The Weepies. I first heard Steve Tannen sing at the now-defunct Fast Folk Cafe (Tribeca, Manhattan) during my tenure as volunteer manager in the late '90s.
The two didn't actually meet until Deb came to New York three weeks later to play at The Bitter End in Greenwich Village. Deb and Steve wanted their songs to evoke strong emotions and chose their name from the term "weepies," used to describe films that made people cry.
Within three weeks, they had packed their 1990 Toyota Corolla with all the recording equipment they could and got themselves to California. In 2005 they released their second album, Say I Am You, and with no booking agent, no manager and no record label, they went back out on tour. Upon their return to California, they collapsed and toasted the new year with Robitussin and NyQuil. At first, Nettwerk was underwhelmed with only 256 sales the first week, which didn't faze Deb and Steve. At this point, for reasons still unknown to the pair, their songs were now being placed by media music supervisors in films like Sex in the City (the movie) and Morning Glory and TV dramas like Grey's Anatomy, Scrubs, One Tree Hill and Dawson's Creek. The official video of the song, directed by Brad Aldous and cleverly depicting the duo as puppets, has been viewed more than a million times. The outpouring of love and support from fans and friends has been especially uplifting for Deb and Steve.
Through the rest of 2001 and 2002, they wrote music and played shows together, one opening for the other and singing harmony during each other's sets. They're quoted: "We approached it with as much 'one foot in front of the other' attitude as we could. Just before Christmas 2013, when her youngest of three sons was 17 months old, Deb Talan of The Weepies was diagnosed with stage 3 breast cancer. Media industry music supervisors have been placing their songs in soundtracks for more than a decade.
Deb came to the show but, nursing a cold and too nervous about meeting him, she couldn't stay behind afterward for a get-together.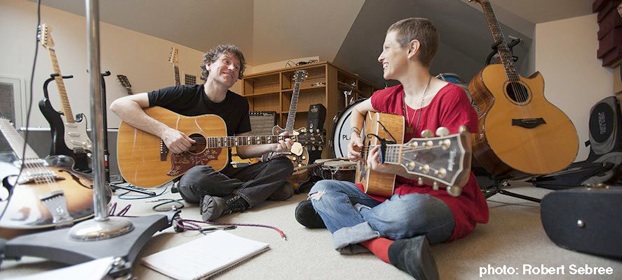 Meanwhile, as Steve recalled, fearful of creating the same train wreck they'd seen with other musician couples, they did their best to "screw up a good thing." Ignoring the obvious, each of them dated other people. They recorded and released their first CD, Happiness, and then went on tour, playing hundreds of shows at small venues, building up a network as they went along. It was there that they wrote, recorded and released the aptly titled Hideaway, which was released in 2008.
Tour promoters reportedly had planned to siphon all the profits and Deb and Steve would have lost huge amounts of money. In our area, they'll be at the Norwalk (Conn.) Concert Hall on June 25 and at The Town Hall in New York City on June 27. Her voice, with its unique reedy catch, combined with her direct, intelligent songwriting, captivated Steve.
They'd each separately go for long walks in the lush, wooded area and come back with song ideas. The tour was cancelled at the last minute, and they stayed home and wrote and recorded Be My Thrill, which was released in 2010. Their journey through the nightmare has been encapsulated on the Stand Up 2 Cancer (SU2C) website. In June 1999, he was the first cover feature for this publication, just prior to the release of his debut CD, Big Senorita.
Both were writing their own albums concurrently and songs written by both were dropping onto both their albums. After around a year, Steve walked into their living room, intending to move out, figuring the act and the relationship were over. 1 in iTunes' most-downloaded folk albums in eight countries and "World Spins Madly On" from the album became the most-downloaded folk song in the United States. Throughout 2014, she battled while her husband, Steve Tannen, the other half of the duo, hovered anxiously and provided support. Although in denial about a possible amorous relationship, Steve told his band-mate friends she already had a boyfriend, just to fend them off. Many of the songs on Steve's second album, Stopped at a Green Light, were in essence — although the group didn't actually exist yet — "Weepies" songs. They also were invited to play in the Hotel Cafe tour, which at the time was introducing newer artists such as Brett Dennen, Katy Perry and Imogene Heap, along with some not-so-new, like John Mayer.
Although Be My Thrill was finished in 2009, Nettwork delayed the release so that Steve could plan a tour that would be comfortable for traveling with both kids and still be profitable.
The two got together after her show and played their songs for each other all night, starting with their most polished work.
Tips from friends in the music business ("always do this; never do that") allowed for a smooth trip with minimal discomfort.
There were a couple of hard choices at the beginning — what kind of treatment and where — and then there's not much to do but walk through it." Deb chose a mixture of Western and Eastern treatments, then surgery. In fact, the song is a perfect answer to "Love Come Knockin'," in its yearning, hopeful sound.
As the night faded into early morning, they shared half-written songs, each trusting the other to critique them and possibly add new elements.
They knew three people in town and when they arrived, those people either moved away or went on tour. When they arrived, a crowd had formed and their hearts sank, trying to figure out how they were going to appeal to a crowd waiting to hear "Get the Led Out." Surprise … the crowd was there for them. No, Steve, that's the perk in the contract that gets you stuff like fresh fruit and champagne in your dressing room!
The tour was also going to Europe, but Deb and Steve couldn't do that part because they'd just been there. On Manhattan's Lower East Side, at the usually easy-to-attend club, The Living Room, close friends of Deb and Steve couldn't get in. They had been on the road for eight months, mostly with little sleep (thus the war-like "Band of Brothers" reference). The fire code had been seriously stretched and the fire marshal was present, causing a delay.
They found the perfect metaphor for their descent from the tour's heights when they watched airline baggage handlers carelessly drop two of their guitar cases onto the tarmac, snapping both guitar necks. Deb and Steve had been apprehensively viewing invitations from several record labels, but Nettwerk made a really good offer and they accepted.