De nieuwe grepen voor Magura HS remmen komen er aan: zo te zien geen plastic, normaal ontluchten met een schroefje, kabels niet in de knoop bij een vlinderstuur, links=recht en monteren zonder het stuur te slopen. Eric Schuijt schreef:Voor de echte wereldfietser hebben wij sinds vandaag ook een 21-tands Rohloff-kransje.
Dat idee kreeg ik al uit een eerder bericht, de logische vraag volgt dan: waarom wordt dit niet door de producenten van de fietsen gedaan resp, waarom schrijft Rohloff dat niet voor? De arm moet boven op de achtervork komen te liggen en het aanbrengen is soms een heel gehengel en gepruts. En die zat onder de rubriek racefietsen, dat laatste had ik even niet gezien nee.Verplaats het topic gerust modjes.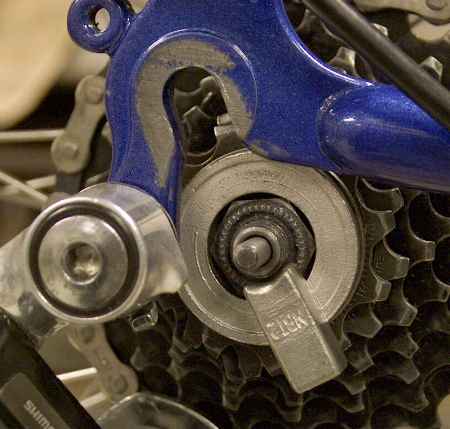 Door de hitte zal sowieso het vet uit je bracket smelten, of misschien zelfs wel in de fik vliegen.
Met dit grotere kransje kun je niet alleen langer doen met je voorblad (dat dan bijvoorbeeld 52-tands wordt), maar ook met de ketting, want die is langer. Wat niet wegneemt dat we hier incidenteel best een keer iemand met raad en daad terzijde kunnen staan, lijkt mij;). Zo dik zijn die buizen niet hoor ;) Als je goed heet gaan en goed diep ben ik bang dat je er een goed groot gat in gaat branden. Maar een Hebie chainglider (die ik sowieso al afraad) of een idworx kettingkast past dan niet meer.
Hieronder zie je een foto van het 21-tands kransje en daarnaast een 17-tands kransje dat versleten is. Op het rechterkransje is goed te zien, dat hij eigenlijk eerder omgedraaid had moeten worden.