To chat about makeup, ask a question about theNotice, or just say hi, free to drop me a line here.
Professional results, unsurpassed gloss, high durability and strength – these are the qualities of the gel, which attracted the attention of millions of women from around the world to this manicure technology. Late this summer Sally Hansen released its highly anticipated two step no-lamp Miracle Gel nail polish system and boy was I excited.
The Miracle Gel polishes having the same bottle and brush design as the Sally Hansen Complete Salon Manicure Polishes, which means they also have very wide and slightly jagged brushes. If used without the topcoat, these take pretty much forever to dry so they definitely should be used with the Miracle Gel Top Coat. Formulated with "photoinitiator", this top coat cures under natural light and helps the manicure last up to 14 days. Firstly, the thinner formulation and the jagged brush make it impossible to apply the topcoat without smudging the base coat. Notice the shrinking (especially on the index finger) and streaking caused by the top coat.
I really wanted to love this system but unfortunately it didn't work out as well as I had expected.
Triple Shine Nail Color from Sally Hansen brings  maximum radiance to the season's most covetable colors with the new Triple Shine Nail Color.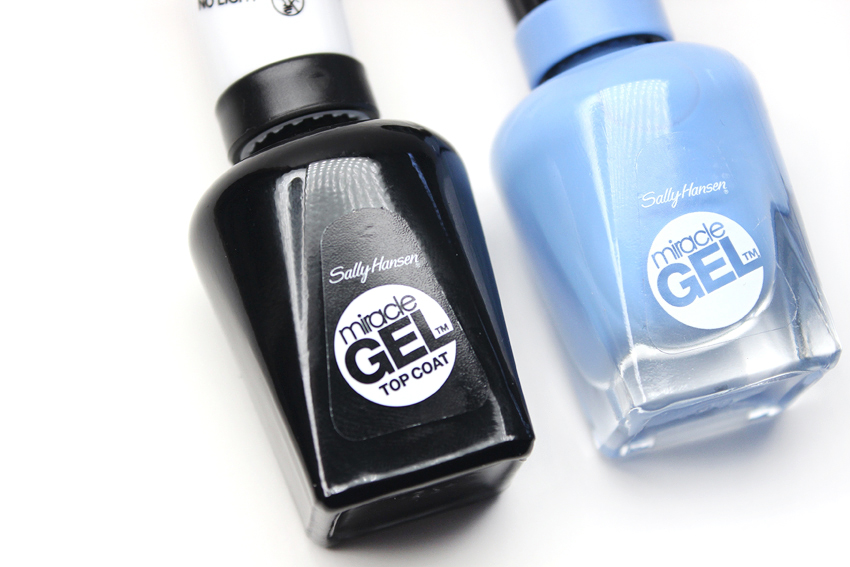 Clarins have released a cleansing gel and seeing as I am obsessed with gel consistencies, I was quite excited to give this a whirl. I'm Rae, and this is theNotice, a Canadian blog about weird, wonderful beauty products, blogging, and other naughty things.
With the appearance of home gel manicure sets on sale, the technology has become available to all of us.
The coating has uniquely smooth borders now, and there is no need to spend a lot of time applying several layers of nail polish.
I have a horrible track record with nail polishes, no matter what brand and finish, they will chip on me within the first or second day. Although Sally Hansen suggests that the Miracle Gel Top Coat should only be used with Miracle Gel colors, I've actually tried it with ordinary polishes and it works just the same. This makes application slightly more troublesome as it is harder to get clean lines around the cuticles. I find all of these to have a runnier and sheerer formulation and for most of these colors I needed three coats for opacity. Even when using just one color, the top coat causes streaking (see hand swatches below), which makes the manicure look less professional and less shiny. After it fully dries, I noticed that it pulled away quite noticeably from the cuticle (see hand swatches below) and it seems that the thicker the base color, the more the top coat will shrink.
I experienced no chipping and only minimal tip wear for three days, which is quite a record considering my bad luck with chipping. The base colors are all quite runny and sheer (the oxblood I used in my swatches required three coats and there were still uneven patches).
The brand suggested not only the already well-known nail polishes with a lamp for drying, but convenient gel stickers as well.
So as you can imagine, I was quite ecstatic when I saw the release of this line as the nail colors last up to 14 days with brilliant shine and no chipping.
On the fourth and fifth day however, the polish started chipping pretty badly, so I had to remove it before things got too ugly. Although extremely fast drying and chip-proof, the top coat causes streaking and it shrinks quite noticeable. But overall, the wear is really good compared to other polishes so if you usually have no problems with chipping, this could potentially last longer on you.
Let me know what you think in the comments!**Products in this post were provided by Sally Hansen in exchange for my honest opinion.