Nazdar inks are often 30% less expensive than the original equipment manufacturers' (OEM) ink, while providing the exact same color and print performance. Annually, Nazdar manufactures and sells hundreds of thousands of cartridges and liters of inkjet inks around the world.
All Nazdar products are stringently tested internally and via beta sites, prior to release. While Nazdar UV and Grand Format Solvent inks require an ink conversion technician, their wide format solvent inks are plug and play when converting from the OEM inks. It's as simple as swapping out the OEM cartridges with Nazdar ink as they run out.
With the Industry's strongest third-party warranty, you'll take comfort knowing that Nazdar stands behind every drop of ink it supplies.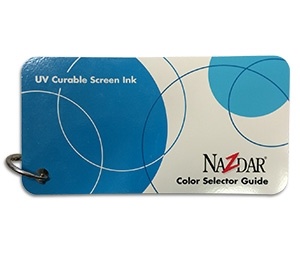 Although there are many 3rd party ink manufacturers supplying products to the market, very few have the credentials that Nazdar brings to the table. Hundreds of printers convert their OEM inks to Nazdar inks annually for the cost savings and support.
No profile changes are required, as Nazdar Wide Format inks are an exact color and performance match to the OEM inks. State of the art production and development techniques have created products with a wide range of features and benefits; these include OEM color match and enhanced gamut options, increased printing and drying performance and convenient packaging sizes.
Nazdar has been a respected specialty graphic printing ink manufacturer for nearly 100 years.
Should any questions arise during the ink change-over, Nazdar has highly trained technicians to provide answers via phone or online. Nazdar manufactures various formulation options for your specific purposes and can recommend the right inks for your application needs. Nazdar has produced solvent inks for nearly 100 years, Ultra-Violet curing inks for 40 years, and inkjet inks (Lyson) for 30 years. Because of these facts, Nazdar is trusted by several OEM and distributor companies to manufacture their inks.