On February 18 we hosted a combined meeting with SCIFTS (Southern California Institute of Food Technologists) and the RCA (Research Chef's Association) here at Village Green Foods.
I am now considering the possibility of starting a new business start up as I have, for the past year or so, formulated some new products that I am certain will do very well on a national scale. Yesterday was the 20th Annual Hal Rosoff Classic – a watercraft race held at the Newport Aquatic Center (NAC) each year.
Matt (Willie's youngest), our mom, Kay, and Sonja (newest member of the Village Green Foods team) serving up some soup for the racers! Village Green 2015 is a multi-art form and music festival, produced by Metal Culture in the picturesque grounds of a beautiful Victorian park in Chalkwell, Southend on Sea.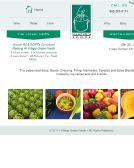 2014 saw over 22,000 visitors enjoy a packed day of fun, intrigue, talent and participation in the park.
If your application is successful you will hear back from Paul by Friday 24th April 2015, and you will then need to send payment by Friday 15th May 2015. Give us FeedbackIf you have comments about our shows, our presenters, the website or anything related to FM99.3, feel free to use our feedback form or contact us by phone or email.
We did decide to have a little fun – to that end we made a little herbed chicken, a little bell pepper ratatouille and, of course, JELLO in Petri Dishes! We service chains, food-service operators, and other food manufacturers both locally and nationally.
Through Back Bay Hal & Kay supported the NAC and we continue to do so at Village Green Foods.