Missi Roti is a unique lifestyle network, website and magazine that connects viewers to the power and joy of food. Grilling is really quick, but if the grill isn't available, this bread can be made in the oven under the broiler. When the dough cycle is finished, turn onto a lightly floured surface and divide into 8 equal parts.
Roll or pat each of the balls of dough into either the traditional Naan teardrop shape or rounds, as thin as possible.
Place them on the grill, shut the lid, and let them bake 2-3 minutes on each side, or until lightly browned. This recipe is so quick, easy and delicious that it is most definitely my new favorite yeast bread recipe.
Once the yeast mixture is frothy, whisk the yogurt, oil, and egg into the yeast water until smooth. Continue adding flour, a half cup at a time, until it forms a cohesive ball of dough that you can no longer stir with a spoon. Shape the dough into a ball, loosely cover and let rise until it is double in size (the photo is BEFORE it has risen). Place the rolled out dough in the hot skillet and cook on one side until large bubbles form and the side touching the skillet is golden brown. Here's that second side flipped back up so you can see the characteristic browned bubbles. As the naan comes out of the skillet, stack them on a plate and cover with a clean towel to keep warm.
Used this again tonight to make individual pizzas, super quick dough to make and very tasty!
As a food lover and a number cruncher I've decided that cooking on a budget shouldn't mean canned beans and ramen noodles night after night.
In order to post comments, please make sure JavaScript and Cookies are enabled, and reload the page. The network strives to be viewers' best friend in food and is committed to leading by teaching, inspiring and empowering through its talent and expertise.
You may not copy or otherwise reproduce any of this material without prior written permission.
I looked at so many recipes before making naan and this was the simplest, most delicious looking recipe that required me to buy the fewest number of ingredients (just the yogurt!). Add small amounts of flour as needed (to keep the dough from sticking) until you have a smooth, very soft ball of dough.
The bubbles will start small, like in the photo above, but eventually grow and merge together to form larger bubbles.
Naan is kind of like pancakes in that the first side is smooth and has relatively even brown marks, while the second side (where the bubbles were), has a different texture or pattern in the browned surface. My favorite way to eat it so far is to use it for my breakfast quesadillas or to just melt some mozzarella in it with a slight sprinkle of garlic powder… oh, it's divine! I doubled my last batch so I could have a lot of leftovers to freeze–I find they reheat really well, either in a 400 degree oven for a few minutes or in the microwave for 30 seconds. Avoid adding too much flour as you knead because this can make the dough stiff and dry, and prevent the classic bubbles.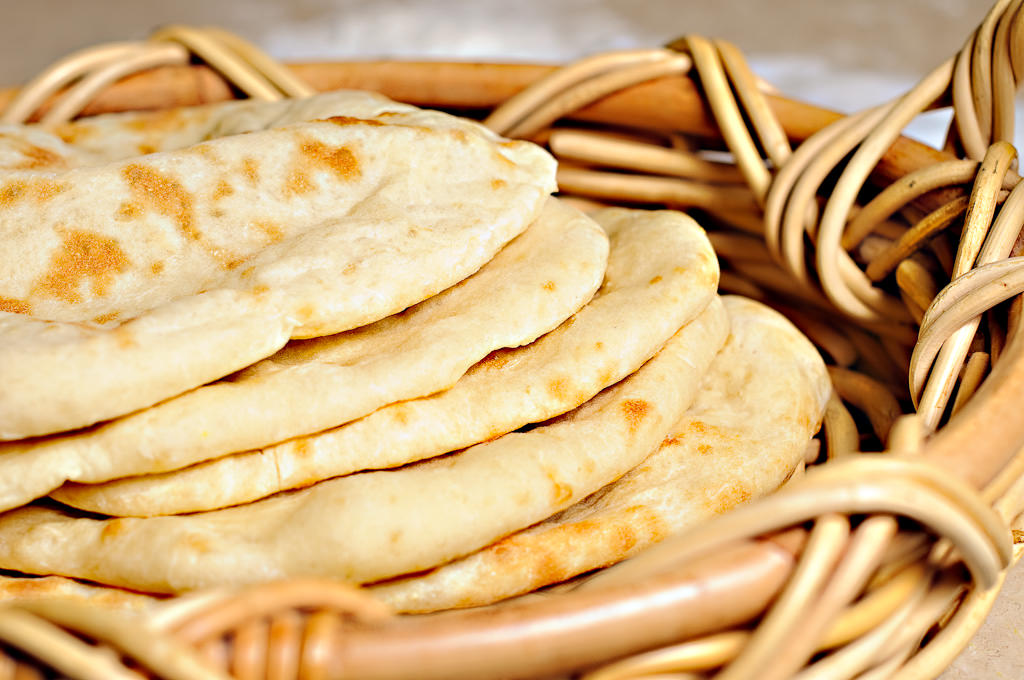 You can eat this along side of a meal to sop up gravies and juices, you can make flat bread sandwiches with it, top it with tomato sauce and cheese for a quick personal pizza, use it in place of tortillas for quesadillas… the possibilities are endless!! Continue adding flour, a half cup at a time, until you can no longer stir it with a spoon (about 1 to 1.5 cups later).
At that point, turn the ball of dough out onto a lightly floured surface and knead the ball of dough for about 3 minutes, adding small amounts of flour as necessary to keep the dough from sticking. Once, you are finished with kneading, cover it up with kitchen towel and let it rest in warm place for about 1 hour. Avoid adding excessive amounts of flour as you knead, as this can make the dough too dry and stiff. Working with one ball at a time, roll it out until it is about ¼ inch thick or approximately 6 inches in diameter. Place the rolled out dough onto the hot skillet and cook until the bottom is golden brown and large bubbles have formed on the surface (see photos below). Stack the cooked flat bread on a plate and cover with a towel to keep warm as you cook the remaining pieces. I experimented with different skillet temperatures and found that a medium heat produces the most bubbles in the dough and does not burn the surface.