September 24, 2009 By Nicole Avery Tagged With: baby, parentingOur beautiful baby has been eating for a couple of months now. I have had great success though with making the baby food in bulk and freezing it in portions. Baby Led Weaning approach is that now babies start solids much later, and because we want to continue breast-feeding, they should just be offered appopriate finger food from the family meal table. My son on the other hand was so desperate for solids at six months that I have done the spoon feeding thing to fill him up – he loves it. The great thing about making your own baby food is you know exactly what's going into it. What I always do is when the baby food has frozen, I pop them out of the ice trays and put into zip lock bags, then my ice trays are free for ice once again (even though it's only for a wee while). When your little bundle of joy is weaning and ready to take on the challenge of eating solid foods, you must be positive that everything you're giving your baby is 100% safe and healthy to eat. When I had to start feeding my child REAL food, it made me want to crawl in a hole and cry. And I'm happy to report, it appears as if I can keep a human being alive, and even thriving! One day they love avocado, and then for the next 6 months just the sight of it induces chills and an immediate gag reflex. I make fruit and veggie puree for my nephew and he's spoiled…once he had my applesauce he shunned store-bought! My mom looks at me like I'm psycho whenever I tell her I intend on making my own baby food.
I never did buy store-bought baby food for my son beyond the beginning rice cereal and the little puff things for a brief period.
My one suggestion would be to get silicone ice cube trays, as they are so easy to use, to pop out the frozen baby food cubes. I just wanted to leave a comment and let you all know that you can freeze fresh fruits and veggies prior to blanching. When my daughter turned 6 months old and the pediatrician told me it was time to start her on some solid food, I tried making my own, without much success. I starting thinking LETS MAKE MY OWN FOOD, we've done peas, sweet potatoes, carrots, and greenbeans, Then I found your blog!
I'm wondering how long you keep your food in the freezer for before you think it would go bad?
I'm a wife, mom, runner, recipe developer, freelance writer, salad lover, and ice cream addict.
Place fruit in a pot and add enough water to just cover the fruit.Cover and cook on high until fruit is soft.
If you are going to use your baby food right away and you only made a small portion, you can just store in your fridge for up to 3 days.
When you are ready to use your baby food that you have frozen, remove as many cubes as you will use in a sitting. Place in a microwave safe container and heat in 15 second intervals until the desired temperature has been reached. I would not save it if you have been dipping the spoon you used to feed your baby into the baby food. Is it ok if i take it out of the freezer and put it into the fridge from the previous day and rehead it?
A safe way to thaw is to take it out of the freezer before you need it and put it in the fridge. Please note that we are unable to respond back directly to your questions or provide medical advice.
This also enables me to be able to take food with us when we are heading out, regardless if it is planned or not, as I always have a stock pile in the freezer.
Buying baby food at the grocery might seem like the easiest solution, but if you really want what's best for your baby, visit the fresh produce section or your local farmers' market, buy the freshest produce you can find and start pureeing for your baby. One meal they might INHALE an entire banana, and then the next day they squish it in their hands and then rub it in their hair as if it's the newest beauty product.
There are different ways to prepare a lot of these foods, but I'm going to talk about how I did it. Unwrap, cut a slice in the sweet potato and scoop out the flesh (it will break away from the skin really easily).
You can add milk to make it thinner, but it isn't necessary for a very ripe banana or avocado.
My son just started getting baby food on wic and I researched it, it's amazing how unhealthy it is and how much starches, sugars, and additives are in it. I'm currently freezing in trays and storing in baggies as well, but unsure as to when they should be eaten by?
I think the majority of the food I consume should be life giving; healthy, natural raw fruits and veggies.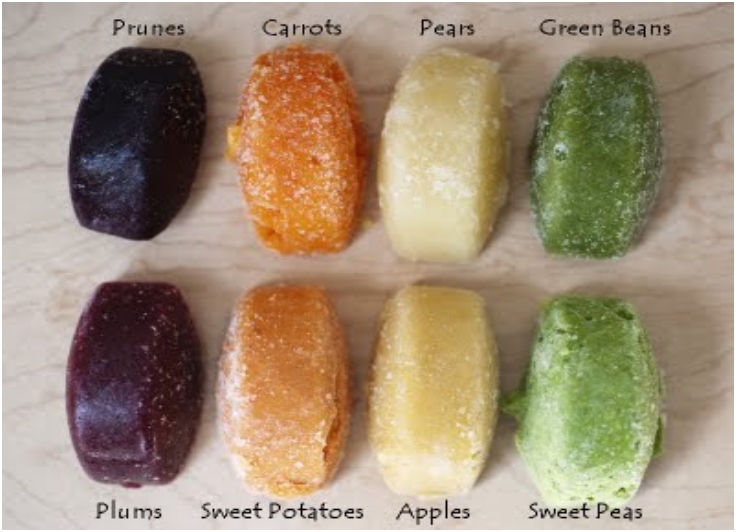 Once frozen I then place a couple of cubes into resealable freezer bags and make more batches of different homemade baby food. You can heat in the microwave (be careful, some foods warm up really quickly!) or on the stove.
And just found your homemade almond milk- and I just bought a Vitamix, so for sure making that ASAP. I am on my homemade baby food making journey and am eventually going to make a recipe book strictly for homemade baby food organized by stages veggies fruits etc. You do not want to reheat baby food that you have already heated once and fed to your baby. She started clapping because she was so proud of herself for getting that terrible, tainted, disgusting BUTTER laden piece of poison off of her tray. Scoop out the flesh and puree in a blender or food processor (magic bullet or baby bullet might work too). Once they're completely frozen, remove plastic wrap, pop the cubes out of the ice cube tray.
Just make sure the food is cool enough before you feed them so you don't burn the babies mouth. I especially love this for seasonal veggies and fruits that aren't as high-quality during certain months of the year.
That is why it is a good idea to heat in small portions because sometimes you don't know how much they will eat!
She will throw them over her shoulder, and then I try not to laugh because it's really quite funny to watch.
But if you have any inclination to feed your child REAL food, you'll struggle sometimes. Then she pointed at the blended, with my GREEN smoothie in it, and started bouncing in her seat. So she eats an entire pear a day and we put spinach in her eggs, oatmeal, anything and everything!