Last Week, the district Superintendent and an Assistant Superintendent met with representatives from West Garden Grove who are concerned about the proposed use of Chapman facilities for a high school (currently at Hare). The district is open to reviewing all of the possible uses at Chapman and will maintain open communication with the community. OC Breeze by emailReceive a summary of the day's news from northwest Orange County in your email inbox first thing every morning.
The Garden Grove Unified School District received a $195,000 grant from the South Coast Air Quality Management District that will allow officials to buy 13 additional environmentally-friendly school buses powered by compressed natural gas, district officials announced Friday.
The latest AQMD award brings the total amount of grants the school district has received for these lower-emission buses to $2.2 million, according to a statement, which also says that the district will provide $15,000 per bus in matching funds for a total contribution of $195,000.
The 78-passenger buses purchased through the grant will be ordered and delivered later this year. This grant will help the district operate 40 of these buses, the largest such fleet of clean-fuel buses in Orange County, district officials said.
AQMD approved providing more than $21 million to 11 school districts in Orange, Los Angeles, Riverside and San Bernardino counties. These projects were awarded individually and occurred simultaneously, primarily over the summer of 2012. 9, residents addressed the Council during oral communications to express their concerns about Garden Grove Unified School District's intent to move Hare Continuation High School to facilities located near Peppertree Park and Patton Elementary School in the vicinity of the intersection of Knott and Chapman in Garden Grove. The community representatives expressed an interest in seeing Chapman used for something other than a K-12 school, citing impact on traffic, local business and housing as well as supervision needs. The West Garden Grove representatives requested that the meeting scheduled for February 11th (at Chapman) be postponed to allow for continued dialogue between the district and community.
The district got its first clean-fuel bus in 2001, also through an AQMD grant and now operates a fleet of 110 school buses. Orange Unified School District, which was the only other grant recipient in Orange County, received $698,096.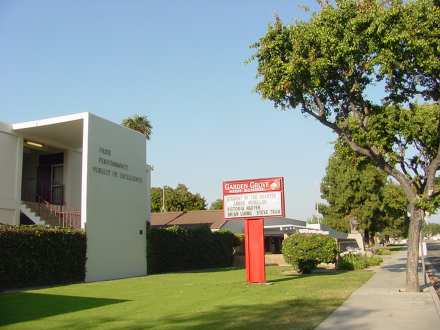 The district is developing a timeline for next steps in discussing the use of Chapman and that timeline will be shared openly with the community.
The difference is that the new buses do not emit diesel soot, which is the source of 84 percent of all air pollution cancer risk in Southern California, experts say. PRIOR to any final decision to move forward with the use of Chapman, multiple opportunities will be provided for formal and informal input and feedback. Prior to moving forward with the use of Chapman site, the action item will be placed on a public Board of Education meeting agenda for discussion and a public vote.