Your one stop for everything food including recipes, reviews, new products, fun food facts and trends. Fruit Cocktail Cake was one of the first baked items I remember making in Food Services back in high school. I always thought it was a unique recipe until a few years ago when everyone where I work, (ages 75 to 22) had tasted it at one time or another. Love the back story to this recipe and I know fruit cake sometimes gets a bad rap but your version sure looks delish. Opinions expressed on Cindy's Recipes and Writings are my own and not necessarily those of sponsors or collaborating bloggers. August 28, 2014 by Shannah Coe I love recipes that are easy for potlucks and taste amazing too! Dump cake (the traditional cherry pie filling + crushed pineapple version) is one of our family's favorite desserts.
For this fruit cocktail dump cake, instead of pie filling, one day I crossed my fingers and decided to use fruit cocktail.
That bubbly fruit filling is SO good – see how it snuck out around the edges of the pan?
It turned out very light, its more like coffee cake not heavy like you think of fruit cake. Keri is sharing her fruit cocktail dump cake today and I think it is perfect for any upcoming fall event you have planned. Welcome to My Suburban Kitchen, where you'll find tons of recipe ideas including family friendly dinners, sinfully delicious desserts and even Paleo and Whole30 recipes. I am Keri and I blog over at Shaken Together where I am celebrating a creative life with easy recipes, seasonal crafts and fun gifts! Basically, you dump some fruit in a baking dish, cover it with a cake mix and some melted butter and pop it in the oven. The mix of peaches, pears, pineapple, grapes and cherries in a lightly sweet syrup is the perfect compliment to the golden buttery crust!
With cool weather, Fall parties and get togethers right around the corner, you can add this Fruit Cocktail Dump Cake to your pot luck list!
I love spending time in our kitchen and also share little glimpses of my life as a wife to one awesome Mathlete and working mom to 2 cute kids! Some of my favorites things are my hubby of almost 15 years, our two sports obsessed boys, our two quirky cats, chippy old wood, the color red, singing at the top of my lungs, lists and mason jars!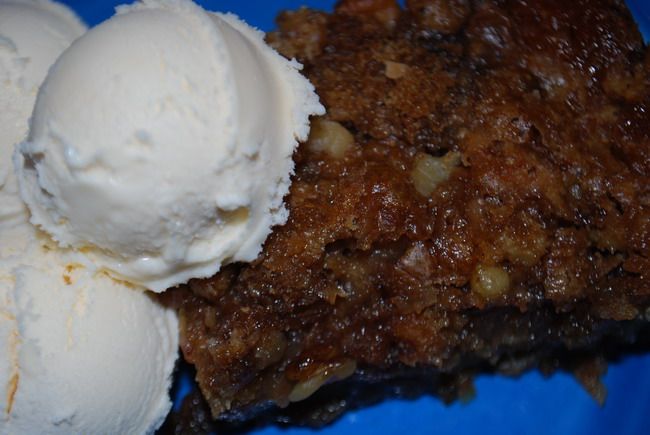 It comes out bubbly and piping hot and it is pretty awesome paired with vanilla ice cream or whipped cream! You can use almonds or omit the nuts entirely, but I really love the toasty crunch of pecans sprinkled on top! In a bowl, mix together the two cans of drained fruit cocktail and the third can (fruit + light syrup).
Drizzle the top of the cake mix with the melted butter, trying to cover as much of the top of the cake mix as possible.
Bake for 48 – 52 minutes until the top of the cake is browned and the filling is gently bubbling around the edges.