The very kind guys and girls over at R & R recently sent me a bottle of Liefmans Fruit beer, which I in turn gave to my other half as she loves her fruit beers. It pours as you would expect a lovely deep red colour which almost glows in the glass, the head was big and frothy but soon disappeared as the beer was drank. Flavour wise it was packed full of fruit, I only manged to pick out a couple of the individual fruits but Emily picked out nearly all of them, the beer was a little bit sweet for me but did have a lovely sharp finish that was quite refreshing. The carbonation is quite high but this helps make the beer feel light, fresh and drinkable. Emily didn't mind the sweetness, she said she could have quite happily drank another bottle or even a bigger bottle, she also said that it went extremely well with the deep, dark, gooey chocolate fondants I had made. It's just as well the beer comes in at 99 calories per bottle if you are going to pair it with a decedent pud like that. Love the Cuvee Brut but cannot go on board with this at all – much preferred the now defunct Frambozen. Normal 0 false false false EN-US X-NONE X-NONE MicrosoftInternetExplorer4 Anyone can drink beer, but it takes intelligence to enjoy beer. It was time to man-up and spend an evening trying out a bevy of fruit beers for the July meeting. Deciding to start with the lighter, sweeter beers first we opened up Wild Blue & Wild Red from Blue Dawg Brewery.
German craft brewers have been experimenting with flavored hops to create non-traditional brews.
Germany is famous for its beer, and the purity of the country's brews has long been protected by a 16th century purity law called the Reinheitsgebot that restricts certain additives and flavorings. According to The Local, the purity law says that only water, malt, hops, and yeast can be used to make beer.
Fruit BeerAs the drive to offer new and different twists on your favourite brew continues to increase, there are more and more flavours of fruit beers appearing on the market. For many brewers, it's a point of differentiation in a very competitive market. Fruit beers certainly aren't a modern invention, as fruits and vegetables have been used as additives in beer for centuries.
While the Belgian Lambic style is a growing inspiration to North American brewers, the general preference in Canada is for drier fruit beer. The addition of fruit flavour to beer can be accomplished in one of two ways: fruit can be added during the fermentation process, or fruit juice or extract can be added to the beer after it has been fermented. Some of the most prominent brewers of fruit beer are the larger Chinese breweries, which widely market Pineapple and Lemon beer. Again, I generally avoid fruit beers as they are generally really acidic or terrible tasting (I hated Eric's Ale and Wailua Wheat).
The question I have as I approach every fruity beer in Belgium is simple: is it going to be a traditional lambic like Cantillon Kriek or will it instead be a raging sweet storm like Belle-Vue Kriek or, worse, Mystic. Something that often comes up in my beer-related discussions is the matter of carrying bottles of beer on airplanes. Francois was in from Kenya this week, so we had him and some others over for dinner and a few Belgian beers.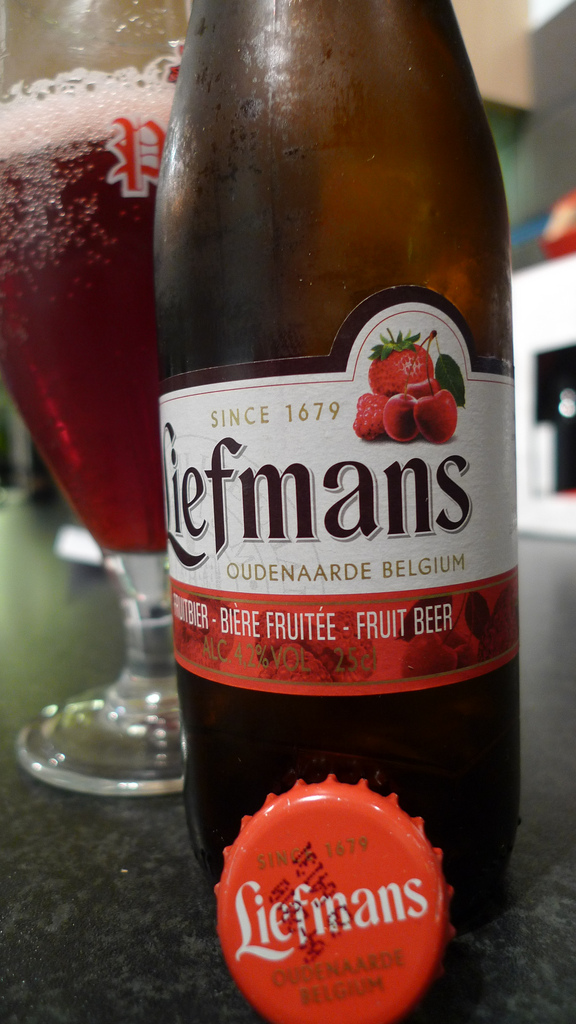 But lately Germany's craft brewers have been branching out and even experimenting with fruity flavors to create nontraditional brews that still meet traditional standards of purity.
German hop breeder Anton Lutz had been throwing out any seedlings with a fruity fragrance, but in 2006 he decided to start breeding them on purpose. Adding fruit during fermentation is generally considered to produce a higher quality result, but is also much more difficult as the fruit sugars add an extra level of complexity to the already volatile fermentation process. But brewers around the world are experimenting with raspberries, peaches, blueberries, apricots, and many more fruit varieties. So, perhaps a good idea might be to consider adding a fruit beer to your repertoire this summer. The new beer is then blended with fresh, natural fruit juices of strawberry, raspberry, cherry, elderberry and bilberry, before being crown-capped. So the majority of fruit beers use the second method, which usually results in a sweeter and less complex, but more consistent end product. The result is Liefmans Fruit, a highly refreshing fruit beer that is delightfully sweet, with the sparkle of Champagne and the freshness of a nicely chilled glass of wine. Now, sadly, I'm a bit worried that all my searching for Goudenband will turn out not to have been worth it.