Did you know that baby shower floral centerpiece idea is one of the hottest topics on this category? KL: In The Kitchen, you get to have five different perspectives on one show, so there are so many different ideas being thrown around.
Who's the one Food Network talent you'd most like to face off against in a friendly cook-off? Before we saw you on Food Network's Google+ Thanksgiving hangout, you were in an episode of Bobby Flay Fit. What are a few simple strategies people can incorporate into their day-to-day to feel better about what they're eating?
KL: One thing to do is to look at your plate and make about 70 percent of it vegetables and the other 30 percent the other stuff. Recipe of the Day: Fan-Favorite Guacamole Salad If you love guac so much you don't even need the chips, you're going to love this. Personally, I want you to walk away from each show feeling like you have learned something — like it was worth sharing your hour with us. I hope you enjoyed the show and found it to be something you can put to work in your very own kitchen.
Like the Kimchi Idaho Potato Fries with Curry Kewpie Mayonnaise (above) a visit to the Food Network Kitchens is both familiar and exotic. From a nondescript elevator in Chelsea Market, a few floors up, the Test Kitchen is alive with familiar sounds, new smells and fresh ingredients. Chef Elle Simone prepares an array of inspiring Idaho Potato treats while chef and photographer Latoya Shauntay Snell gets the perfect shot.
I am prepared with a hair-tie and closed-toe shoes just in case there is any way for me to weasel my way in help out in the kitchen. The Test Kitchen chefs dig into the Kimchi Fries (top) and the Idaho Potato Hash Brown & Egg Muffins (above), which are similar to Potato Cup Frittatas. The Hasselback Potato (left) may be the claim to fame of 18th century Sweden, but 2012 was deemed The Year of the Potato by Andrew Freeman & Company. Their research shows a return to fresh, in-house potato preparation, different presentations such as Potato Bowls (or the Hasselback) and fries, fries, fries. Idaho Potato is celebrating it's 75th Anniversary this year with the Famous Idaho Potato Truck Tour. Traveling the country, getting to know home cooks and how potatoes are used in real homes across America, the Famous Idaho Potato Truck Tour raises money for Meals on Wheels and American Heart Association.
Test Kitchen Manager, Claudia Sidoti (far left), gives us a tour of the facility, including a peek into a sound stage where Melissa d'Arabian is taping her show. Photo Credits: Kimchi Idaho Potato Fries with Curry Kewpie Mayonnaise and Idaho Hasselback Potato, Latoya Shauntay Snell.
For more great recipes using Idaho Potatoes, check out the Idaho Potato Commission Website.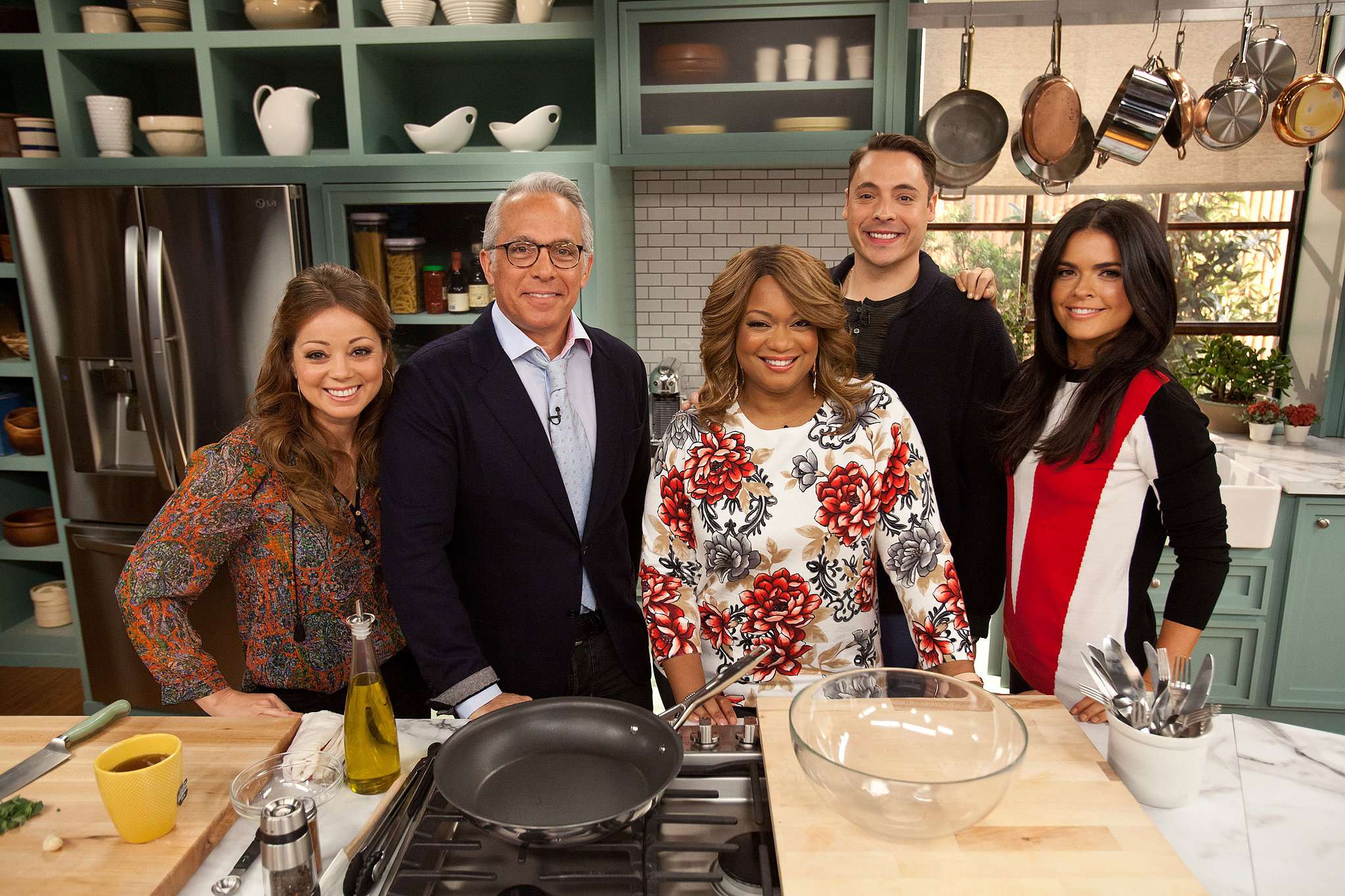 In all realness though, this is such a cool experience and I'm glad you shared it with us!
Seriously Sara… I could not have imagined ahead of time how well received we would be, getting both quality time and quantity time with their team. I'm a home cook, so I make foods that are easy, and foods that I think people at home can relate to. I love, love, love to eat, but I also like to wear skinny jeans, so I am a major workoutaholic, I guess you could say. Ina deconstructed the favorite dip into a chunky salad with the usual fresh ingredients, plus satisfying black beans and an invigorating lime vinaigrette. We all have very different perspectives on food and cooking, and, I think, that's what's so great about The Kitchen; at one point or another, someone is going to say something that you connect with. It's remarkable how even though I've dedicated my life to food, I'm still stumped every once in a while about what to put on the table for Fau (aka Fausto, my son). We hit the field energetic and, with a couple practices and a solid game under our tight belts, more confident. This is the first of what we hope to be many episodes that will share recipes, quick fixes and fun chats about all things food and entertaining.
I've been in some pretty amazing kitchens – but this is home to Kitchen Stadium!
It doesn't take long for the chefs to declare the Kimchi Fries their favorite potato preparation of the day. Idaho Potatoes fried in duck fat with hoisin glaze, crispy duck bacon & duck skin crackling.
Of course they test all the recipes for Food Network Magazine and have tastings of all those tested recipes twice a day!
We got this picture on the net that we believe would be one of the most representative pics for baby shower floral centerpiece idea. We got this picture on the internet that we feel would be probably the most representative photos for unique children s gifts.
We had taken this picture from the web that we feel would be one of the most representative photos for kohl s curtains. Before the season gets too far underway, however, FN Dish wants fans to get to know each of the co-hosts a bit better, so we'll be sharing exclusive interviews with all five chefs every day this week. And it has her notes in it where she would make the recipes and make notes, and she'd say, I used this, or I used that — or this tasted awful. All five of us, along with what has to be one of the best production crews I've ever worked with, are constantly looking for and debating what topics, recipes and ideas you would find most interesting.
Anybody can buy a rotisserie chicken and make some tacos (often dinner at this casa), but what if you don't even have time to go to the grocery store and get the darn chicken? I was up in the air on my way back from the 14th annual Mauro Mexico Family Trip (25 Mauros strong this year!).
We had our first guest during Cookbook Club — the highly talented pastry guru, author and legitimate Chicago native Jenny McCoy (win a copy of her book now). Speaking of entertaining, I am too excited that I got to share the Lotus Flower Candle with you today. While the Food Network Tech crew fires up Don's Power Point presentation, they also cue up Potato Volcano.
A trend in Food Service is to take something familiar, like a french fry and pair it with uncommon or exotic flavors.
The Food Network chefs laugh in all the right places and spoil me with a rowdy round of applause at the end. Read on below to learn more about Katie Lee, and keep checking back to hear from Marcela and Sunny. I never imagined it could be a career unless I wanted to be a chef in a restaurant, and I knew I did not want to be because I'm not a masochist. What if, more than once a week, it's like a Chopped episode and you just open up the pantry praying that you've got enough in there to whip up something good and nutritious for your family? She gave an effortless interview in which I totally blew it and forgot to ask her my favorite question ever (see photo below). We have the best farmers markets anywhere, as far as I'm concerned, so typically what I do [is] I go to the farm stand, I pick up whatever looks good, and I go home and I make something out of it.
I do Tracy Anderson Method, and the gym is, like, super closer to my house, so it's not difficult for me to get there. Jenny then demoed some of her award-winning desserts with the girls, and GZ and I promptly got kicked off set.
Thanks so much for all your efforts to show the versatility of Idaho potatoes and have fun doing it at the same time. And farm-to-table is such, like, a trend, buzzword, but where I live, I truly do get to eat food that's all within about [a] 10-mile radius from me. I really like this show for that reason — it's truly host driven, with a huge help of a production staff. I call it Manloaf because if you make it for a man, he's destined to fall in love with you.
Twittertown can be a rough and tumble joint (keep reading, you'll see what I mean), and it is seriously not for the meek.