This photo, courtesy of Michael Williams, shows a new indepedent in Paterson NJ, that has adopted the Food Fair name. Food Fair is greatly missed the locations in Browntown (Old Bridge) and East Brunswick lasted until the 70's. Photos are a mix of my own copyrighted work and other images assumed to be in the public domain or used by permission.
A couple of quick new location lists covering Annapolis and Frederick, Maryland, featuring A&P, Safeway, Acme, Food Fair, Giant, and more.
Anyway, the semester from hell is now pretty much officially over (I submitted my last two papers today), and I'm hoping to be a little more active here in the coming weeks. Interesting trip to Norfolk VA and the Tidewater area this past weekend while I was having all the domain problems. Interstingly enough, this location had been an actual unit of the Food Fair chain several decades ago as well. It is neither affiliated with, authorized by, nor endorsed by any grocery retailer nor any other corporate entity.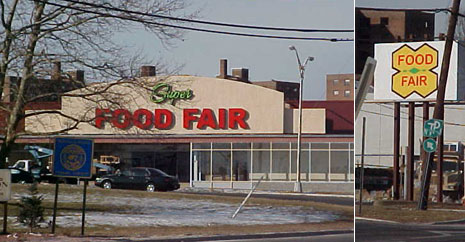 For now, I'll leave you with this nice shot of the former Food Fair store at Cherry Hill Mall in New Jersey. Its exterior is quite well preserved, despite having been recycled as a Dollar Tree location.