Food Battle: The Game is a 3D action-adventure fantasy game developed by Smosh LLC and released on Android, iOS, Microsoft Windows.
The following pages cover the multiple different media coverage for this game, from concept art to game trailers. Food Battle: The Game is an independent game associated with Smosh funded by the Indiegogo, based on the popular Food Battle series. The game will be free to download, and Smosh have claimed that 10% of proceeds will go to charity.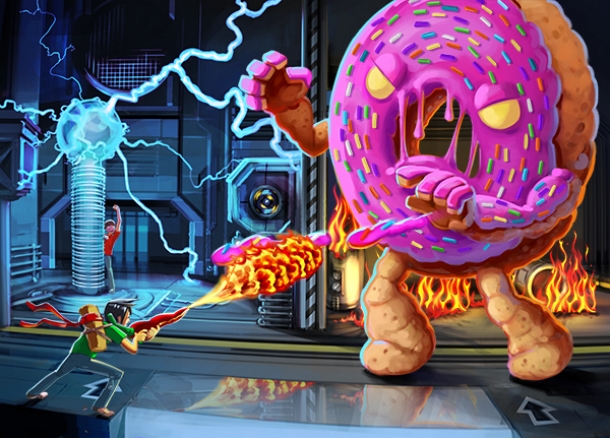 Although, "Food Battle 2013 Announcement" is on their Food Battle Live Stream at the bottom of the corner graphic. Guide Anthony through multiple unique worlds where you can unlock and equip his favorite foods as weapons to help you battle the Baker's hordes of evil donut minions. Also, at the end of Live stream Ian and Anthony said that they would make a Food Battle 2013 Announcement with food campaign videos like last year that was uploaded September 3rd, 2013. And you'll need every weapon in your arsenal if you hope to survive the pink frosted final boss!
It is based on the yearly video series "Food Battle" from the popular Smosh YouTube channel.