Juventus goalkeeper Gianluigi Buffon at a press conference at the Bernabeu on the eve of the second legStephan Lichtsteiner - ?7m from LazioThe 31-year-old Swiss defender moved to Juventus from Lazio in 2011 in what seems like a bargain ?7m now. Stephan Lichtsteiner (right) shares a joke with Spanish striker Fernando Llorente (left)Leonardo Bonucci - ?11m from GenoaSix years and a number of complicated co-ownership deals separated Bonucci's Serie A success in 2006 with Inter and then again in 2012 with Juventus. Giorgio Chiellini looked like a wounded warrior during Juventus' win in the first leg last week in TurinPatrice Evra - ?1.2m from Manchester UnitedThe 33-year-old French full back spent eight years at Manchester United before leaving in the summer of 2014.
Patrice Evra ended his eight-year spell at Manchester United and joined Juventus last summerArturo Vidal - ?7.5m from Bayer LeverkusenThe Chilean's reputation grew during his four-year spell at Bayer Leverkusen.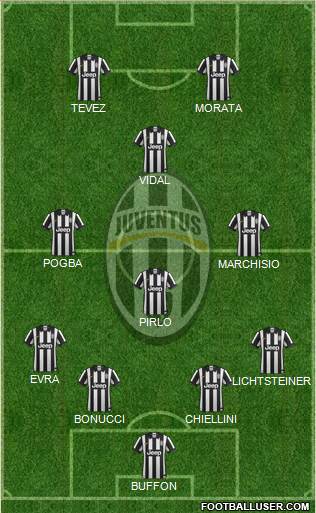 Paul Pogba takes part in a training session with his Juventus team-mates ahead of the second legAlvaro Morata - ?14.3m from Real MadridWith Real Madrid continuing to splash the cash on big-name forwards, young Spaniards like Morata found their opportunities becoming more and more limited.
Carlos Tevez in training with Juventus near Turin on the eve of the Champions League semi-final second legStefano Sturaro - ?4m from GenoaThe 22-year-old has yet to be capped fully by Italy but has provided fresh, young legs to this Juventus side. Looking back, Vidal's ?7.5m transfer to Juventus has turned into an almighty bargain for the Italian side. Morata joined Juventus in a ?14.3m deal last summer and scored in the first leg against his former side.