The Water Bottle's Versatility means that it has a better chance to be there when you need it.
A - FLAP POCKET: Maps, fire permit, notebook, pen, fishing license, identification, guide book. E - LOWER COMPARTMENT: Cap, underwear, trousers, windbreaker, wool shirt or down jacket, socks, shirts, gloves, swim suit, bandanna, food (if not in D). CARRY ON YOUR PERSON: Compass, pocket knife, Medic Alert bracelet or pendant (if used), waterproof matches. PACK ITEMS IN SMALL STUFF BAGS: For easy access to your gear, pack all your gear in small stuff bags then pack the backpack. The Zone Method of packing a backpack can make the difference between drudgery and enjoyment during the time spent on the trail. ZONE C: The area farthest away from the body's center of gravity should be filled with the lightest equipment.
There is also a benefit in placing the densest weight high in the pack as it will be more directly over the center of gravity. Water purification: As a minimum boil water or add 1 iodine tablet per instructions on tablet bottle. Stepping backward with the left foot and crouching slightly to slant the right thigh, drag or lift the frame to rest on the thigh.
Steadying the frame with the left hand, and holding the upper part of the right shoulder strap, put the right arm under the shoulder strap.
Lifting the frame with your right hand, swing your elbow back to slide the frame around on your back.
Buckle the hip belt in place and adjust the shoulder straps to hold the frame high on your back. A good pack frame will have welded construction Well padded hip belt that will tighten snugly just above his hips. The shoulder straps should be attached to the frame high enough above the shoulder that the straps come down from the frame to the front of the shoulder.
Good quality sleeping bag and tent straps should also be bought to securely fasten the bag and tent to the pack.
Bungee or elastic cords should not be used to fasten items to the exterior of the pack because these allow the load to shift and bounce around. NOTE: When a backpack is fully loaded with all necessary gear and equipment it should not weigh more than 20% to 25% of the total body weight of the person who is carrying the pack. An overloaded, too heavy pack will lead to quick fatigue, possible physical injury, and for certain an unpleasant backpacking experience. SUGGESTION: Buy a pack that fits now and sell it to a smaller scout when your son outgrows it. A good bag will be made with offset or slant layer construction which will not be sewn all the way through the inner and outer covering. These types of Bags a very expensive but last forever, be careful choosing the weight, size packed, and fill of the bag. A closed cell foam sleeping pad is a must for winter camping, since it insulates you from the cold earth.
I do however, use a REI Marino Wool™ liner, it's really small, light and I hate sleeping on nylon.
Hiking boots should always be worn with sock liners (polypropylene or silk) and wool hiking socks. Make sure that you wear hiking sock liners and wool hiking socks when you go to try boots on in the store. Do not take chances with your life, an inexpensive item like a chemical Handwarmer can be a life saver when in trouble in the wilderness. I glued a piece of sand paper to the top of the lid to ensure that I can always light the matches and place one piece of Tinder on top of the Matches to stop them from accidently striking the lid. Matches, Lighter, and a Striker) I packed in 6 Pieces of Tinder (Wax, Kerosene & Cotton). I supplemented it with a piece of Wire large enough to be used as the Bail for Boiling Water.
Most Survival Situations are Short-Term (1-4 Days) so the Tea Bags will be a nice Morale Builder during the first couple of days. One of the best aspects of this kit in comparison to most purchased small survival kits is that you get a full sized Survival Knife and a 1L Water Bottle.
I hope this breakdown on what a Water Bottle Survival Kit should contain make you decide to carry more Critical Items when travelling in the Wilderness. Don't buy just for camping if you ever plan on backpacking, camping equipment is no good on a backpack trip, but backpacking equipment is perfectly fine for a camp out. However, the quality usually is much, much better and you can have it a lifetime if taken care of properly. Plastic zip lock bags make excellent small and medium stuff bags especially to keep items dry. However, the following are a few recommendations which have proven to be easy and safe for both pack and packer. While the frame is held high and far to the left, put the left arm through the shoulder strap and pull the strap into place. The belt should be tight enough to support the pack on the belt when loaded with 25 to 30 lbs. Also the rated degrees is VERY important, you can supplement bags with extra blankets on camp outs or double up the bags when it gets real cold.
These pads weigh more than a foam pad and are not recommended for new scouts who need to conserve weight. Before wearing boots on a hike the boots should be worn around the house for several days to break them in properly.
This small Survival Kit is based around a likely Spring or Fall Scenario; you go out Hiking, Hunting or taking Photos and it Snows causing you to get Stranded. These types of disposable lighters have a very adjustable flame and I keep it right on top of the kit just incase I need it quickly. I also wrapped a piece of duct tape around the container so I have a piece handy for repairs.
5 Tinder pieces are packed into a Film Container and 1 in the top of the Match Container to reduced the chances of the Matches Striking by accident.
The Stealth has a string so I can hand it around my neck and a small carabiner so I can attach my Flashlight, Whistle, and Striker to it. This Flashlight is fairly powerful for its size and has a flashing mode if need as a night signal. I re-rigged the top of the bottle so no plastic needs to go near the fire and it is pre-wired with two small rings for easy attachment of a Bail.
The more Binding Material that you carry the more options you have when stranded and the less you need to rely on finding a good source of Natural Cordage nearby or have a need to remove it from what you are wearing.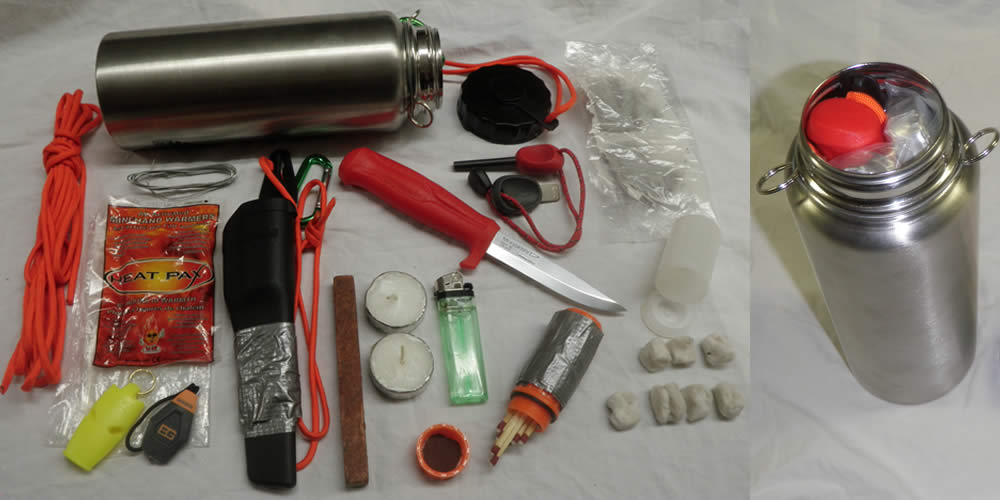 Others like a First Aid Kit or Compass are separate items and should be carried where they are can be used easily.
This Kit can be easily attached semi-permanently with Tie Wraps or Hose Clamps to a Quad or Mountain Bike. The sleeping bag can be stuffed in the bottom toward Zone C or strapped to the bottom of the pack.
Before following the suggestions outlined, start with a realistic weight, by loading the pack as if you were going on a hike. With practice a loaded frame can be put on or taken off with ease and without injury or damage to the packer or the frame. It should be fitted with a rain fly which comes almost to the ground, otherwise rain can blow under the fly.
I use a LightSabre Bivy by Black Diamond™ This is my tent, it gives me the benefit of sleeping under the stars, removes the claustrophobia associated with most bivy's, is really breathable on hot nights and when the seams are sealed it's water proof.
In this Kit I set 5 Priorities; Warmth, Fire Lighting, Survival Knife, Signaling, and Water.
In addition to the Tinder I packed in 1 pieces of Chip Fire Starter and 2 Tea Light Candles as additional Fire Lighting Aids for poor conditions. Duplication of survival equipment means that you end up carrying either much extra gear and or leaving it all behind as it gets to heavy. However, when a pack is placed on the back, the body leans forward to bring the pack's center of gravity directly over the ankles. Free standing tents work best for the new scouts since they can be easily moved after set up and they can be cleaned out by lifting up and shaking them out. The friction of the foot moving inside the boot will occur between the two pair of socks not between layers of the skin, which causes blisters. The Survival Items are all stored in the Water Bottle and ready to be used quickly in a survival situation. It can also be carried in any other carrying case you might be travelling with in the wilderness. Consequently, it is advantageous to keep the pack's center of gravity as close to your back as possible to prevent unnecessary forward lean.
My Tent, Sleeping Bag and Sleeping Pad weigh less than 4 lbs together which is what a normal backpacking tent weights by itself.
The cordura boots are lighter in weight but are not waterproof unless you choose a pair with Gor-Tex, which greatly increases the price. These Extra Items can make a Big Difference to a reasonable well prepared person Stranded in the Wilderness. I do not like to take chances with cheap alternatives and the sharpened steel piece of this model is excellent at producing lots of sparks.
Down filled sleeping bags loose up to 90% of their thermal properties were a Synthetic filled sleeping bag retains up to 85% of its thermal properties. A coated nylon style, properly sized for the wearer to maximize protection without dragging the ground will last for many years.
Normally I take a two Eat More Chocolate Bars (roughly 500 KCal) along for quick energy at the start of a Survival Situation.
It is useful to see What I Choose to Carry in this Survival Kit and Why I Choose each Item.