Near the end, all the Cures come back on the stage to perform the rest of the dance and strike a pose at the very end of the song.
Pink and Pure - Love, Mana, and Cherry make plans to fight as a team whenever a monster is active, and this quickly happens. Cure Secret - Makoto and Rose discover their Cure name is their true name after Makoto says Cure Sword is her true name.
An updated version of the PretPhone, including Aguri, Cherry, Daisy, Sunny, and Rose, will be released sometime in January 2015.
There will be a vocal album (Pretty Cure All Stars Vocal Album ~Ashita no Tomodachi~) containing the main songs of all 37 Pretty Cure, released about two months after the movie.
Also, Cure Blossom Mirage is doing Cure Blossom's New Stage 1 pose and Cure Marine Mirage is doing Cure Marine's New Stage 1 pose.
Only one minor character was in this movie, but was in it for a short moment (near the end) instead of being part of the main story. Like the other two New Stage movies, this one includes the ending of the current season as the ending of the movie. Leader Group: Happy (Smile) volunteers to run with Heart (Doki Doki!) and Blossom Mirage (Let's Mirage!). Blue, Green, White Group: Marine Mirage (Let's Mirage!) volunteers to run with Diamond (Doki Doki!) after putting her hand in front. Colorful Group: Peace (Smile) randomly holds Sunshine Mirage (Let's Mirage!) by the hand, but the bond is broken apart by the Zakenna. Colorful Group: Ace (Doki Doki!) and Moonlight Mirage (Let's Mirage!) hold hands running from the Zakenna before realizing they're too far behind from the others. They explain what it is used for until two "monsters" (who are actually their respective mascots Hummy and Hana dressed up). Then, Moonlight, Sunny, Sword, and Moonlight Mirage fall next, and Rouge and Sunny seem to start looking at each other, which Moonlight Mirage jokes about.
The mascots find and wave the Kokoro Lights and the Cures receive upgrades and use their power to defeat the villains. The lead Cures welcome Cherry, the secondary Cures welcome Daisy, and the other Cures welcome Sunny and Rose. She asks the Mirage Cures, then Moonlight Mirage decides to join in, and named the group "Pretty Cure Mugen". The lead Cures take turns introducing the Pretty Cure Super Medley before the music initiates.
We first see Cure Blossom Mirage before it zooms out to show everyone participating in the dance.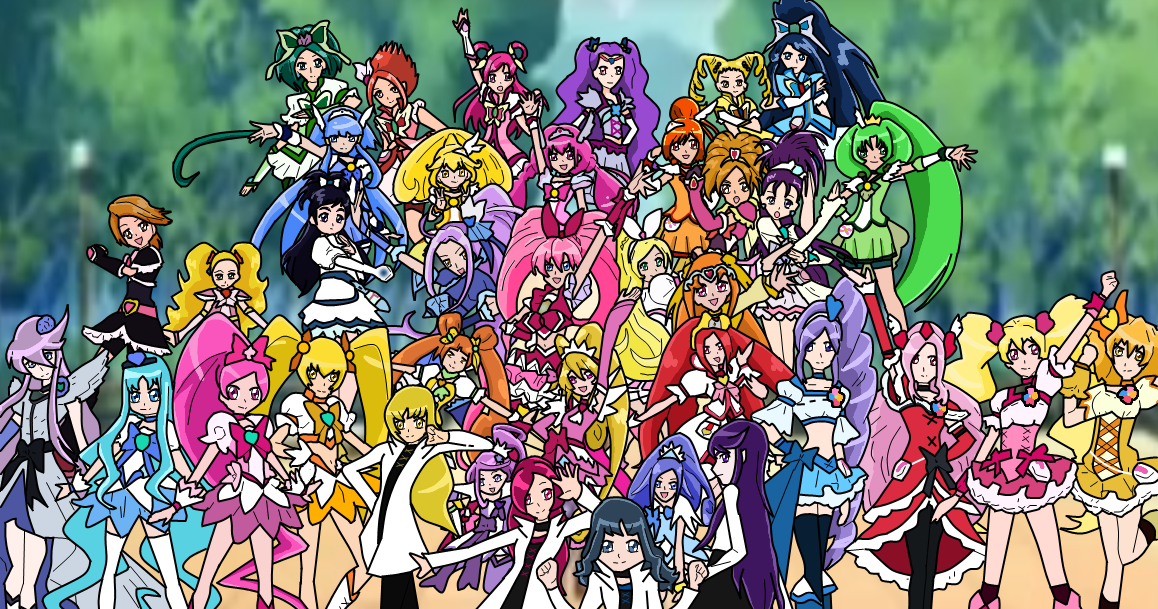 The lead Cures are put into one group, then the blue, green, and white Cures are in their own group, and everyone else is combined into one group. Happy decides to run with Heart and Blossom Mirage, but then gets carried away, trying to run ahead. Each Cure group takes turns dancing to their opening, then all of them are up on stage thanking the audience for coming to see the movie.
Then, they believe they saw another monster and transformed, but it was only a Pretty Cure fan, Suteki Nazo, who later goes to her daycare. She was sorry, and the girl said her name was Cherry and wanted to join in the conversation. Diamond does not like any of this, but accepts Marine Mirage's request to run together before realizing they've been left behind.
She finds out she grabbed hold of Sunshine Mirage, but accepts the fact they can run together. Bloom, Dream, Peach, Blossom, and Melody join in after watching, and finally the other three join but do not perform as well. When the girls were walking together with their new friend, Cherry revealed to them that she was a Pretty Cure too.