This opportunity does however represent the first time that I've been able to match camera maker to scope maker. The ED50 scope (1) itself is tiny and half the size of anything that I had digiscoped with before. We can see the quality built look of the FSB-6 attached to the Coolpix P5100 in the picture. The FSB-6 costs around ?75, so although not cheap, it can be said that the bespoke nature of this adapter makes it worth the money.
There are companies such as SRB-Griturn that still make bespoke shutter release systems for this model of camera.
The Coolpix P300 has largely replaced the P5100, however, it has a dedicated digiscoping adapter for use with DS eyepieces, the FSB-8. The next test for now is to try it out in the field and see how this magnifying midget performs!! One of the main reasons that birders pay extra for scopes with ED (sometimes HD or ELD) glass is to help reduce Chromatic Abberation (CA) commonly known as "Purple Edging". CA is caused by all the light coming through the scope not all being focussed back to the same point. I've always recommended scopes with ED glass for digiscoping and the ED50 is definitely on that list now! The main problem is that there is even less light coming through the set up, so even though your camera may be telling you the exposure will be good, quite often the final result will be one that is terribly underexposed.
The Herring Gull above was only around 8 metres away, so it was very difficult to fit the whole bird into the picture. If an opportunity presents itself like this Iceland Gull did, then the chance of taking a really special picture is possible, and in essence is what digiscoping is all about. This shows that the Nikon system is capable of taking extreme telephoto pictures, even with a 50mm objective!
On the whole I was very impressed with the way that Nikon have designed their digiscoping related equipment. The bracket fits the camera very well, and likewise the adapter fits the DS eyepiece really well. It was obvious to me that the eyepiece magnification was going to be a problem, and the conditions that the test was carried out in were far from favourable.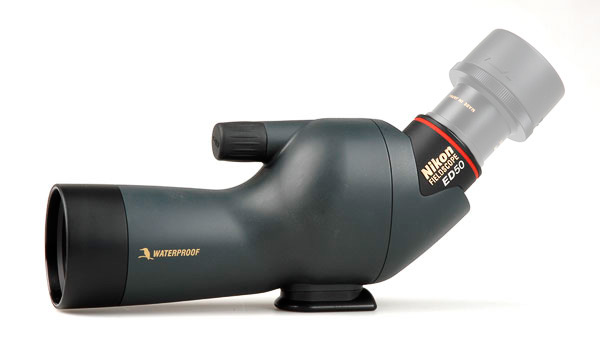 I would very much like to try a larger objective scope such as a Fieldscope III to see if one performs in line with the ED50. As a reasonably experienced digiscoper I found it to be no problem understanding the set up process. With that said, I'm still not sure that I would choose a 50mm scope for digiscoping with full time, but it has exceeded my expectations, and for that reason I have to recommend them from now on. You must have JavaScript enabled in your browser to utilize the functionality of this website.
Average condition with a slight dent in the casing around the objective lens, clean optics and fully waterproof, supplied with a 20x wide angle eyepiece. Questo sito utilizza solo cookie tecnici, propri e di terze parti, utili al funzionamento delle pagine web.
Corpo estremamente compatto e leggero con configurazione ad angolo e struttura subacquea riempita di azoto. Using a Nikon camera through a Nikon scope was something that I was really looking forward too! The lightweight feel was backed up with some lovely build quality, which proves small is good, so long as you know what you're doing, and Nikon certainly didn't sacrifice any quality in the build or design of the scope. It ticks all of my requirement boxes as it has a full manual mode and aperture priority mode. The conditions weren't favourable at all, with only a few sunny spells at best.Upon turning on the camera I was confronted with rather a lot of vignetting. The only way around this is to slow the shutter down, but this can result in "soft" images. It's quite clear that the bird is a Herring Gull, and the buildings look like they are right in front of the camera. The whole set up felt very secure, and was for the most part very easy to use and get results. Like I said before, I was left with a best aperture of f4.3 after eliminating the vignetting.
I'm not sure what Nikons motivations were to make such a small scope, but I'm glad they did as its a marvel.
I have no doubt that the results would've been much better in good conditions, so I have to give the ED50 credit for performing even in low light. Se vuoi saperne di più o negare il consenso ai cookies, consulta la nostra Informativa.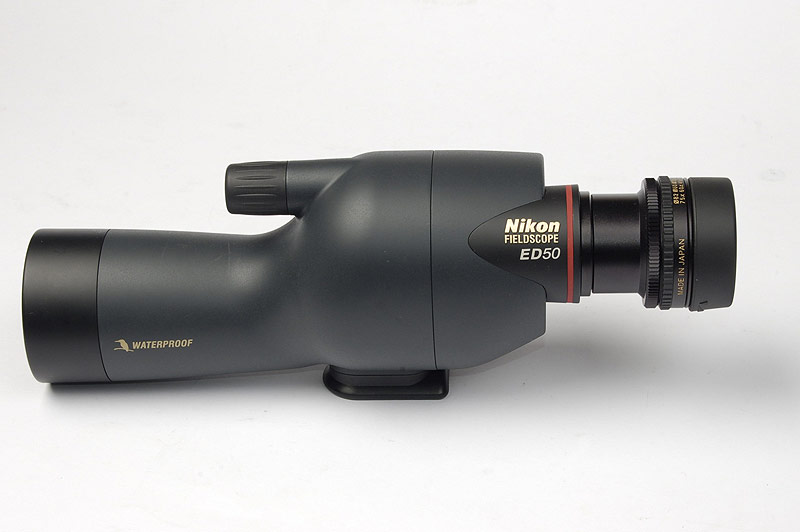 Il vetro ED (Extra-Low Dispersion) e un avanzato rivestimento multistrato consentono un elevato fattore di trasmissione luminosa per immagini nitide e a elevata risoluzione.
They have released many specialist adapters for their cameras, and a range of DS (digiscoping) eyepieces for these adapters to attach to.
They are designed to be able to have one of Nikon's specialist shutter release brackets attached to them. One part of the adapter screws to the front of the camera, whilst the shutter release cable is tightened in place using another thread. Although these cameras are no longer available new, their versatility for attachment to scopes has made them a favourite for would-be digiscopers everywhere!
I was very impressed with how the scope performed whilst taking a picture against a bright background. Handholding the P5100 to the scopes eyepiece I was able to increase the aperture slightly to f3.9. I had been informed by a friend to be "Pleasantly Surprised" with the scope's performance and I was impressed with how well it worked for it's size.
Digiscoping isn't all about birds, so a close focus can help if you see something near to you, in a hedgerow, then it's much easier to take pictures quickly.
A slight recess around the outside of the eyecup snugly allows a tight connection between adapter and scope. The camera and adapter then attach easily to the DS eyepiece and tightens with a screw thread. I couldn't see any CA around the edges of the Greater Black Backed Gull in the picture so the scope passed its test with flying colours. As I said before, a great idea making ease of sometimes complex camera to scope connection issues. I did worry a little though that 40x magnification would reduce the aperture of the set up. The picture would only be sharp for a moment, and it was easy to over or under focus.But, it was obvious to me that better conditions would've made the picture much better, so I'm not blaming the equipment at all here.
The DS eyepieces are more expensive though, and you could be looking at ?200+ unless a secondhand one can be found.