I am in love with the look of carrera marble countertops, but I cannot convince my husband to give them a chance.
I looked at the Vicostone site and their Calacatta was ok, but it didn't look exactly like marble.
IMO Cambria Torquay looks like the Marble of my dreams,how it should look without all the grey. I was able to grab a nice big sample of Caeserstone Misty Carrera today at The Great Indoors in Dallas. We are going to try to make it to the Vicostone showroom tomorrow to look at big slabs of the Carrara color.
I would strongly recommend it to anyone that is looking to do there kitchen or bath counters.
Each of the images below open up into a larger image sample and a photo in use where a project has been undertaken. It looks so nice ;) I was just showing dh and we were also admiring your tin bs behind the stove.
Still not sure why not ALL the pics are showing up, but too tired to figure it out tonight.
The Domsjo is a really nice sink, but I didn't like that it sat above the counter, so we paid the extra for a Belle Foret undermount farm sink. I always ask him but he rarely cares and would rather defer to my vision (or basically, let me do all the research and legwork, lol). We were not looking for something that would look like marble, as we were going for a design, that yes I can see, does have a marble-like look.
I agree with many of you, and I do think the only way to get that true marble look is to get a marble countertop. Because the Great Indoors is going out of business, the SA let me keep a huge 10 inch sample.
We are planning to one day do that over our ceiling in the dining room, so it appears we are both of like minds, lol. It was pricier and necessitated modifying the base cabinet and therefore doing a curtain underneath the sink instead of doors, but I'm really happy with it. When I saw how smitten he was with it, it seemed like it was time for him to get a say in a piece of it. So I set out on a search for a substitute, and we decided quartz is the best option for our needs. Dallas has a Vicostone showroom, and I'm going to try to stop by one day to look into this product a little more. But for now, it's really functional, easy to clean, and gives a little visual interest to what might otherwise be a pretty boring little kitchen. When we started this, NO ONE had pics of Corian Rain Cloud, so I know how scary it can be to second guess yourself and wonder if you made the right call. It is so funny, because the few things he has shown interest in, were not the ones I would have guessed or his opinion was different that I'd have expected from him.
I was all set on Caeserstone Misty Carrera when a local fabricator mentioned a new product called Vicostone Carrara.
I love my quartz, but I was attracted to it precisely because I did not want the look of granite or marble.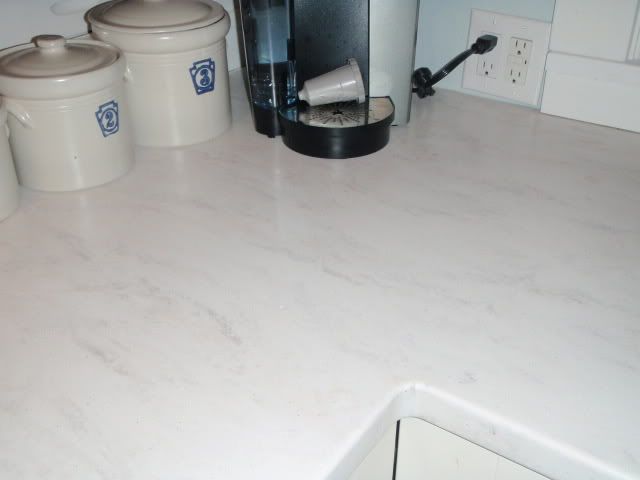 I honestly think this product does not get the publicity it deserves because the name is not as well known. Our vanities will be expresso toned and my husband just couldn't wrap his head around the deep brown of the vanity and using Super White.
I held the sample up to my mother-in-law's antique marble table top, and it looked very, very close. We're headed in another granite direction at the moment, but that Super White is sure hard to forget. Great looking product, Thanks to the Garden Web or I would have not known about this option for our kitchen remodel.
Caeserstone definitely wins out as far as stability and reputation are concerned, but the Vicostone product really does look more like marble!!! Here is the website, but it does not seem as established as other quartz companies like Cambria and Caeserstone. They also have a newer color coming out that looks a lot like Calcutta Marble with the prominent veining.